Glen Achambeng
The Physics of Skydiving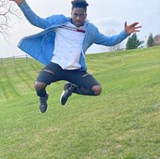 Submitted to Dr. Sithy Maharoof for Fundamentals of Physics (PHYS-101)
General Education Connections
Communicate ideas in written, oral and other modes as appropriate to a situation and audience
Employ various thinking strategies to develop well-reasoned judgments
Evaluate sources of information for accuracy, relevance and reliability
Use technology tools to manage, integrate and evaluate digital information
Explore issues through creative, interdisciplinary and innovative approaches
Cultivate intellectual and ethical practices that promote the wellness of self, community and environment
In this assignment, I had to be able to communicate my ideas efficiently and support them with quantitative and qualitative information. While supporting this information, I paid attention to the validity of the sources that the information was coming from to ensure the readers were not misinformed. Furthermore, while conducting this assignment I began to see the different fields that the physics of skydiving impacted.
Challenges
A challenge that I faced during this assignment was creating my graph and table. I am not too familiar with Excel and had to use YouTube to help me create them. Additionally, I also had to research the proper APA format for them.
Application
I plan to use the same process I used for this paper in other papers. I wrote nearly the entire paper and had done all of my research when I turned in the first draft. So when I received my paper back for revising, I mainly focused on the tables, figures, formatting and the citation.