Institutional Assessment
The importance of assessment in all areas of higher education continues to grow. There is an increasing desire to ensure that time, effort, and resources at colleges and universities are being deployed in the best way possible. In addition, assessment serves as the foundation for institutional effectiveness, how we ensure we're achieving the institutional mission and goals. At Carroll Community College (CCC), the two Associate Vice Presidents of Academic Affairs provide assessment and program/unit evaluation guidance and expertise to academic departments and educational support units to ensure continuous improvement to student learning and the environment for student learning. This website was created to support the effective assessment and support of student learning and the environment for student success within the College's academic programs and educational student support services units.
What is Assessment? Broadly defined, assessment is an ongoing, systematic, and organized process aimed at understanding and improving student learning, the environment for student learning, and all college operations. Assessment is a recurring process used to examine whether day-to-day activities are successful in meeting unit goals and outcomes. It provides evidence that supports claims that institutions are achieving clearly articulated mission, goals, student learning, support service outcomes. Finally, assessment is key to making data-informed decisions about activities, programs, and initiatives within a unit, department, or institution regarding improvements. The ongoing nature of this process is illustrated below.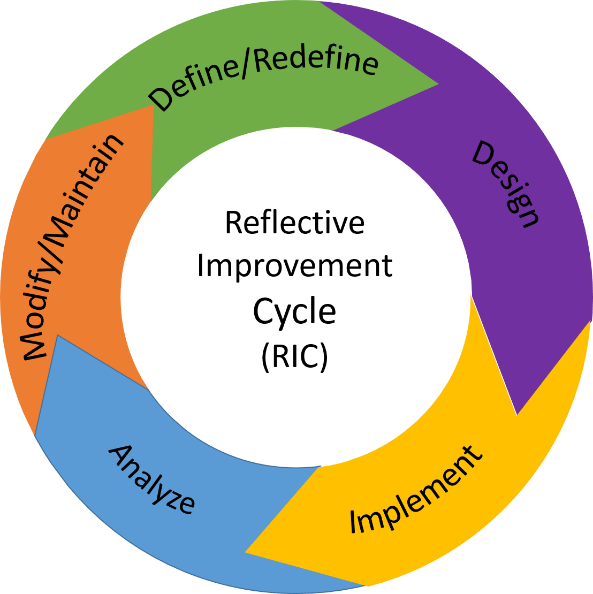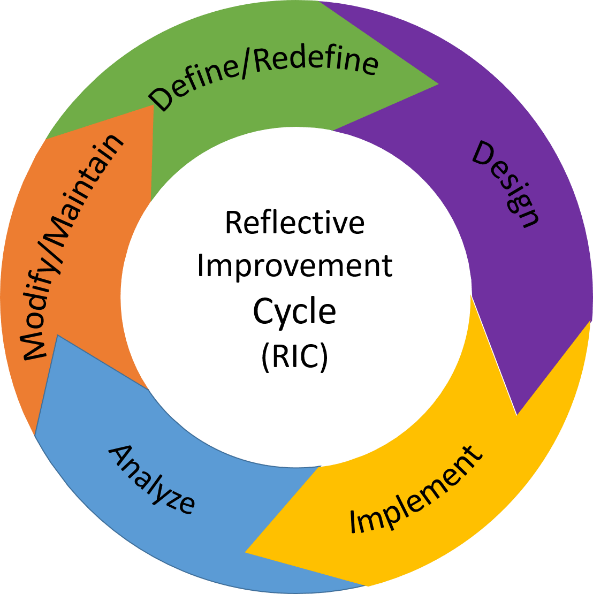 Student learning, development, and support for the environment of student learning is at the core of CCC's purpose and mission. The interrelationship between the institution's mission and goals and its instructional and educational support unit outcomes are the core of the College's assessment philosophy. The ability to gauge institutional effectiveness is dependent upon the assessments and activities conducted at the course, discipline, program and educational support unit levels. Determining how effectively these activities impact student learning and the environment for student success provides the information necessary to determine if goals, institutionally and at the program and unit levels, are being met. Achievement of the goals provides a proxy for institutional effectiveness through the intentional, systematic alignment of mission, goals, and outcomes. Accordingly, assessment is central to this plan.
Defined
Role of Assessment
Role of Assessment at the College
Guiding Principles and Good Practice of Assessment
Course Level
General Education
Program Level
Educational Support Unit Level
Institutional Level
General Education Committee
Program Review Committee
Student Learning Improvement Committee (SLIC)
Planning Advisory Council
Assessment Cycle (Reflective Improvement Cycle)
Developing and Refining Learning Objectives
Creating a Curriculum Map
Choosing Assessment Instruments
Designing Assessment
Collecting Data
Analyzing Data
Sharing Results
Making Changes
Glossary
Objective (learning) – A statement of the specific and measurable knowledge, skills, attributes, and habits learners are expected to achieve and demonstrate as a result of their educational experiences in a program, course, or module. (An example of a learning objective is "Upon the completion of this course, learners will be able to summarize the causes of religious conflict in modern-day Iraq.")
Outcome (learning) – A demonstration of the actual level of attainment of the knowledge, skills, attributes, and habits expected as a result of the educational experiences in a program, course, or module. A learning objective states what learners should be able to do, while a learning outcome is a learner's demonstration of the actual ability to do so. (An example of a learning outcome is a learner's presentation of an accurate summary of the causes of religious conflict in modern-day Iraq.)
Goal – Intended outcomes of instruction, stated in general terms, further defined by a set of specific (observable and measurable) student learning outcomes. Program goals reflect institution-wide goals and the program's mission.
Student Learning Objective (SLO) – Statements that define the expected goal of a curriculum, course, lesson or activity in terms of demonstrable skills or knowledge that will be acquired by a student as a result of instruction.
Module Student Learning Objectives (MSLO) – Statements of the specific and measurable knowledge, skills, attributes, and habits learners are expected to achieve and demonstrate as a result of their educational experiences in a module or unit.
Course Student Learning Objectives (CSLO) – Statements of the specific and measurable knowledge, skills, attributes, and habits learners are expected to achieve and demonstrate as a result of their educational experiences in a course.
General Education Student Learning Objectives (GESLO) – Statements of the specific and measurable knowledge, skills, attributes, and habits aimed to provide students with the foundation of skills and knowledge necessary to reason clearly, communicate effectively, and contribute to society.  The General Education Curriculum is designed to ensure that students meet these goals through inquiry-based learning across the disciplines.
Program Student Learning Objectives (PSLO) – Statements of the specific and measurable knowledge, skills, attributes, and habits learners are expected to achieve and demonstrate as a result of their educational experiences in a program.
Educational Support Unit Objectives (ESUO) – Statements of the specific and measurable critical administrative processes in order to gather data that provides information about the institution's support services and how they are meeting student's needs and expectations in support of student learning.
Cognitive Outcome – What students KNOW; knowledge, comprehension, application, analysis, synthesis, & evaluation.
Affective Outcome – What students CARE ABOUT; students' feelings, attitudes, interests, and preferences.
Performance Outcome – What students CAN  DO;  skilled  performance, production of something new (e.g., a paper, project, piece  of  artwork),  critical  thinking  skills  (e.g., analysis and evaluation).
Competency – A demonstrated mastery of a particular set of knowledge and/or skills. While some institutions have focused on job-related competencies, any subject can be redefined in terms of competencies. Competencies may be either narrow or granular, or they may constitute broad capabilities that require mastery of a substantial body of knowledge and skill. In some cases, competencies are defined independently; in other cases, they may aggregate into higher-level mastery.
Competency-Based Course – A course whose purpose is to prepare the learner to demonstrate a number of specific competencies. The course may be structured like a traditional course, but learners typically prepare for "certification" from independent competency assessments. Competency-based learning is characterized by assessment of competencies rather than course completion as the primary means of measuring academic progress.
Assessment (the process of) – An ongoing, systematic process that
is based on clear expectations for learning in the form of learning objectives/outcomes
provides sufficient opportunities for learners to achieve the expectations
gathers evidence that learning has occurred
applies the information to improve teaching and learning
Domains of Learning – Areas of human functioning that differ in their contribution to or role in the learning process. Benjamin Bloom's Taxonomy of Learning Domains includes the cognitive domain (mental skills), affective domain (feelings, emotions), and psychomotor domain (manual or physical skills).
Assessments (strategies) – Instruments used to identify what students have learned; specifically, instruments used to measure the match between the learning objectives/outcomes and learners' attainment of them.
Formative Assessment – Refers to assessment that is carried out throughout the course, project, or time-frame to provide feedback regarding whether the objective is being met. Formative assessment may be conducted for the following reasons: program improvement; to provide feedback to improve teaching, learning, and curricula; to identify students' strengths/weaknesses and to assist in placing students based on their needs.
Summative Assessment – Refers to assessment that is carried out at the end of a course, project, or time- frame to evaluate whether the objective was achieved (i.e., the overall performance). Thus, it is typically used to assign course grades. Summative assessment may be conducted for the following reasons: evaluation and accountability; decision-making regarding fund allocation; to aid in program level decision-making; to respond to demands accrediting bodies, state, and federal agencies.
Authentic Assessment – Measuring the extent of learning by structuring opportunities for learners to demonstrate knowledge and skills acquired. Learners are asked to perform meaningful, real-world tasks, and their performance is evaluated using a rubric of criterion-referenced levels of attainment.
Portfolios –Collections of student work over time that are used to demonstrate student growth and achievement in identified areas. Portfolios may contain research papers, tests and exams, case studies, audio or video tapes, computational exercises and other original works, as well as personal essays, journals, and self-evaluations.
Case Study – An in-depth examination of a single instance or event. A case study provides a systematic way of looking at an event(s), collecting data, analyzing information, and reporting the results.
Criteria – The qualitative or quantitative guidelines, rules, principles, or statements by which learner responses, work products, or mastery are evaluated.
Direct Measure – Measures that require the student to demonstrate his/her knowledge and skills in response to the instrument. Examples of direct measurement include 1) achievement tests such as objective tests; 2) student academic work such as essays, presentations, portfolios, and course assignments; 3) observations or case studies.
Indirect Measures – Measures that ask students to reflect on their learning rather than to demonstrate it. Examples of indirect measurement include self-report methods such as surveys, interviews, and focus groups.
Quantitative Measurement – Measures that assess objectives by collecting numeric data and analyzing the data using statistical techniques. Examples of quantitative data include GPA, grades, exam scores; forced-choice survey responses; demographic information; standardized teaching evaluations.
Qualitative Measurement – Measures that rely on and evaluate descriptions rather than numeric data. Examples of qualitative data include responses to open-ended survey or interview questions; evaluations of writing samples, portfolios, or formal recitals; participant observations; ethnographic studies.
Evaluation – A judgment regarding the quality, value, or worth of a response, work product, or performance based on established criteria. The evaluation of a learner's work is typically reflected in the grade assigned or score earned.
Active Learning – Active learning occurs when learners engage by "doing" something, such as discovering, processing, or applying concepts and information. Active learning implies guiding learners to increasing levels of responsibility for their own learning.
Activity – Any form of learner participation that serves to reinforce course content and provides an opportunity for learners to further their attainment of course or module/unit learning objectives or competencies.  Often, an activity allows for practice, discovery, and trial-and-error.
Alignment – Critical course elements working together to ensure that students achieve the desired LOs.
Alignment Map – A table used to organize the Program, Course, and Module Learning Outcomes/Objectives so they correspond to the assessments, activities, and materials used in the course.
Contacts
The Institutional Assessment Office is dedicated to the improvement of education practice through the assessment of academic program and services. The Office supports both educational programs and service units through the systematic collection of assessment data and through analysis which informs, educates, and facilitates continuous improvement.
The Institutional Assessment Office engages faculty and staff in the policy and process of College-wide assessment by managing accreditation, curriculum mapping, course assessment, general education assessment, program assessment and review, and functional area reviews.
For Assistance, Contact
Melody Moore, Ph.D. 
Room A117C
memoore@carrollcc.edu
410-386-8412

Melody Moore, Ph.D. 
Room A117C
memoore@carrollcc.edu
410-386-8412