Cecilia Dolan
Course: Creative Writing, ENGL-218
Professor: Dr. Jody Nusholtz
Assignment Title: Portfolio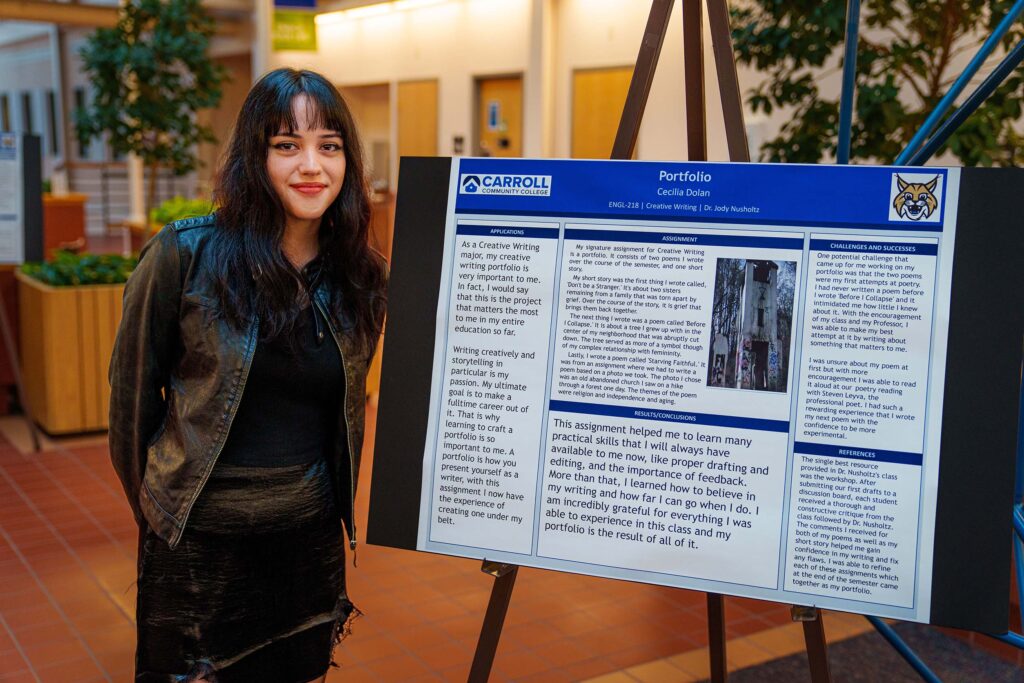 Assignment Details
My signature assignment for Creative Writing is a portfolio. It consists of two poems I wrote over the course of the semester, and one short story.
My short story was the first thing I wrote called, 'Don't be a Stranger.' It's about two sisters remaining from a family that was torn apart by grief. Over the course of the story, it is grief that brings them back together.
The next thing I wrote was a poem called 'Before I Collapse.' It is about a tree I grew up with in the center of my neighborhood that was abruptly cut down. The tree served as more of a symbol though of my complex relationship with femininity.
Lastly, I wrote a poem called 'Starving Faithful.' It was from an assignment where we had to write a poem based on a photo we took. The photo I chose was an old abandoned church I saw on a hike through a forest one day. The themes of the poem were religion and independence and aging.
Application
As a Creative Writing major, my creative writing portfolio is very important to me. In fact, I would say that this is the project that matters the most to me in my entire education so far.

Writing creatively and storytelling in particular is my passion. My ultimate goal is to make a fulltime career out of it. That is why learning to craft a portfolio is so important to me. A portfolio is how you present yourself as a writer, with this assignment I now have the experience of creating one under my belt.
Results/Conclusions
This assignment helped me to learn many practical skills that I will always have available to me now, like proper drafting and editing, and the importance of feedback. More than that, I learned how to believe in my writing and how far I can go when I do. I am incredibly grateful for everything I was able to experience in this class and my portfolio is the result of all of it.
Challenges and Successes
One potential challenge that came up for me working on my portfolio was that the two poems were my first attempts at poetry. I had never written a poem before I wrote 'Before I Collapse' and it intimidated me how little I knew about it. With the encouragement of my class and my Professor, I was able to make my best attempt at it by writing about something that matters to me.

I was unsure about my poem at first but with more encouragement I was able to read it aloud at our poetry reading with Steven Leyva, the professional poet. I had such a rewarding experience that I wrote my next poem with the confidence to be more experimental.