News & Stories
Trade Your Ceiling for a Sky: Hiking Classes at Carroll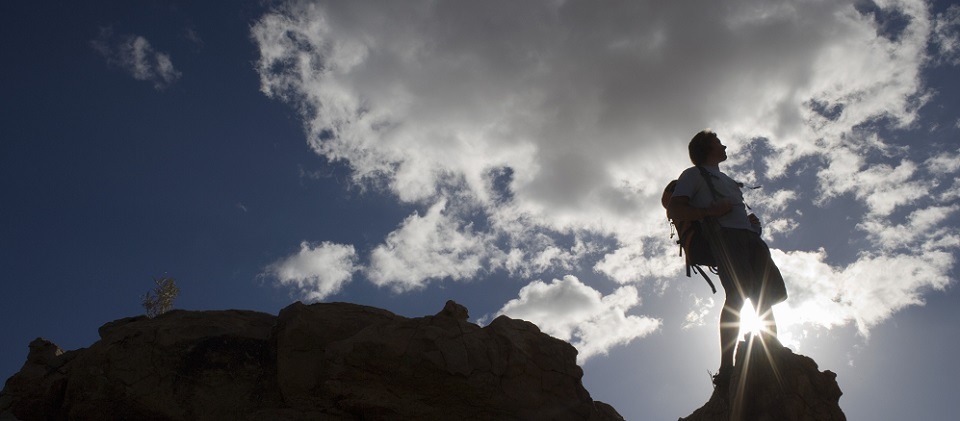 Hiking is like "walking on steroids," according to Gae Rogers, a recent participant in the 'Hiking in Maryland' class offered by Carroll Community College. "It's refreshing, reinvigorating. It replenishes the spirit and is a great exercise for any age level. It just kind of reboots your body."
Rogers, Data and Reporting Coordinator in the Continuing Education office at Carroll, had a particularly compelling reason to start hiking. In 2007, she had been diagnosed with stomach cancer and battled the disease for nearly a year. "When I survived and recovered," she said, "I wrote my bucket list of things I wanted to do and hiking was one of them." Rogers, boasting a longtime interest in outdoor sports, subsequently went on a few amateur hikes with her friends but wished to understand the pastime better. When she saw Carroll offered a hiking course, she was excited to enroll.
The 'Hiking in Maryland' course was led by Bud Grace, a military veteran who had spent almost three decades in the Army as a logician. Upon retiring, he put his trip-planning skills and love of the outdoors to another use—hiking. "It was somebody telling me for 29 years (in the Army), 'You'll go there and you'll camp there,'" Grace explained. "After getting out of that it was nice going where you wanted to go and staying as long as you wanted to stay."
Bountiful Benefits
The benefits of hiking are numerous. It is an effective way to combat cabin fever, get exercise and enjoy the beauty of nature. In addition, Carroll's hiking courses teach everything a novice hiker needs to know before hitting the trails, including proper attire, safety, first aid, equipment, nutrition, trail markers, map reading and weather conditions. Advanced classes cover hiking and survival techniques in more depth, and explore the more challenging paths in the surrounding area.
There are also social benefits. Taking a hiking class allows those with less experience to venture out with seasoned hikers. "It was nice to get to know a variety of other people with this common interest," Rogers said. "As you went through different parts of the trail, you would end up next to somebody else, so you strike up a conversation with them." Ages for participants range from those in their 20s to those in their 60s, with an average of ten to twelve hikers in a group. "There was a lot of camaraderie," Grace added. "A lot of feeling like they were family as we walked along."
While the instructor leads the early hikes of the course, the ultimate goal is for participants to become more independent. On their final hike, Grace observed "they had become so confident in themselves that they honestly didn't need me there anymore." By the end of the course, participants no longer even required a map, instead following the little red marks on the trees that indicate which way to go.
Take a Hike!
Grace listed several scenic Maryland trails he and his classes have hiked on: Annapolis Rock, Piney Run, Hashawha Perimeter Loop, Morgan Run Loop, the Manor Area of Cunningham Falls and the McKeldin area. This Fall, Carroll plans to offer an overnight weekend hike on the Appalachian Trail.
Rogers reemphasized how much hiking clears the mind and puts one in balance. "We'd go out Saturday mornings and the stress of the week totally came off. The whole rest of the day you feel great. It's a wonderful experience."