News & Stories
Carroll's Business Services Have Solutions to Business Challenges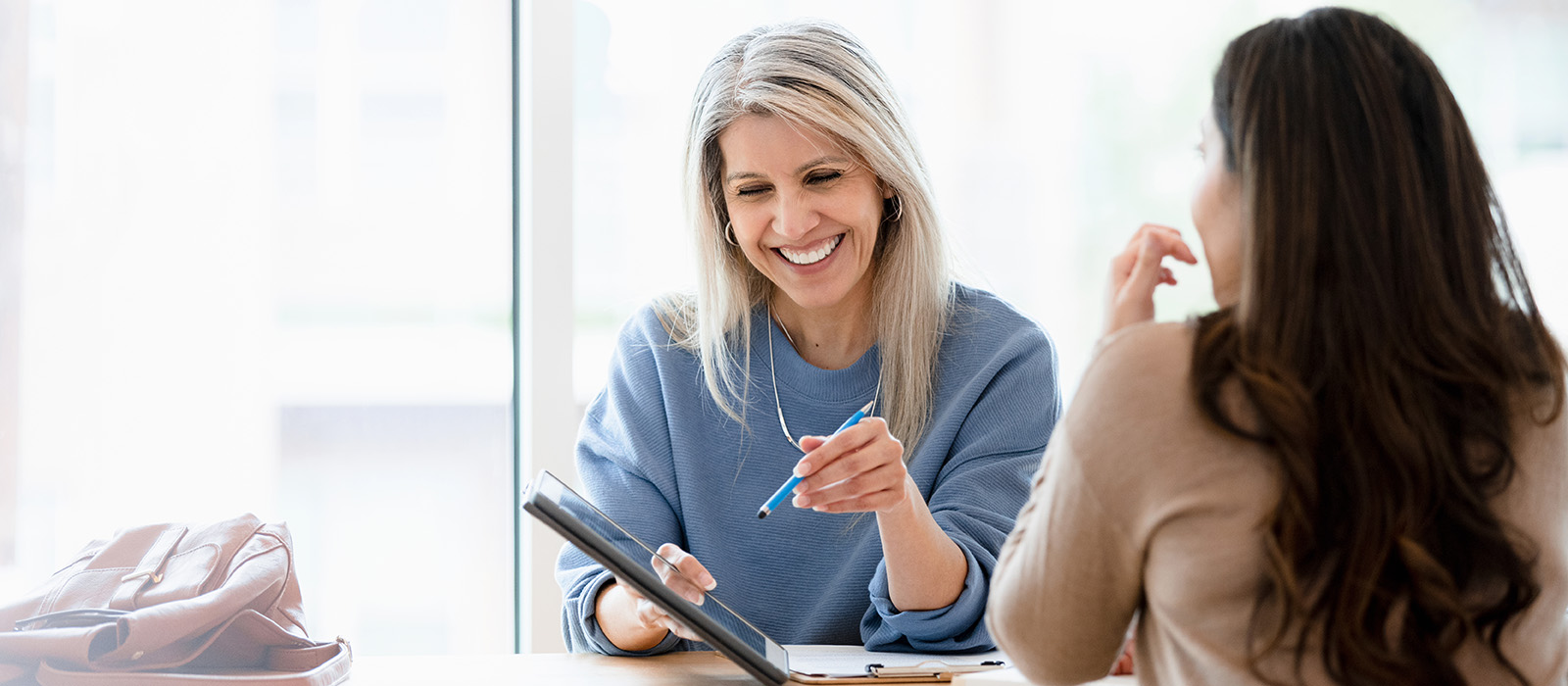 While the name Business Solutions may be new, Carroll Community College has been offering expert business services to small businesses and corporations for more than two decades.
Miller: Resources for Entrepreneurs, Advantage C corporate business services and a new partnership with the Maryland Small Business Development Center (SBDC) have now been combined under one umbrella as Business Solutions. This makes it a one-stop shop for regional organizations of any size or type to take advantage of Business Solutions's wide array of tools and resources, from creating a startup plan and funding a small business to developing leaders, upskilling employees and improving organizational performance.
A History of Helping Small Businesses
Business Solutions has helped hundreds of local entrepreneurs and small business owners plan, launch or grow their companies through educational programming, networking opportunities, free one-on-one counseling and referral business services.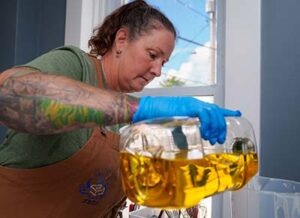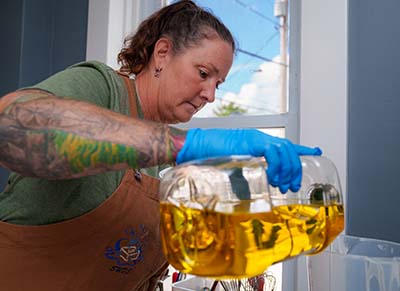 One such company that has benefitted from the services and events Business Solutions offers is Goose Ridge Soaps in Hampstead, MD. "I signed up for a Small Business Marketing Workshop and I was extremely impressed with how useful all the information was," recalled Janice Campbell, who co-owns the soap-making business with her friend Janice Campbell. "So then we started looking at the catalog together to see what other workshops and classes we could benefit from, and we've been attending them ever since."
"When we went to the Away We Grow workshop at the end of 2021, we found out so much more information, so many other resources for small businesses that were out there that we didn't know existed," said Kim. "Even if you think something doesn't apply to you or apply to your particular product or service, go to the workshops and classes anyway that Business Solutions/Miller puts on. You are going to meet people who are going to give you information you didn't realize you didn't have."
Tiombe Paige, owner of Cultivated, a décor, apparel and gift boutique in Westminster, MD, also took advantage of Business Solutions's entrepreneurial business services when she launched her company. "They offered several week-long business classes that were life-changing for me," she said. "I was able to ask every question that came to my mind about start-ups, accounting, marketing, daily operations and hiring employees."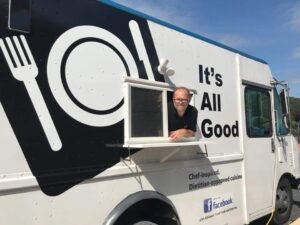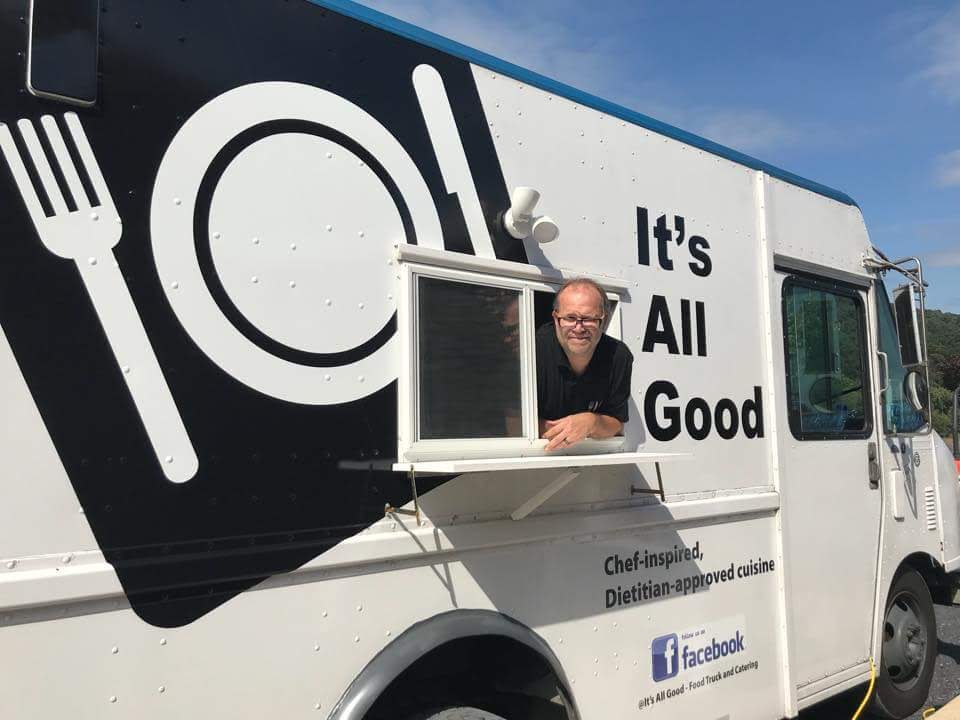 "The programs Business Solutions/Miller offers, the networking ability through the events that we've attended, has been great," said Daniel Smith, owner of It's All Good Food Truck and Catering. "What they did was give us the confidence we were on the right track, that we already had a good game plan. They helped us organize where we needed to go and what our next steps are."
Smith had also been inspired by the guest speakers who appear at many Business Solutions events. One speaker who made a particularly strong impression on him was Seth Goldman, co-founder of Honest Tea. "That was inspiring," Smith said. "This guy took something from his kitchen to Coca-Cola buying him up for millions of dollars. Something simple can turn revolutionary."
Whether a company's vision is revolutionary or something a bit more modest, the mission of Business Solutions is to inspire and support everybody who wants to succeed in their small business endeavors.
"What I have found over my many years of experience is that entrepreneurs are not very good businesspeople, and they need to learn that skill. What they do bring is the passion and the ideas and the excitement," said Tom Mazerski, Director of Miller: Resources for Entrepreneurs. "Business Solutions offers everything they need to get a business started and keep it running, from how to write a business plan all the way up to marketing their business on social media."
The Tools to Build a Better Workplace
The Business Solutions team also offers professional corporate business services to larger local employers, helping leaders and their teams improve leadership, employee and organizational performance through customized training, coaching, facilitation/consulting, executive education, wellness solutions and organizational assessments.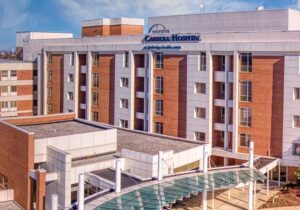 For years, Business Solutions has supported the region's most innovative and future-thinking organizations as they navigate the challenges in today's dynamic and volatile business environment. One such organization is LifeBridge Health, who deliver high-quality patient care and champion preventive services, educational programs and wellness/fitness offerings. LifeBridge approached Business Solutions to provide Nursing Assistant training for a group of their employees who expressed interest in transitioning to patient care roles.
"As a result of our work with Business Solutions, LifeBridge Health was able to upskill seven employees into patient care positions," said Anita Hammond, Manager of Workforce Development at LifeBridge Health. "This cut our recruitment costs and allowed us to provide wage increases for those promoted."
"Business Solutions went above and beyond helping the Carroll County Health Department to create a unique curriculum, Spanish for Behavioral Health Providers," said Amy Baker, Program Director for Special Populations at Carroll County Local Behavioral Health Authority. The 8-week curriculum was fully developed by the Business Solutions team to teach behavioral health providers terminology and phrases commonly used in their field, as well as about Latin and Hispanic culture.
"We know that even making an attempt to speak in someone's native language reduces stress and creates a more welcoming environment," Baker continued. "This curriculum gave us a starting place to work with Spanish-speaking customers to increase their comfort levels."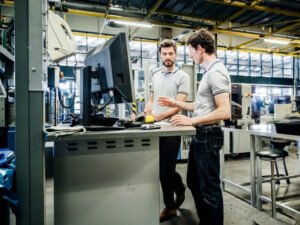 Healthcare is just one of the many industries for which Business Solutions has provided expert business services. Knorr Brake Company (KBC), the leading manufacturer of braking systems for the Passenger Transit Rail Industry in North America, utilized Business Solutions for numerous employee trainings in order to develop and retain internal talent. Most notably, KBC partnered with them for their LEAD (Leadership, Education And Development) program. Every year, they assign 10-12 rising stars in their organization to go through the 12-month program to improve their leadership skills.
"Business Solutions works with our organization to develop trainings and programs that focus on the needs of our organization and employees," said Chris Wineke, Vice President of Procurement/Supply Chain at KBC. "Over the past several years, they have helped KBC tailor their training programs to address current business challenges and enhance employee skills that will better our future."
"Business Solutions plays a critical role in supporting the economic growth of the region, and we are proud of the partnerships forged with the businesses we serve," said Janet Ladd, Senior Director of Corporate Services and Workforce Development at Carroll Community College. "Through these partnerships and our network of expert resources, we are able to develop market-driven and personalized solutions to help individuals, teams and organizations thrive."
As a service of Carroll Community College, Business Solutions is uniquely positioned to help Carroll County companies of all sizes ensure that their people are equipped with the right tools, training and support to increase efficiency, boost productivity and maximize potential.
Request a Free Consultation
We offer an initial needs assessment, free of charge.

410-386-8095 | business-solutions@carrollcc.edu