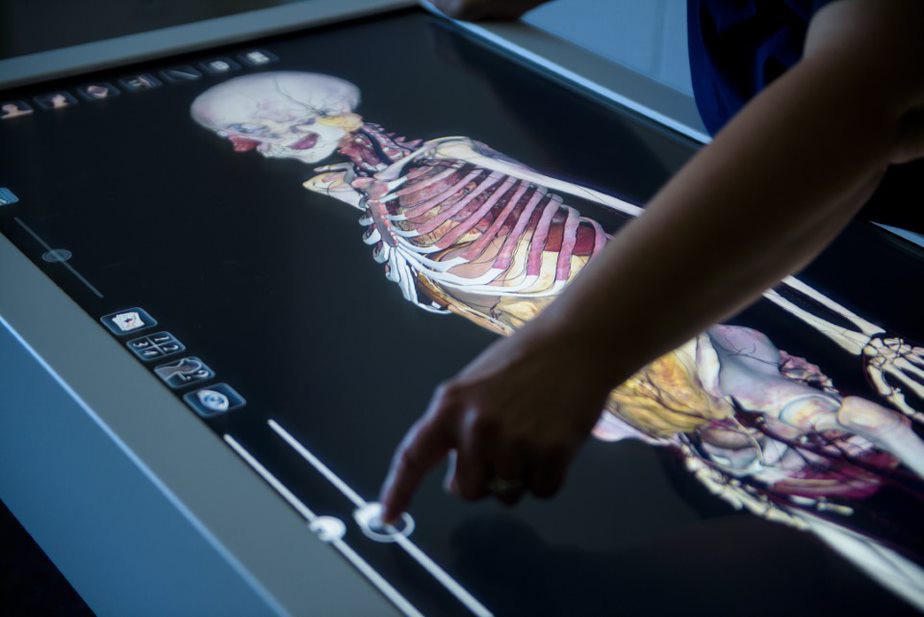 What led to Carroll receiving the 3D Dissection Table?
Dr. Rosalie V. Mince, Provost: A statewide Chief Academic Officers Affinity Group meeting was scheduled to be held at Garrett Community College, and one of the reasons for the visit to Garrett was to see their 3D dissection table. I was so impressed with their table that I immediately asked the College's Foundation if they could find a way to get something similar. Thanks to their support and the tremendous financial generosity of The Kahlert Foundation, we were able to make this wish a reality.
I am excited that both our students and faculty at Carroll will be able to experience this wonderful new learning tool. This type of technology supports all types of careers in Allied Health, Science, Athletic Training, Criminal Justice, Art and more.
How does the Table work?
Donna Rohrbaugh (RN, BS), Allied Health and Nursing Skills Lab Coordinator: The Table and a cloud-based service work and operate together to create the simulations and lessons. Our Table has four fully loaded adults whose bodies were donated to science. Anatomage, our vendor, has loaded a tremendous amount of details about these four entire bodies, plus an additional 11,000 case studies of just about every condition known to man. It also has a multitude of animal case studies available. There are histology slides of various tissue types that can be used in conjunction with the cases being studied. There is a physiology feature in which the students can observe human anatomy in action, and at the same time dissect layers so they can see how the tissues work together. The Table has the capability to use MRIs or CTs from live subjects to create individualized case studies.
How do you foresee it being used in class?
Dr. Nancy Perry, DNP, RN, CNE, Division Chair, Allied Health and Nursing Program Director: The following departments are proposed users of the Table and its related technology: Nursing, Physical Therapy Assistant, National Registry Paramedic programs and departments such as Athletic Training and Science.
The short-term plan is for this technology to be available for small groups to interact with the Table. Students will have opportunities that they have not had in the past and that makes it incredibly special for our students.
For example, this new technology will enable us to offer a dynamic navigation solution for the visualization of a cadaver or living person for cross-section and internal anatomy studies; provide a split display for simultaneously teaching and having a cross-reference discussion of male and female; have 3D embryo scans to visualize the stages of human development; and display common muscle actions in 3D animations with the ability to rotate and zoom in and out.
In the Nursing department, I can see the Table being particularly valuable during our Perfusion classes, since the students will be able to see a beating heart and also observe the steps to a cardiac catheterization. The Science department will be able to use the Table extensively for human and animal dissection and histology studies. The Physical Therapy Assistant program will use it for their detailed studies of how muscles and nerves work to move the body. Even the Art department can use it to study anatomical structures for accurate portraits.
How special is it that we have a 3D table?
Dr. Mince: In addition to the classes and uses already mentioned, there are other classes that will be able to incorporate the Table into various interactive lessons, such as Human Sexuality, Health, Stress Management, Nutrition and Criminal Justice. We are just starting to tap into its potential.
Very few colleges and universities have this type of technology. Carroll students are very fortunate. The Table allows them to not only see all aspects of the human body and how the various systems work together, but they can interact with the 3D models, moving the body parts, rotating the images to be able to see them from all perspectives, dissecting into the body to see what's inside. It's really amazing.
Why did The Kahlert Foundation decide to fund the 3D Dissection Table for the College?
Greg Kahlert, President of The Kahlert Foundation: As soon as I heard about the power of this technology, I knew it would enable the College's faculty to provide state-of-the-art training and education for our County. We are thrilled when the Kahlert Foundation has the opportunity to advance the College and inspire students to excel beyond their own expectations. Our goal is to support the community here in the county and beyond, and to educate the workforce with the skills they need for the jobs of the future.