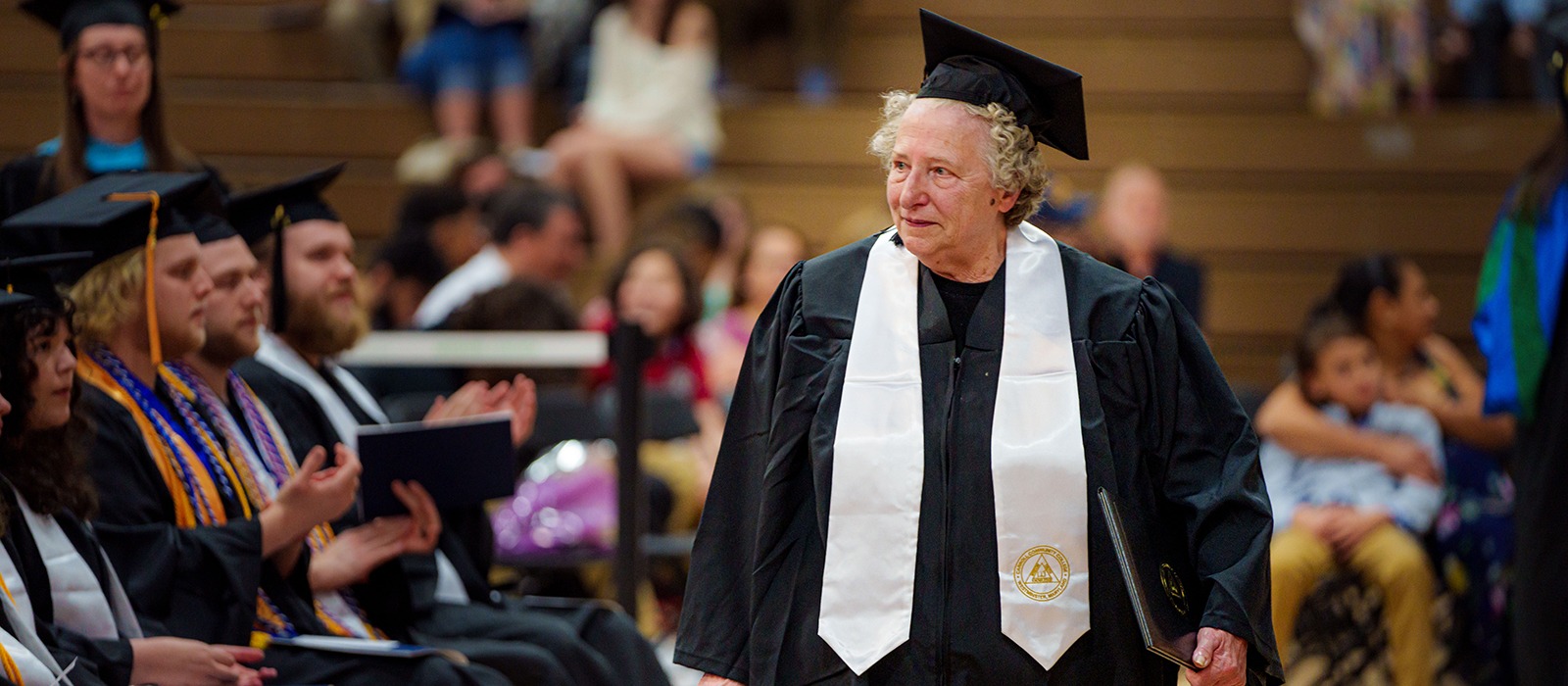 "You are never too old to learn." It's a maxim you hear from many older adults who choose to go back to school to earn their degrees. One adult student success story that certainly exemplifies this laudable endeavor is Janet Lorraine Ensor from Westminster, MD, who recently earned her Associate degree from Carroll Community College at age 74.
After she graduated from high school in 1967, Janet found employment at Rosewood State Hospital in Owings Mills. "I wanted to be like my parents who were registered nurses at Springfield State Hospital," she said. While she did start to pursue a career in Registered Nursing, she soon found out it was not a good fit for her.
By 1975, Janet was married with two children. In 1980, she decided to take classes at Community College of Baltimore County in Catonsville to become an Administrative Assistant, obtaining certifications in legal, clerical and data processing.
"I liked working with office equipment," Janet said. "In high school, my major was in commercial classes. I could type 75-80 words a minute on a manual typewriter."
For the next three-and-a-half decades, Janet worked in factory and foodservice settings while also raising her children. Then, in 2017 she resolved to finish her degree, one of her life's goals. This is when she began taking classes at Carroll Community College.
"I decided to enroll in their General Studies program and discovered that I needed eight courses to complete my degree," Janet explained. She was able to transfer many of the credits she had earned at CCBC back in the 80s.
Having been away so long from a college classroom, Janet faced a few fresh challenges as a returning student, such as learning how to use various computer programs with which she was unfamiliar. She was able to receive assistance with this through the College's free tutoring service, as well as from Library staff who showed her how to conduct research for her courses.
"I met many people who were willing and excited about helping me succeed," Janet said. "Carroll Community College is a caring community which is extremely supportive."
On May 24, 2023, Janet fulfilled her adult student success story when she celebrated getting her Associate degree by walking at Carroll's Commencement ceremony wearing her graduation cap and gown. She is also the first in her family to earn a college degree, making her accomplishment even more special.
"Though several of life's challenges intervened in Janet's continuous progress toward degree completion, Janet never stopped trying," said Dr. James D. Ball, President of Carroll Community College. "She has been faithfully working to complete her Associate degree since 1980. Her inspirational message to all of us is that it is never too late to achieve your dreams!"
"I feel proud that I finally accomplished my goal," Janet said. "I am a positive role model for my family members, who I hope will follow in my footsteps!"
New Start Scholarship
If you are age 25 or older and new to Carroll or returning to us as a fulltime student after 2 years, your first class is FREE!