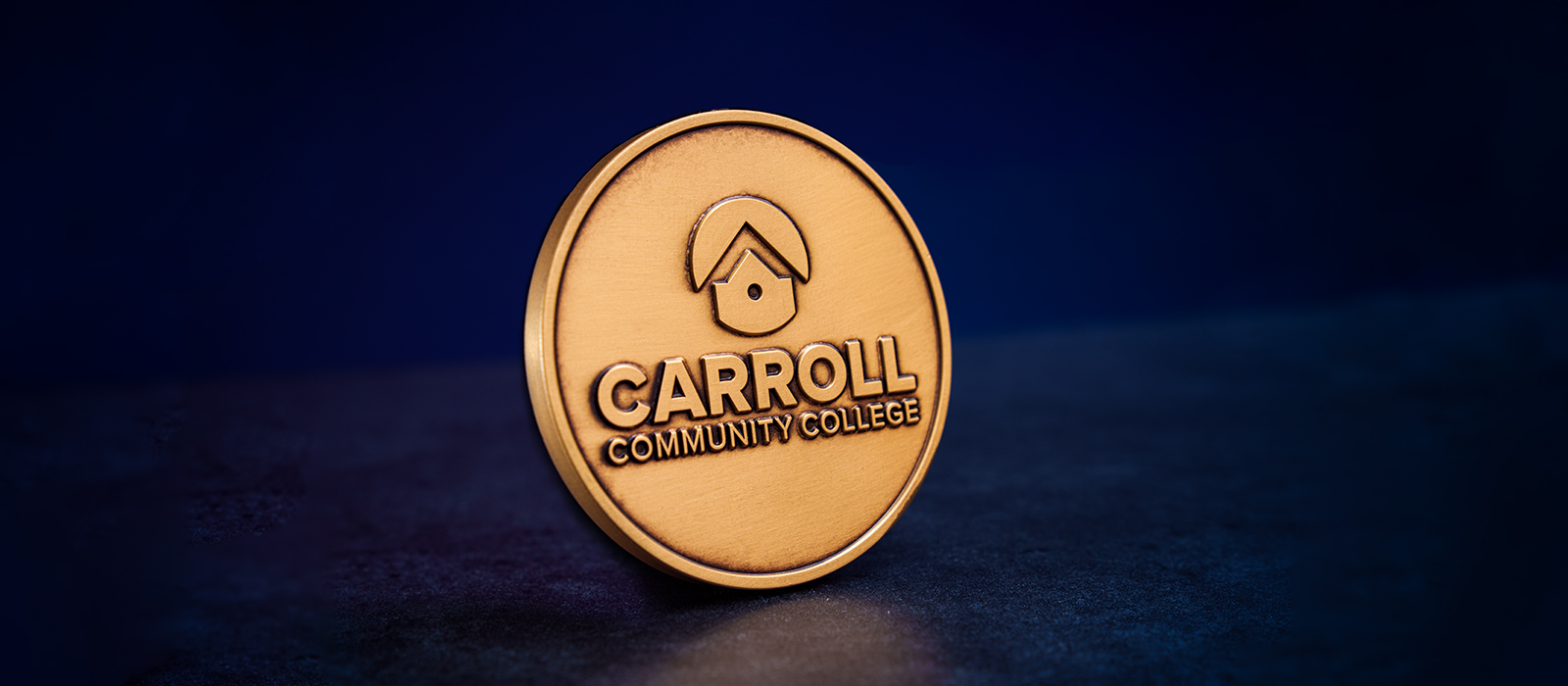 This year, five faculty members at Carroll were promoted to Full Professor. At the Collegewide meeting on August 24, they received College medals and certificates in honor of their achievements. Below are the inspiring acceptance speeches each Full Professor gave at the event.
Dr. Christopher U. Akujuobi, Professor of Economics & American Government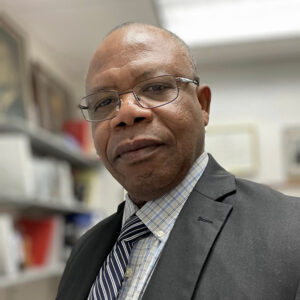 I want to start by giving you a brief rundown of what I did for this promotion project.
My research used six metrics to rank the community colleges in the State of Maryland based on the diversity, equity and inclusion (DEI) of their student enrollments.
Diversity is defined in this study as the percentage chance that two students selected at random will have different racial/ethnic identities.
The Maryland Higher Education Commission (MHEC) provided the primary data for the study for the year 2022. The results indicate that Montgomery Community College was the most diverse, with a diversity score of 80%. Allegany Community College was the least in diversity, with a score of 28%. Our own dear College—Carroll Community College—was ranked 15th out of the sixteen community colleges, with a score of 33%.
These results serve as a wakeup call for the community colleges with diversity scores less than the Maryland State average of 54%. These colleges should focus on their DEI efforts to create a more diverse, more inclusive environment.
During my study, some key members of this community made my burden lighter. I wish to express my sincere gratitude to my family members for their support, and to the members of my review committee: Professor Sharon Brunner; Dr. Michelle Kloss; Mr. Gregg Bricca; and Mr. Clyde Johnson. My special thanks also goes to Dr. Mince for her steadfast support and guidance throughout the course of my research. I love you all!
Robert Brown, Professor of Business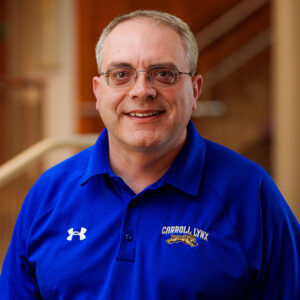 My promotion portfolio contains artifacts documenting my work over the past three years as a faculty member and as a Division Chair.
As a faculty member, I have taught two new courses, completed a Course Level Assessment Project (CLAP) in the introductory programming course and developed our credit Data Science degree. As an example of my servant leadership, I worked with Dr. Melody Moore and led collaborative efforts with all of you in pursuing the College's Middle States reaccreditation, which was reaffirmed in 2021.
I even went back to school as I enrolled in a second Master's degree in Data Science. If you haven't done so in a while, I encourage all faculty and staff to be a student again. It is a humble reminder of some of the challenges our students must meet daily. I find that these reminders help build my empathy, which helps me grow as a faculty member, division chair and as a parent.
Through the completion of this portfolio, I was reminded of the opportunities that have been afforded to me over the past 23 years here at Carroll. I have learned that my impact can be felt even wider than in a classroom. I have been mentored by some of the best in both teaching and leadership; I seek to pass along as much as I can from what I have learned over the years. I aspire to continue in a variety of leadership capacities and new teaching opportunities when appropriate.
Overall, I seek to impact people—be they students, faculty, staff or members of the wider community. I thrive on roles where I can see the "big picture" and "connect the dots" to serve others and to help them serve as well. I am passionate about helping in any way I can in my hometown. As a Full Professor, I promise to seek new ways to serve. With the help from all of you, I am confident I can continue this journey.
Thank you very much for everything each one of you has done to help me professionally and personally. I deeply appreciate it. I also want to thank my family—Emily, Andy, Josh and Ryan—for their love and keeping me grounded. That is a fulltime job!
Raza Khan, Professor of Sciences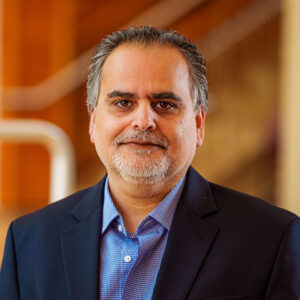 11:30 p.m. on May 22, 1990. I clearly remember that night when I landed at Washington DC after a very long flight from overseas, with a long immigration session at JFK in New York. From that evening almost 33 years ago until this day, other than my wife who I met eleven years later and our kids, I have no blood family or relatives in this country. As a young man that night, I was not sure what I was going to do or how I was going to do it, but I knew that I sacrificed a lot, and that more sacrifices were on the way.
Along my higher education journey, starting in May 1990, I found my passion for teaching. I took a dive into fulltime teaching in 1999 and never looked back. I was scared to be a faculty, but I quickly learned then and I am reminded to this day that my calling was not for me to decide; rather it was my colleagues and my students who reminded me that I had found my calling. After living in more than five countries and four states in the U.S., I chose to call Carroll Community College my home in 2006. For those of you who were here then, you heard about my experience driving from the West Coat and risking my U-Haul truck through a firestorm in Idaho. A risk for my calling.
At Carroll, I quickly learned if this was to be my home, my community—each one of you—had to be someone special to me, something I longed for a long time: my family. With your help, I rose through the ranks from a faculty member to Associate Professor to Discipline Coordinator to STEM Scholars Honors Program Director to Division Chair of Sciences to leadership roles in various external organizations. Today, I stand before you as a Full Professor.
All of you have contributed to my growth. But I would like to thank Dr. James Ball, Dr. Rose Mince, Dr. Michelle Kloss, and Mr. Rob Brown who offered their help for me to jump the last hurdle from Associate Professor to Full Professor. I hope you value as much as I do my work in earning that rank, and I promise to continue my commitment not only to fulfill the requirements of that rank but also to help each one of you, wherever and whenever possible, to reach the next milestone. I would be remiss if I did not acknowledge my wife of 21 years, Ariana, and my two boys, Ahad and Zyad, who also made sacrifices during the last sixteen years for me to be my best and to give my all for this College.
It is customary at the end to cap off with saying, "Look Ma…. I did it!" But perhaps it is more befitting that I end with, "Look Carroll family, I did it!"
Becki Maurio, Professor of World Languages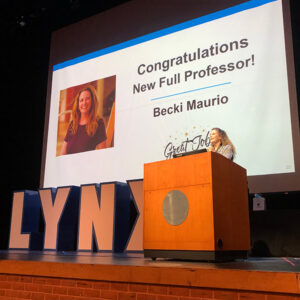 I started at Carroll in 2002 as the ESOL coordinator in Continuing Education & Training (CET). English learners and multilingual students have always been close to my heart. Additionally, Spanish has played a significant factor in my career.
As I considered a promotion project, I knew that it needed to include something to support Hispanic students, the fastest-growing group both nationally and locally. I immersed myself in researching what various higher education institutions are doing to support Hispanic students and came up with all kinds of possibilities we could implement here at Carroll.
My initial idea was to create a Summer Bridge Program, but upon reflection it became clear that such a program might not be what the community wanted—or needed. This led to me investigating models for inclusive program design, looking at how we can include and foreground the expertise of members of our community, particularly those who have been underserved.
As a result, I created a community advisory board, which includes some of the students who I met back in 2002, some of whom are now parents of current Carroll students and others who are students themselves. This group has advised me on steps we as a college can take and questions we should be asking as we imagine ways to recruit and support Hispanic students and their families.
The group has also been focused on action and they were the drivers of the first-ever Spanish-language session held at the Open House in April. We had over 35 attendees, from age 2 to 52, all interested in either becoming students or supporting their student as they undertake their educational American dream. That family-oriented session will continue to be offered on a regular basis and represents just one of the recommendations from the community advisory group we've been able to implement.
Tapping into the expertise of this advisory group has helped the College to begin to envision richer, more creative supports, and has helped to build investment within the Hispanic community as they see themselves as part of our campus and the College's decision-making processes.
I am deeply grateful for the opportunity to advance this important work via the promotion process. It has allowed me to grow professionally, while helping to meet a need in the community.
Brianna McGinnis, Professor of Mathematics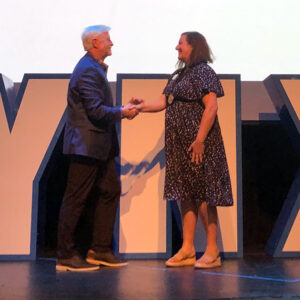 Once upon a time, I was a high school math teacher by day and an adjunct math professor here at Carroll by night. Fast forward fifteen years and here we are. For my promotion, I completed a portfolio showcasing accomplishments in the areas of administration, effective teaching, professional development and college service.
An article from Tomorrow's Professor says, "Chairs are the filters through which information moves in both directions and little change is likely unless the chair is on board." And boy, have I been on board for a wild ride!
Highlights of my portfolio included feedback from students, from staff here who I work with on a regular basis, and then of course my faculty team. My favorite piece of feedback from a student was someone I taught in transitional mathematics (non-credit math to get them up to speed). He reached back out after a few years and said, "I just wanted to let you know I graduated from the University of Maryland with a degree in engineering and I'm working in the area. I had very little confidence in my math abilities. Your teaching gave me the confidence and understanding that led me to consider pursuing a math-related field." For a teacher, there is no higher compliment than that.
I want to thank Dr. Brunner, Dr. Kloss and Dr. Mince for their support with my portfolio. I want to thank the Provost's Council members for your input. I want to thank my husband and kids who are in the back. My kids are already Lynx since they attend camp here in the summertime.
This promotion would not be possible without the members of my division. Love you guys! Thank you for trusting me, allowing me to try quirky, new, weird things sometimes, and for giving me grace when I needed it the most. Carroll Community College, you have made me a better leader and person.
Grow with Carroll
Carroll offers a wide variety of credit & noncredit programs to help build your future.