News & Stories
Carroll Reaches Out with Student Health & Wellness Resources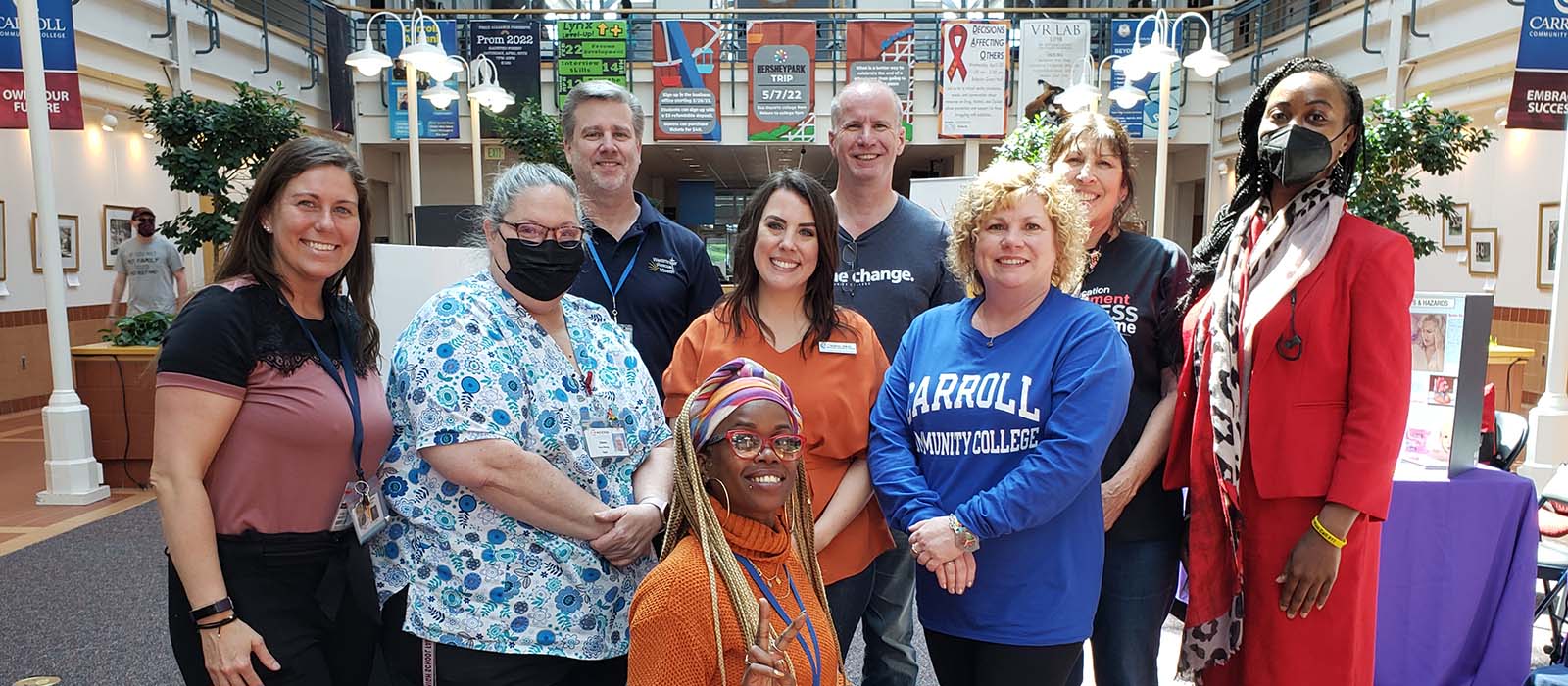 The COVID pandemic has prompted many students to tap into health and wellness programs at schools nationwide. In Fall 2021, DaVida L. Anderson, PhD, Director of Student Care and Integrity at Carroll Community College, began revamping R.E.A.C.H., part of the College's student health and wellness resources.
What is R.E.A.C.H.?
Explaining the acronym, Anderson said, "The R.E.A.C.H committee promotes student-centered resources to provide empowerment and advocacy for community health," The committee, which includes staff, faculty and, as part of the restructuring, students, addresses important health-related issues.
"It all goes back to students and their perspective on how awareness and prevention help support their wellbeing," Anderson said.
Faculty and staff serve two-year terms, a limit that does not apply to students. Each member serves on a subcommittee: Wellness, Drugs, Alcohol, Opioids and Interpersonal Violence Prevention, all areas for which R.E.A.C.H. raises awareness and offers student health and wellness resources.
What Does R.E.A.C.H. Do?
In their monthly meetings, the subcommittees discuss and plan on-campus awareness events, such as a virtual simulation of what it's like to drive impaired. R.E.A.C.H. has also provided training on the use of naloxone, medication which can save someone in danger of dying from an opioid overdose. A recent workshop explored the differences between healthy and unhealthy relationships and how social media contributes to interpersonal relationships. Another workshop promoted self-care and healthy coping mechanisms for managing stress.
"It is beautiful seeing faculty, staff and students working together towards a common goal," Anderson said.
At each R.E.A.C.H. event, the Student Assistant Program (SAP) provides information on how to get student health and wellness resources 24/7. This can facilitate an appointment with a counselor for ongoing help as needed.
"At a recent Drugs Alcohol and Opioids Awareness and Prevention event, tables were set up like a tradeshow," Anderson said. "Attendees were able to visit tables and see what the College and community partners had to offer. There were snacks of course, and balloons, so it was very festive."
The Far-Reaching Impact of R.E.A.C.H.
Anderson believes that care for Carroll's students is critical and necessary. "Anytime we can provide proactive programs to help students to become the best version of themselves and protect their physical and mental health is good for our community," she said.
"Carroll strives to make our College a safe place for all students, whether they are starting or restarting their lives and gaining new skills. While they are here, they can develop a healthy approach to living. The R.E.A.C.H. committee members play an important role in securing this goal."
"The R.E.A.C.H. committee still needs more students to join the committee and provide their input," Anderson said. "Serving as a student leader not only supports our College community, but also helps students develop critical leadership skills."
Feeling Stressed or Depressed?
Access our Student Assistance Program (SAP) to speak with an expert counselor.