News & Stories
Creativity & Camaraderie in Carroll's Adult Art Classes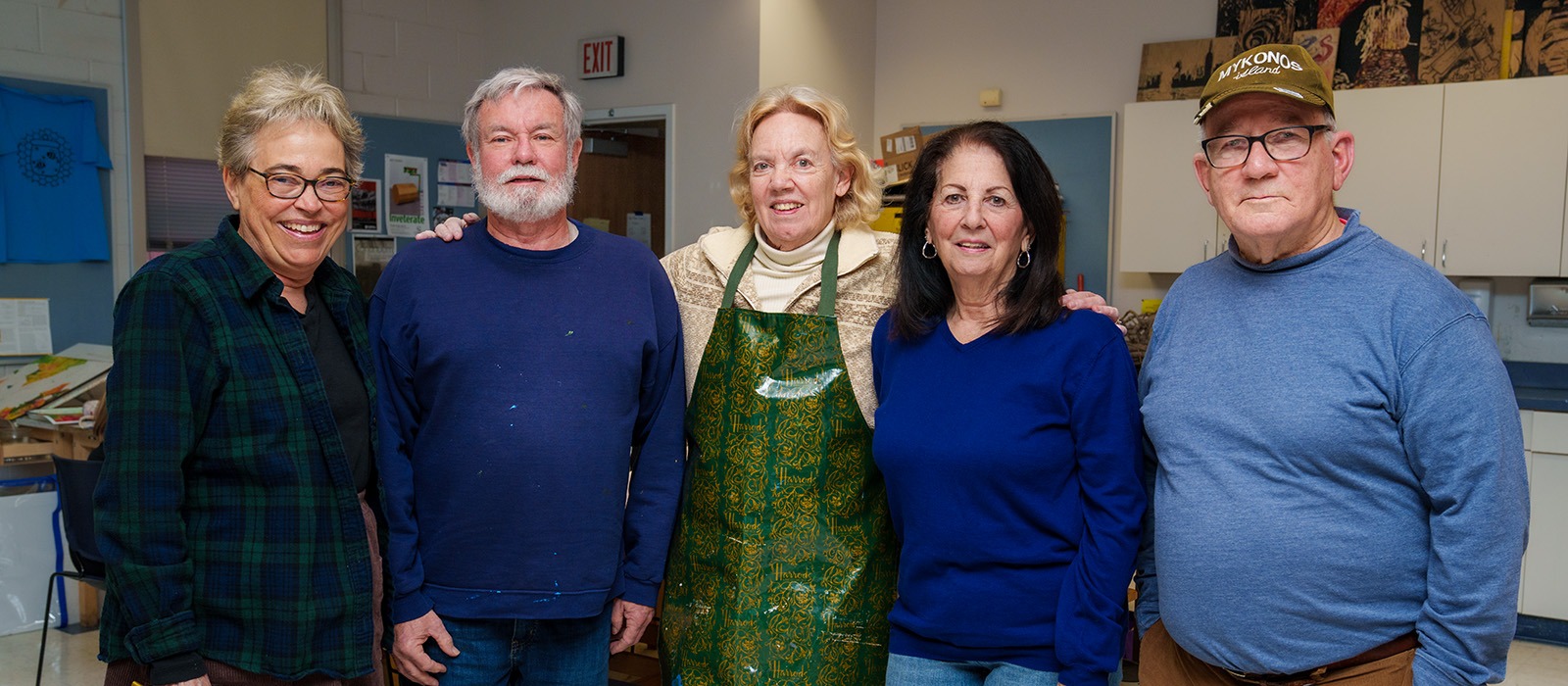 Many people enjoy adult art classes at Carroll Community College, but perhaps none more so than a close-knit group of students who have been taking Personal Enrichment adult art classes together for many consecutive years.
The students interviewed for this article included: Candy Aaron, 75, retired elementary school teacher; Sylvia Bellak, 78, retired framing specialist; Terry Brown, 72, retired government contractor; Terry Powell, 76, retired middle school teacher; and Claudia Vrabel, 76, retired college staff member.
N&S: Why did you want to take adult art classes?
Candy: I've always loved art since I was a child. When I started working, I taught elementary school. I only drew stick figures. I really wasn't developing my art very well. I was busy reading curriculum guides, so I didn't have time to do it. Then I started taking art classes when I retired. I've really enjoyed it. I paint every night after dinner. It's like dessert!
Sylvia: I started drawing when I was small when we used to go visit relatives. They had a pencil and paper at the desk for me and I'd sit there and draw while they all visited. And in school I always had art classes. And then you kind of start a family and work and everything. So I had a sabbatical for about thirty years. And then I started taking classes again. I've been taking this class now for about eight years and I love it. It has been a godsend because it helped me through a lot of tough times.
Claudia: I used to work here at Carroll, from 2000 to 2004. I've taken art classes all my life, and when I was working here I took classes. I'm loving this studio art class. Just keep signing up for it every semester. This one was unique because I never felt like I had to do a project. I don't like to go into an art class where they say everybody has to paint this. I like being able to do individually what we love to do, and that's when you see the best pictures.
Terry B: I started taking art classes here ten or eleven years ago because all three of my kids are talented, and I figured they had to get it from someplace, so I might as well give it a shot!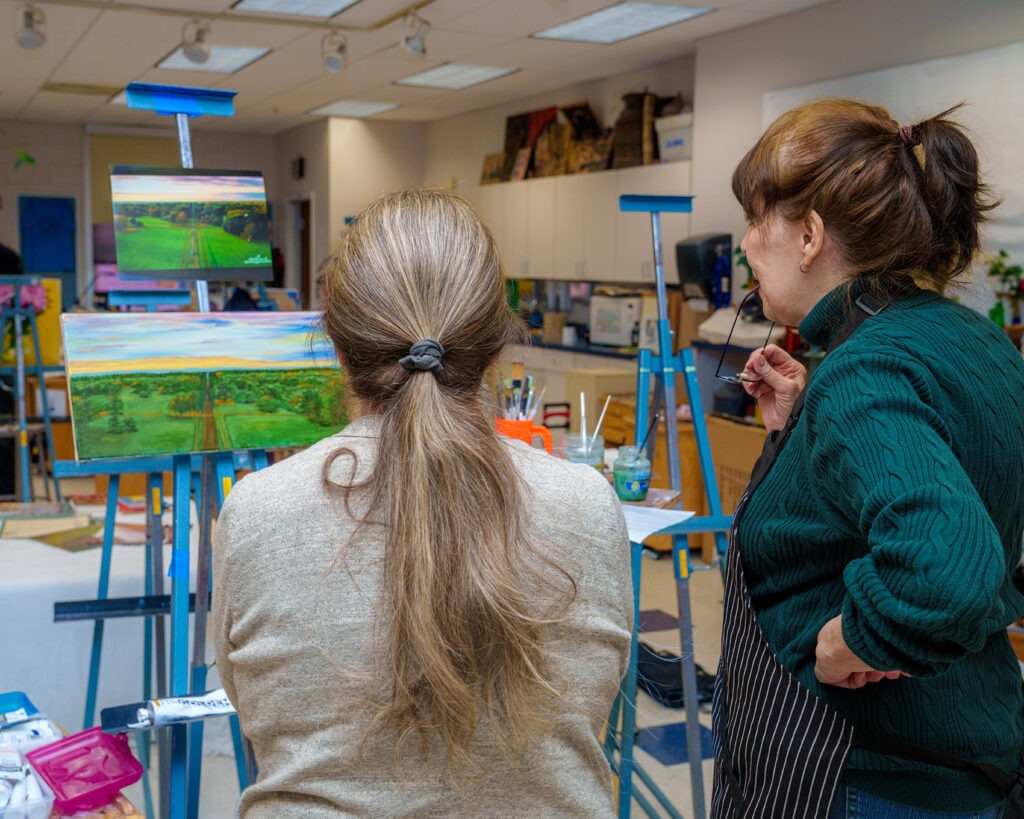 N&S: What kind of medium do you like to use in adult art classes?
Claudia: Acrylic, watercolor, pen and ink.
Candy: I like all of it—sculpture, painting, pen and ink. But watercolor is my favorite.
Sylvia: I've used oils, I've used acrylics, but I love watercolor as well.
Terry B: I just do acrylic. With acrylic you can paint over it again. In one of my pictures, I had water that I couldn't stand. It took me six layers before I finally got the water the way I like it. You can't do that with watercolor, but you can do that with acrylic.

Terry P: There's a guy named Benny [in our class] who's done nothing but oils for the last five or six years. And there's another lady who just does ink. And previously, there was a guy who just drew with pencil. But over fourteen years in a class like this, you try everything. And, of course, you find you like one thing better than another. You just do what you want to do.
N&S: What do you enjoy most about taking adult art classes together?
Claudia: I love the way everyone has their own unique style. You learn a lot from looking at everybody else's work. And I love the critique at the end because people see things that you don't see about your own work.
Candy: And everybody is improving. During the critiques we see a lot of growth in everybody.
Terry B: You get to meet people with different points of view, from different walks of life. They have had experiences you haven't had. Some have traveled, some haven't traveled. So you discuss where you've been and where you haven't been. Most of my paintings are things that I took pictures of while I was in the Navy, Scotland, and Iceland.
Claudia: Terry [Brown] has given me some nice photographs of castles in Scotland. I've used those for some of my paintings, the castles, the cottages. Usually I put sheep in and people are always asking me when I start a new painting, "Are you going to put sheep in this one?" It's just fun.
Sylvia: It's like the social high point of my week. You get to see all your friends. We've been together so long. Sometimes we even go out to eat afterwards. It's like family.
Candy: Sometimes Sylvia comes over to my house and I can scan some artwork for her.
Sylvia: [to Candy] And I can come to your house and do your framing for you.
Candy: This is something we all have in common. We like to do art, and so when we come in, we can watch other people's progress, compliment other people. Like Sylvia said, it's like a family when you come. I look forward to coming every Friday, not just for the art, but for the camaraderie.
N&S: So you would all recommend Personal Enrichment adult art classes at Carroll?
Claudia: I look forward to it every week! My husband sometimes says, 'It's so cold out. You sure you want to go?' And I say I don't want to miss my class. I love my class. I have learned a lot.
Candy: And it's very reasonably priced.
Claudia: That's a really good thing, the fact that we're able to pay a discount, being seniors. Makes it easy for you to sign up for classes.
Sylvia: And [class instructor] Stacy Levy has helped so much. I did a picture of a turtle, and she told me I should put it in the Philadelphia Watercolor Society Show, which is an international show that gets eight or nine hundred entries, and they only pick eighty or ninety, and mine got picked!
Candy: Stacy is awesome. Very skilled. Excellent teacher. She can help people from the very beginning to people who've been painting a long time.
Sylvia: She teaches all mediums. Whatever you do, you work at your own pace, and she just comes around. If you have an issue, she'll discuss it with you. She'll show you new techniques. Everything she says is very positive.
Terry P: Carroll is a great facility, especially if you're retired. I've taken writing courses here, I've taken a television production course here, played in three Rock 'N' Roll Ensembles. And it's very affordable. If you have an interest—the hardest thing about retiring is keeping busy—this is a great asset to us.
The 2023 Continuing Education Student Art Show opens March 9 and runs through May 19. Enjoy drawing, painting, ceramic and stained glass works, created by Carroll Community College's talented Continuing Education & Training art students.
Pursue Your Passion!
Discover new perspectives, explore your creative side and broaden your knowledge.