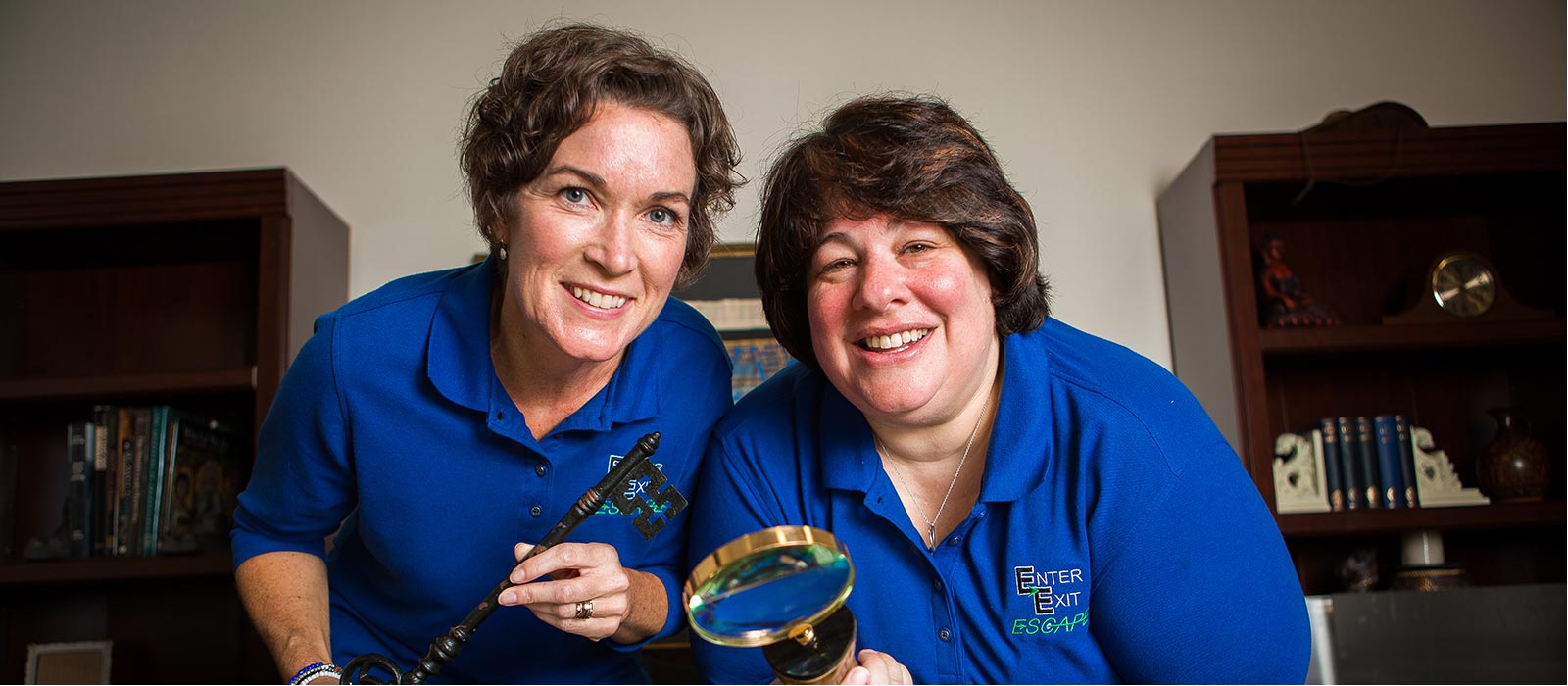 Miller Instrumental In Success of Enter Exit Escape, LLC
Kristen Ellis and Lisa Yzaguirre are co-owners of a new Carroll County business called Enter Exit Escape, LLC. Thanks to the help of Miller, Resources for Entrepreneurs, the business has become a stunning success in terms of popularity and diversity of clients. The business officially became an LLC one-and-a-half years ago and, with ongoing support from Miller, opened its current facility on August 3, 2017.
The business provides a fun, engaging experience within the setting of an escape room. The venue, located at 1902 Back Acre Circle in Mount Airy, is a themed room filled with clues, codes and puzzles that a group of adventurers must find, solve and put together in order to complete a mission before time runs out. Groups can bond, engage in a live immersive experience, celebrate special events or do team-building work at the facility. There, three escape rooms include a science lab, a 1970s bank and an Egyptology professor's office.
In February, 2016, the business was created in the form of a mobile setup that introduced escape rooms to local festival-goers over the course of six months. "The idea came from a family vacation escape, with three generations playing and learning together," said Ellis. "We wanted to bring the experience to our hometown for others to enjoy. Given our passion for games and the need for a challenge, the idea of opening an independent escape room in Mount Airy took hold. With the support of Miller, family, friends and local businesses, the idea became a reality."
"We first worked with Miller when the business became a finalist in the 2016 Carroll Biz Challenge," said Yzaguirre. "Miller helped us to hone our ideas and review our business plan from a variety of perspectives in order to fully take advantage of our potential." Since winning the Carroll Biz Challenge, Miller has continued to be a resource for them to address their questions and concerns, hold valuable classes and conferences, and provide network opportunities.
In addition to the Carroll Biz Challenge, Enter Exit Escape, LLC also received the "No Way" Award as part of the Miller Awards in 2016. The prize was granted for the most intriguing and exciting business idea, as in "No way, that's a thing???"
The co-owners intend to grow as a unique provider of memorable experiences and a valuable resource for the community, its businesses and organizations.
Small Business Training
Miller offers training in a range of topics tailored specifically to starting and growing a business.