News & Stories
Get Your Career in Gear: Automotive Technicians Are In Demand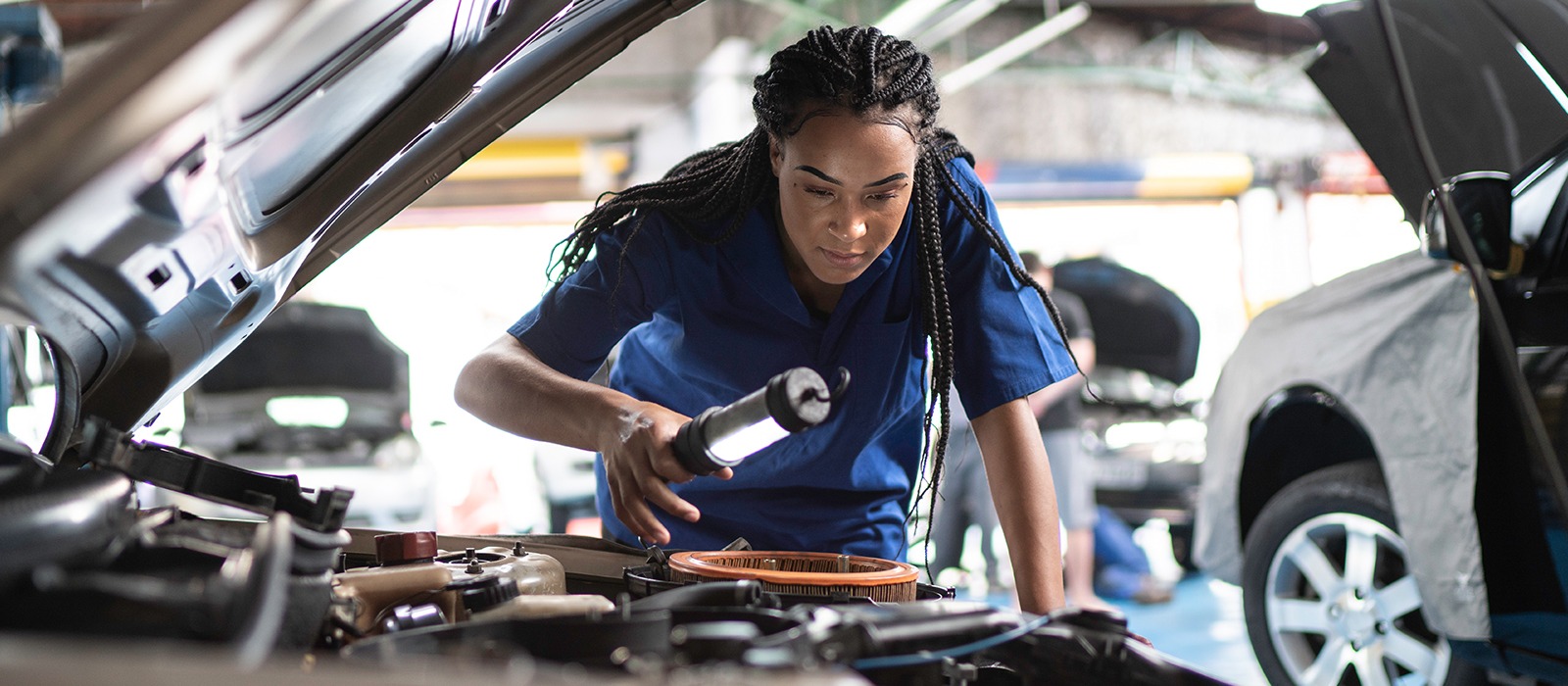 Do you love working on cars? If you want to make a rewarding career out of repairing and maintaining motor vehicles, the new Automotive Technician program at Carroll Community College is for you!
Launched in Fall 2022, the program prepares students for employment in an entry-level position at auto service centers providing routine repairs, from a privately-owned garage to a dealership-owned shop. Auto Techs may repair systems such as brakes, steering and electrical. Other tasks may include checking fluid levels, rotating tires and changing the oil.
What is the Automotive Technician program like?
Each class prepares students to test for the ASE Individual certification in the respective area of instruction. The program covers the three fundamental areas of automotive repair: electrical systems; brakes; and steering & suspension. Students participate in practical demonstrations, receive classroom and simulated instruction, and go on fieldtrips to local vehicle repair shops.
While all this sounds rather hands-on—and at times it can be—the Automotive Technician program also emphasizes more cognitive approaches to automotive problem-solving. Modern vehicles are technology-based, utilizing a variety of software applications to run their essential processors, memory and sensors. Students receive an overview of how to understand these computerized systems.
The three individual ASE certifications, in addition to six months of work experience in a related field, qualifies students to test for the ASE Certification in Maintenance and Light Repair (G1). They can then consider pursuing further education in collision repair and refinish, medium/heavy truck repair or electrical vehicle repair. (Carroll expects to launch an electrical vehicle program this upcoming academic year, which will lead to ASE L3 certification and include engine performance.)
The course also covers interview techniques, résumé building and other skills for launching a career in automotive repair and maintenance. The 129-hour program takes about six months to complete and requires applicants to be age 16 or older. Carroll designed the course for both adult learners and traditionally aged students.
Who can succeed in the Automotive Technician program?
Of course, an interest in vehicle repair will help students succeed in the course. Critical thinking skills, math aptitude and a desire for variety and independence in one's work would also be advantageous.
"The addition of the Auto Tech program at Carroll Community College is excellent news for the auto repair industry and Carroll County," said Jorge Gilligan, CEO of Revolution Motor Works. "We have a massive technician shortage in automotive repair and the proper training is hard to come by. The Auto Tech program can help fill a huge need in our country. There are many high-paying auto tech jobs available at our shop and most shops in the area."
Automotive Technician program students indeed have every reason to feel hopeful about future job prospects in the field. In Maryland alone, there are currently about 12,000 jobs in auto tech, with more than 1,500 estimated openings a year.
"The Automotive Technician program gives you an opportunity to learn a trade that will always be in demand," said Jeremy Roop, Coordinator of IT, Advanced Manufacturing and Innovation at Carroll. "Car repair will always be needed. This program allows students to take manageable steps to advance or start a new career through the individual certifications."
Fast Track Your Future
Earn a certificate for an in-demand career in just months.