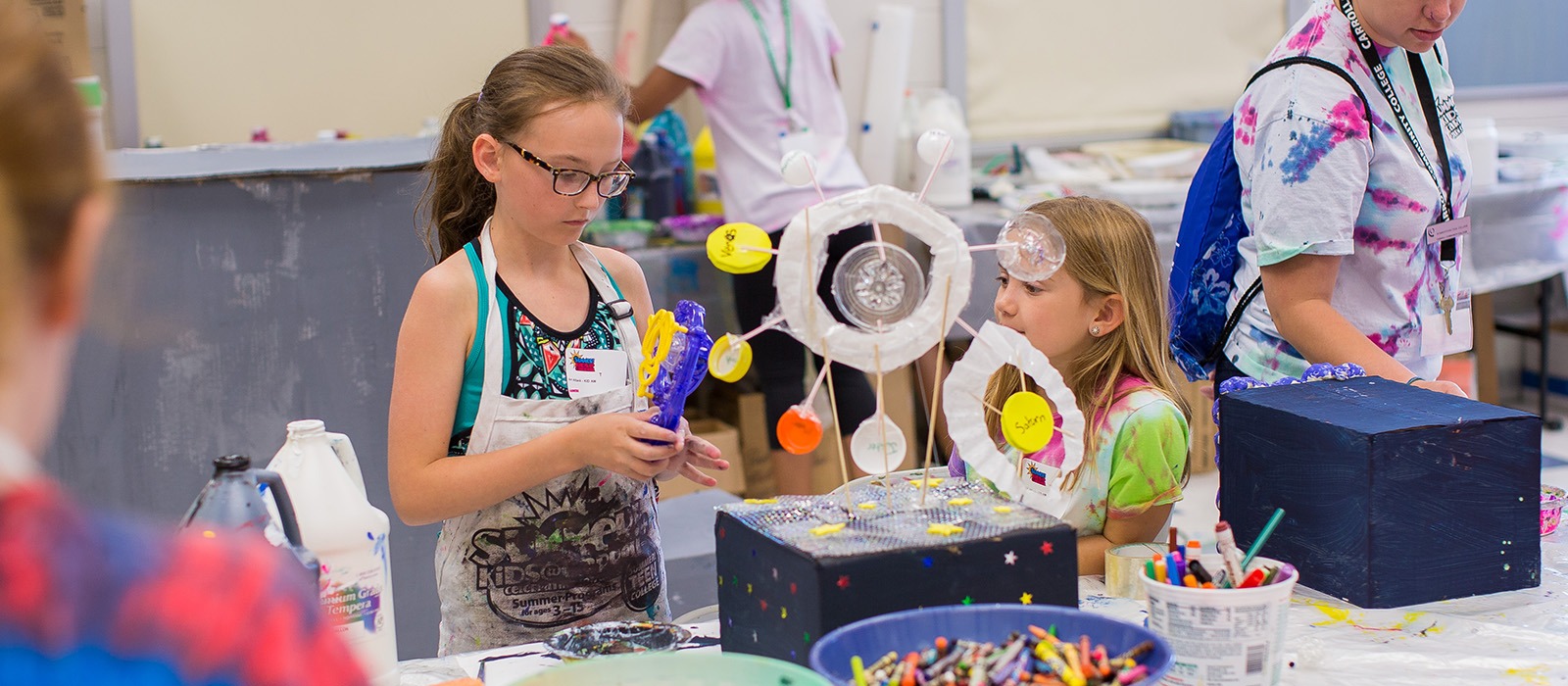 Sign up for kids summer education programs offered at Carroll to keep your children engaged and having fun while learning this summer.
"We have adult instructors, small groups—one adult per eight kids—and most of our instructors are professional teachers," said Cassandra Casey, Coordinator of Lifelong Learning and the Summer! Kids@Carroll (for children ages 5–11) and Teen College (for children ages 12–15) programs.
Add the state-of-the-art labs, safe college facilities and a variety of engaging topics, it is easy to see why kids summer education programs at Carroll have become so popular with parents. But they're not the only ones. "Kids love the opportunity to do so many cool things," Casey said. "They get to try something new. There are lots of hands-on activities and individual attention. I like to say campers have so much fun, they forget they're learning!"
How Carroll Develops Kids Summer Education Programs
Carroll taps into the latest trends for its kids summer education programs by talking with campers and parents, staff and instructors. Many of its instructors are public school teachers who know what's popular and would make a good camp theme.
Retiring outdated programs, on the other hand, relies on tracking data points and enrollment. "Typically, what's hot three years ago won't be hot now," Casey said. "We listen to the kids and families to see what themes aren't popular anymore."
Popular Kids@Carroll Camps
Cooking: "Kids as young as nine can get in the kitchen and try recipes," Casey said.
Art: "Some camps are taught by professional artists, including our Art Attack program that takes recycled material to create works of art and sculpture," Casey explained.
Digital Technology: "We teach programming through video games like Minecraft and Roblox," Casey said. The program mixes popular games with coding skills.
Robotics: "We've partnered with the local robotics team, Robo Lions FRC Team 2199 and PIE3," Casey said about their newest program. "Campers get to build robots and go through the trial-and-error process to get their robot to complete a skill or challenge."
Teen College Lets Kids Sample Higher Education
A way to keep your older children's minds active this summer is through Teen College at Carroll. Students can learn life skills and sample different careers.
"We want to give our teens a safe place to explore their interests and see what they'll want to study," Casey said. "It's easier to commit to a one-week camp than a semester-long class, and less expensive too."
As with the Kids@Carroll programs, Teen College students can enjoy such camps as cooking and digital technology, but teens can learn more advanced skills.
What's New at Teen College
"We've got a Mixed Media Art Making camp taught by a high school art teacher," Casey said. "Campers take a variety of artistic trends and learn to put them together using multiple styles and multiple mediums like watercolor, ink, paint and more in new, unexpected ways.
"There's also Biology. Campers learn the fundamental biologic cycles through hands-on labs."
Carroll's Kids Summer Education Programs Online
Like many organizations, Carroll had pivoted to providing online options during the pandemic. Campers liked the virtual alternatives, and even though most Summer! Kids@Carroll + Teen College camps are fully in-person again, Carroll has chosen to continue offering online choices too.
With so many great choices, kids will never be at a loss to find something they are interested in. "I send my own kids to camp here," Casey said, "so it's important that it's a fun, safe program."
Summer! Kids@Carroll + Teen College
Enrich your child this summer with exciting hands-on activities & learning opportunities led by expert instructors in a camp-like setting.