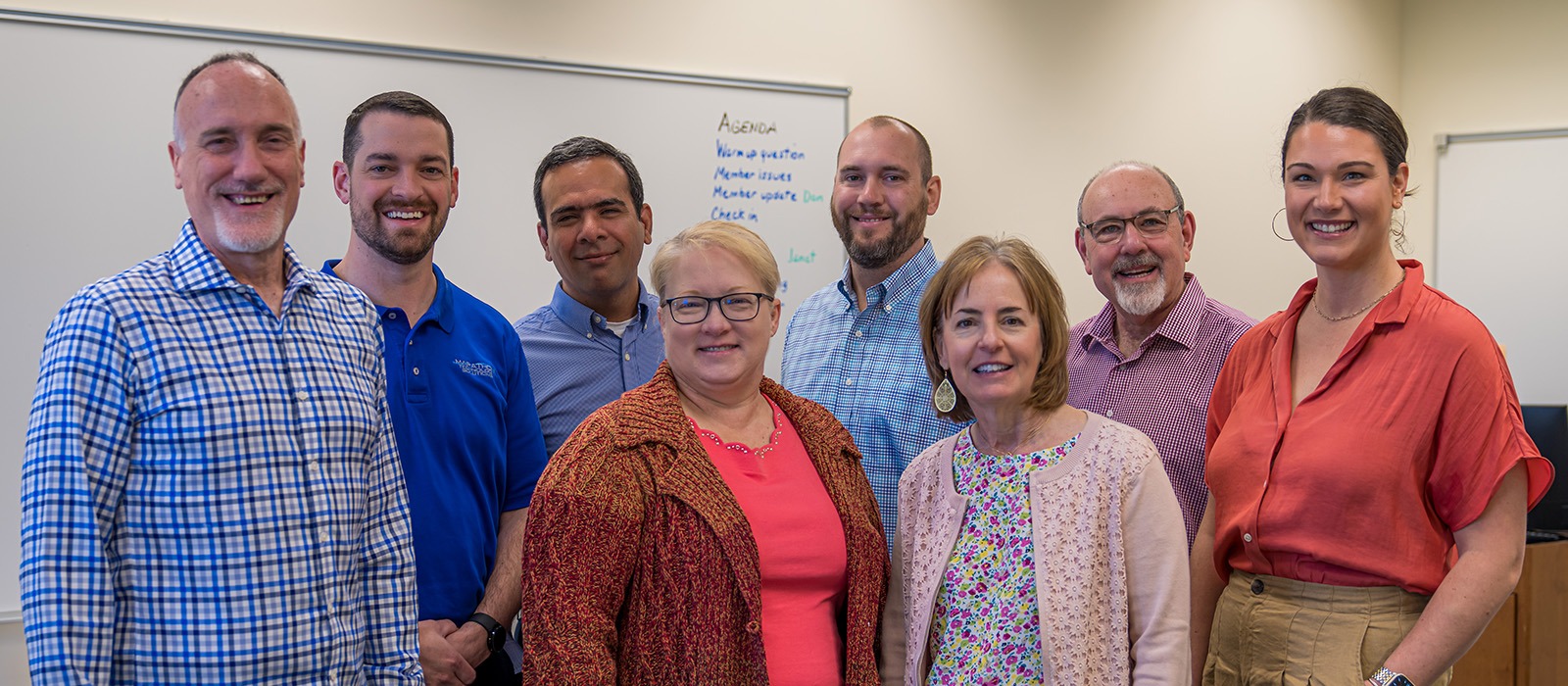 It can feel lonely at the top. Since few people in an organization are at the same level as the CEO, there may be no one else in that organization who can discuss the challenges faced in that role. It can seem isolating—until now. In 2021, Advantage C at Carroll Community College launched a leadership training program, Leadership Peer Advisory Group, that allows area business executives an opportunity to share, learn and grow in a safe peer environment.
Questions That Won't Quit
In what direction are we headed? Where do I find the talent to get there? How are others in my position handling this?
It's questions like these that keep executives up at night, especially in these volatile times. Challenges related to COVID, supply chain delays, labor shortages, inflation and a looming recession have compounded, creating the perfect storm. Now more than ever, leaders across industries feel the weight—and often, the isolation—of helming their organizations. According to Jen Colletta with Human Resource Executive, by the end of 2021, 72% of leaders were experiencing burnout. By now, that number has grown significantly as they still struggle with work-life balance while also bearing the burden of organizational performance.
One solution for mitigating these pressures is working through them in a peer-to-peer forum for leadership training. Recognizing that high-performing leaders have a thirst for professional and personal growth, and in response to the strained business landscape observed in conversations with regional employers, Advantage C began offering the Leadership Peer Advisory Group (LPAG). In this group, executives and senior managers from diverse organizations and industries come together monthly for facilitated discussion and to receive customized training.
A Safe Forum of Trusted Peers
"This year-long cohort program provides regional leaders with a safe forum in which they can share and process business challenges together," said Janet Ladd, Senior Director of Corporate Services and Workforce Development at Carroll. Through the peer interaction, leaders can identify areas in need of change, develop ideas for improvement and receive follow-up feedback at subsequent meetings.
This opportunity is different from a networking group, as each cohort is comprised of a select group of non-competing organizations. The neutral and non-judgmental approach, along with a skilled facilitator and guiding principles around confidentiality, creates an atmosphere of mutual respect and trust where individuals can speak freely and learn from one another.
"By having such a diverse group of peer leaders from government, nonprofit and commercial businesses," Ladd said, "the lens through which they view their challenges and opportunities is much richer. To get unique perspectives from individuals outside of their organization is very, very helpful."
In addition to monthly facilitated sessions, cohort participants have two opportunities during the program to hear from expert speakers on topics of their choosing. One-on-one executive coaching is the third element of the program, providing participants with additional opportunities for personal reflection and growth.
According to Ladd, this program empowers leaders to better themselves and their companies. "We believe this, in turn, contributes to the advancement of our community, which is our mission and our passion."
Become an LPAG Member
If you're a senior business leader interested in developing yourself and your organization, we're now accepting applications for the next LPAG cohort.