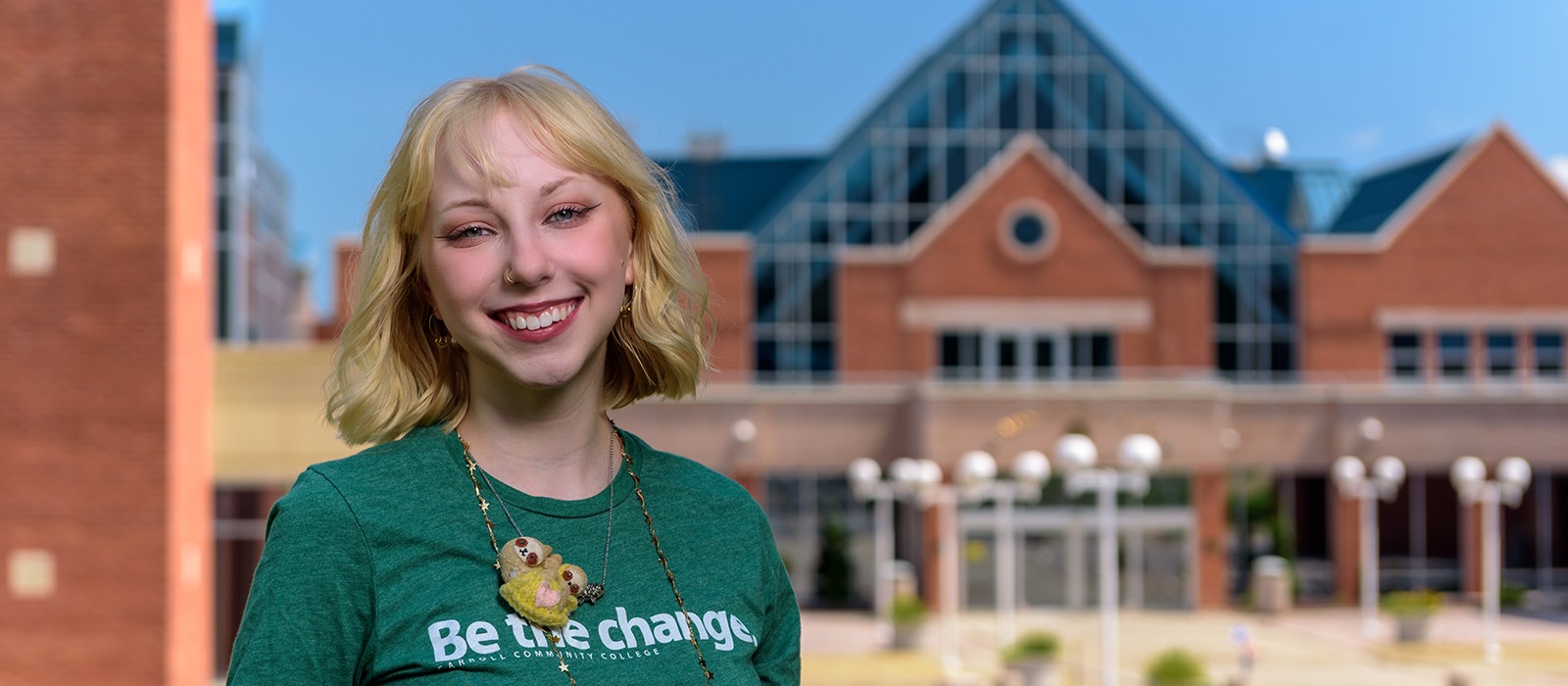 Earning an Associate of Arts in Education is what drew Liz Vinson to Carroll, but she's making the most of her college experience in areas beyond pursuing her degree through extracurricular activities.
Currently living in Lineboro, Pennsylvania, Vinson chose to go to Carroll because of the College's solid reputation and how much money she would save by starting her Bachelor's there. But attending Carroll is not just about earning her AA degree; for Vinson, it is also about relishing collegiate life.
How Vinson Is Involved
Her many extracurricular activities while at Carroll have included:
The Newman Civic Fellows
Student Ambassador Program
Internship at Francis Scott Key High School
Pappalardo Honors Program, including their Leadership Challenge
Phi Theta Kappa
Student Education Association
Parttime Aide in Theater office
The Newman Civic Fellows in particular has helped Vinson meet like-minded students from all over the country who are working towards community improvement. For example, she works with Boys and Girls Club to help youth use theatre to connect with their community. "I go in once a week and lead a couple of sessions with children," she said.
I've had great opportunities [at Carroll] that I didn't expect at a two-year school, such as the student life. There is always something to do.
During the children's "club time," they rotate through activity stations Vinson oversees. Though they may not necessarily be interested in theatre, Vinson uses games based upon drama and play-acting to help them use their imaginations, bolster their self-confidence and improve their communication skills. This experience allows Vinson to use the skills she is learning while earning her Education degree.
How to Pick Activities
Vinson decides on which extracurricular activities to join based on her own interests as well as what opportunities are offered to her.
Are you a Carroll student or alumni?
"Having those experiences under my belt have been great résumé builders," Vinson said. "It will help me when I transfer, and it helps when I apply for scholarships at Carroll. It has totally changed my college experience and has been so enriching for my Education degree."
One of the enriching opportunities she will be taking advantage of is volunteering for Special Olympics. She will spend the day paired with an athlete to provide moral support. While it may not seem closely aligned with her AA degree, she can practice her people skills and learn more about different disabilities.
Building/Balancing Work/Life
Making friends can prove challenging at a non-residential school like Carroll; however, Vinson said that involvement in so many organizations on campus has made that easier.
"I've met so many people and learned more about my professors by leading clubs," she said. "It's given me a few friendly faces to recognize around Carroll."
With so many extracurricular activities vying for her time, Vinson keeps her life balanced through scheduling and planning. Her daily to-do list keeps her on track for her AA degree, and reminding herself of her bigger goals stokes her motivation.
Upon graduating from Carroll, Vinson plans to transfer to a four-year university—she has a few offers to consider—and double major in Education with a focus in English to complete her Bachelor's degree in Education. Eventually, she would like to teach drama and/or English at the high school level.
"I've had great opportunities [at Carroll] that I didn't expect at a two-year school, such as the student life," Vinson said. "There is always something to do."
Get Involved On Campus
At Carroll, you'll have the opportunity to learn, grow and connect in a supportive, community environment.