News & Stories
Miller Helps Women Entrepreneurs Build Their Businesses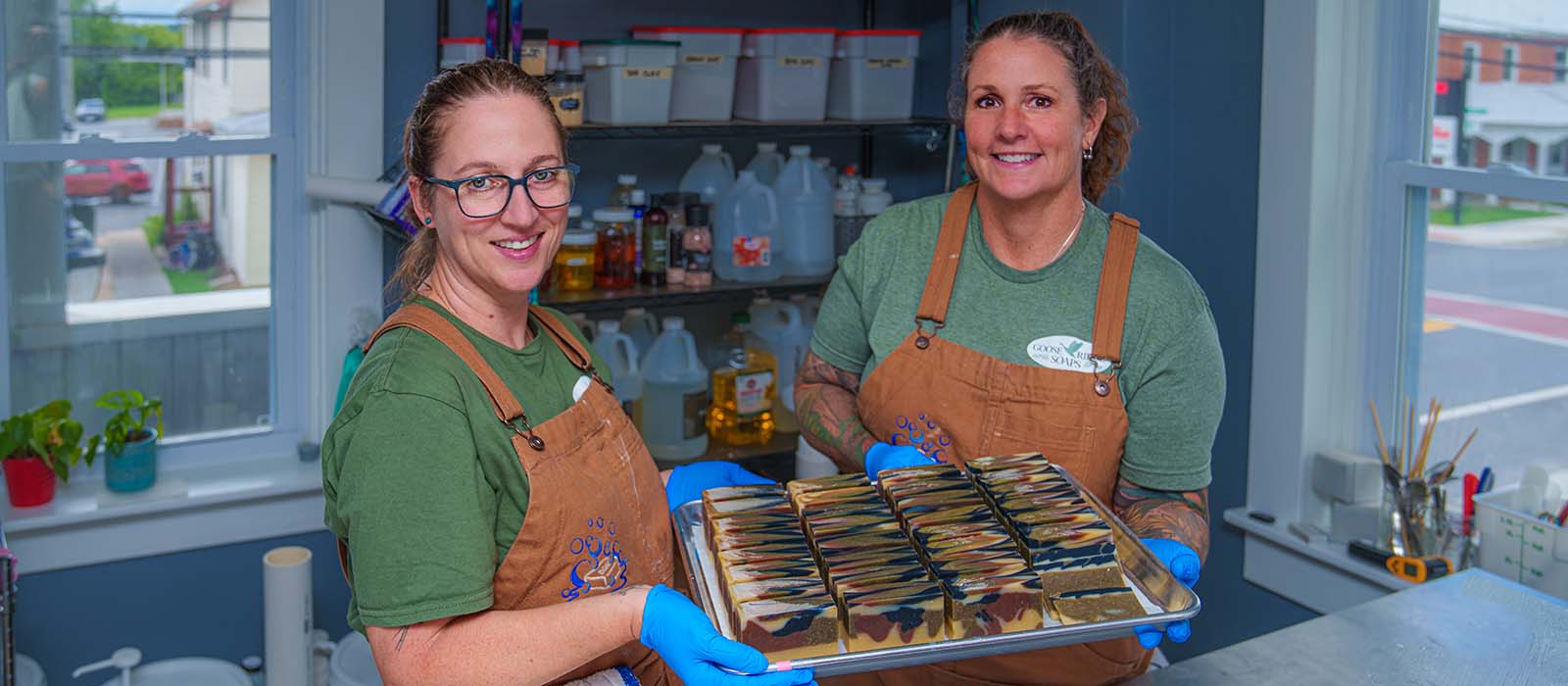 Since 2003, Miller: Resources for Entrepreneurs, a service of Carroll Community College, has helped a wide variety of startups to launch and grow their business. Over the past couple of years, they have seen an uptick in women entrepreneurs who have sought out their expertise.
The latest data from Incfile, a leader in online business formation and startup services, likewise shows an increase of women entrepreneurs across the U.S. Based on their findings, women entrepreneurs grew by 48% from January 1, 2020 through December 31, 2021, outpacing their male counterparts by 22%.
"Miller has definitely seen a significant increase in women-owned startups," said Tom Mazerski, Director of Miller. "Women entrepreneurs seem especially positioned to take advantage of new business opportunities, and their passion and creativity have created new markets identifying and satisfying customer needs."
Here are just a few of the women-owned businesses Miller has recently helped:
Goose Ridge Soaps, LLC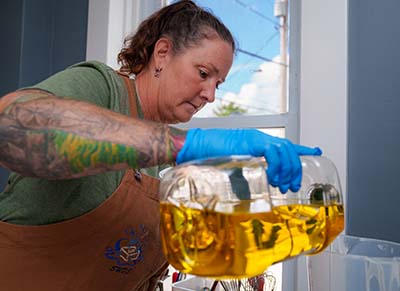 Kim Beatty and Janice Campbell, co-owners of Goose Ridge Soaps, both came from backgrounds far away that of soap makers. Kim earned a Bachelor's degree in Animal Science Pre-Vet from Virginia Tech before becoming a K-9 handler/police officer in Washington DC. Janice went to school to become a paramedic, served as a police dispatcher for seven years, then took a break to be a stay-at-home mother before starting Goose Ridge Soaps with her friend Kim in November 2020.
"We wanted to teach ourselves how to make our own cold process soap because we wanted to get away from using store-bought chemical products," Janice explained. "We did it as just something to do as a hobby at first, and then it grew into selling it to other people."
"When we started Goose Ridge Soaps as a 'big girl' business and not just a hobby, we had no idea what we were doing," Kim said. "We just knew what our concept was and where we wanted to go, and we had to figure out how to get there."
Kim and Janice found Miller through Carroll Community College's non-credit class schedule, Balance. Janice signed up for the Small Business Marketing Workshop and was impressed with how useful all the information was. Kim and Janice then explored what other Miller workshops, classes and events they could benefit from, and have been attending them ever since.
"We've gotten a lot of really good small business advice and coaching through Miller," Kim said. "They've been a really great resource for teaching us what we need to know and giving us different ideas we hadn't thought about."
In 2022, the three winners of the Carroll Biz Challenge—the Grand Prize, People's Choice (won by Goose Ridge Soaps) and Changemaker awards—were all women owned. "That was pretty amazing," said Kim. "I'm pretty sure all of us went to Miller for assistance with our pitches or some point of our business plan."
"I feel there's advice for every stage of where we're at," Janice said. "We needed advice in the beginning and we're going to continue to need advice as we grow, and Miller has been a great resource."
Cool Cats & Canines
Christine Slater began an apprenticeship at a pet grooming salon in 2013. She worked at the salon for seven years, getting promoted to manager during that time. In that position, she learned many of the do's and don'ts of owning and operating a pet grooming business. She also developed the clientele and confidence to eventually branch out on her own.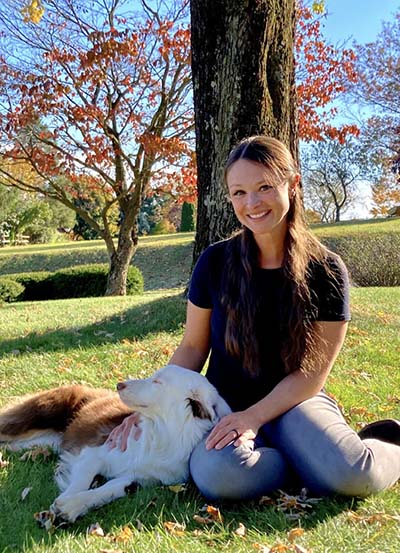 In March 2021, she opened her own pet grooming salon Cool Cats & Canines in Eldersburg. The first steps to launch her business were registering a name, developing a business plan, building a website, and securing a location. Once that was covered, she had to design the workspace, complete the build-out, purchase equipment and start building a reputation in the community.
"It was exciting to have the opportunity to create a business from the ground up that would reflect my own hard work and values," Christine said.
Some of the challenges she faced while starting her business were negotiating lease and loan contracts, tedious permit regulations, and backordered equipment. As the salon grew much faster than expected, she also faced the challenges of hiring staff, managing the high demand for its services, and finding a balance between being a business owner and having a personal life with her husband, family and friends.
She originally reached out to Miller to help facilitate the purchase of an existing pet grooming business. When that fell through, they encouraged her to move forward with opening a business from scratch.
"Tom Mazerski from Miller played a big role in helping me face some of the initial challenges of starting my business," Christine recounted. "I really didn't know where to start, but he helped me develop a business plan and encouraged me to have patience throughout the process." Mazerski reviewed several of her documents and contracts, advising her how to go about negotiating favorable terms.
"Tom's practical advice and guidance made me feel like my goals were attainable, even when I felt overwhelmed by it all."
Rudolph Girls Books
Ali King and Nikki Rhodes had switched careers from teaching high school English and early elementary school respectively to launching Rudolph Girls, a bookstore in Westminster, MD, on August 13, 2021.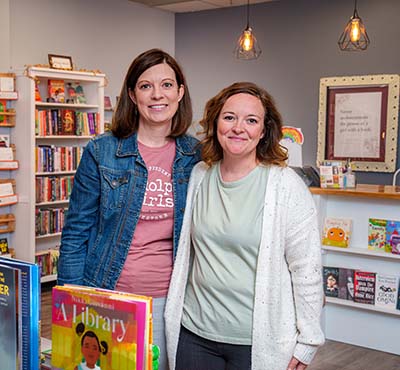 "We both LOVE to read, and we are both passionate about downtown Westminster and seeing it thrive," Nikki said. "We saw that there was a need for an indie bookstore in the area. We work hard each day looking for ways to partner with and give back to the community that supports us. That's what makes us different."
At first, they connected with others following the same pursuit. "We reached out to dozens of independent bookstores across the country and met with owners virtually, asking tons of questions," Nikki explained. Using what they learned, they wrote a business plan, developed their brand and began sharing their journey on social media.
"It has definitely been a learning curve," Nikki continued. "We have had to learn everything from how to build and maintain our inventory to how to use our store's point of sale system. With each new challenge and roadblock, we lean on each other and reach out to others in order to overcome obstacles."
Miller played an important role helping the co-owners address obstacles they faced establishing a startup business. They were referred to Miller through the Carroll County Chamber of Commerce, as well as through word of mouth from other small business owners. They were able to meet with Miller's experts over Zoom, who reviewed their business plan and gave them advice about the loan application process. "There is so much information out there and so many great people willing to offer advice and support," Nikki said. "Miller is there to help move you forward."
Moving Together Forward, LLC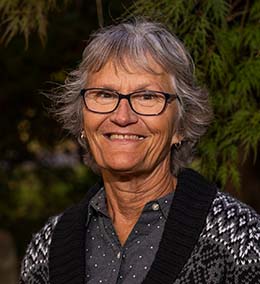 Judith Nance, a Certified Professional Coach and Certified Facilitator in Addiction Awareness, is the owner of Moving Together Forward, a provider of confidential, encouraging and empathetic coaching services to assist others in their struggles. After years of working in the mental health and addiction fields, she launched her own business in Spring 2022.
"Starting a business was much more challenging than I thought it would be," Judith recalled. "At the start of the business, I was working two jobs but now have pared that down to one full-time job. I've experienced challenges when I have had periods of doubt and at times have become overwhelmed."
Miller provided her with a variety of services to address these challenges. "Miller has always encouraged me to be successful and provides me with the opportunity to express and talk through my doubt when it arises," Judith said.
She found Miller through her research into the education programs Carroll Community College offers in her chosen field of work. Miller assisted her with setting up a webpage for her business, presenting startup financing opportunities and providing referrals as needs arose.
Judith plans to continue consulting with Miller as her business expands, as well utilize their services to open another non-profit in the same field. "Miller provides me with the level of support I need as the process continues. Tom Mazerski has met me where I am, ready to assist as I'm ready to receive information."
Judith believes now is a good time for women to become entrepreneurs, as there are more funding opportunities for woman entrepreneurs than ever before. In addition, there are a growing number of woman-based support systems and business networks.
"I would encourage women who have a passion and a vision to give themselves the gift of exploring the opportunities our county and state have to offer," Judith said. "Miller will support your vision and help you define how and what that will look like."
Looking to Start or Grow Your Business?
Explore Miller's small business training courses and other resources.