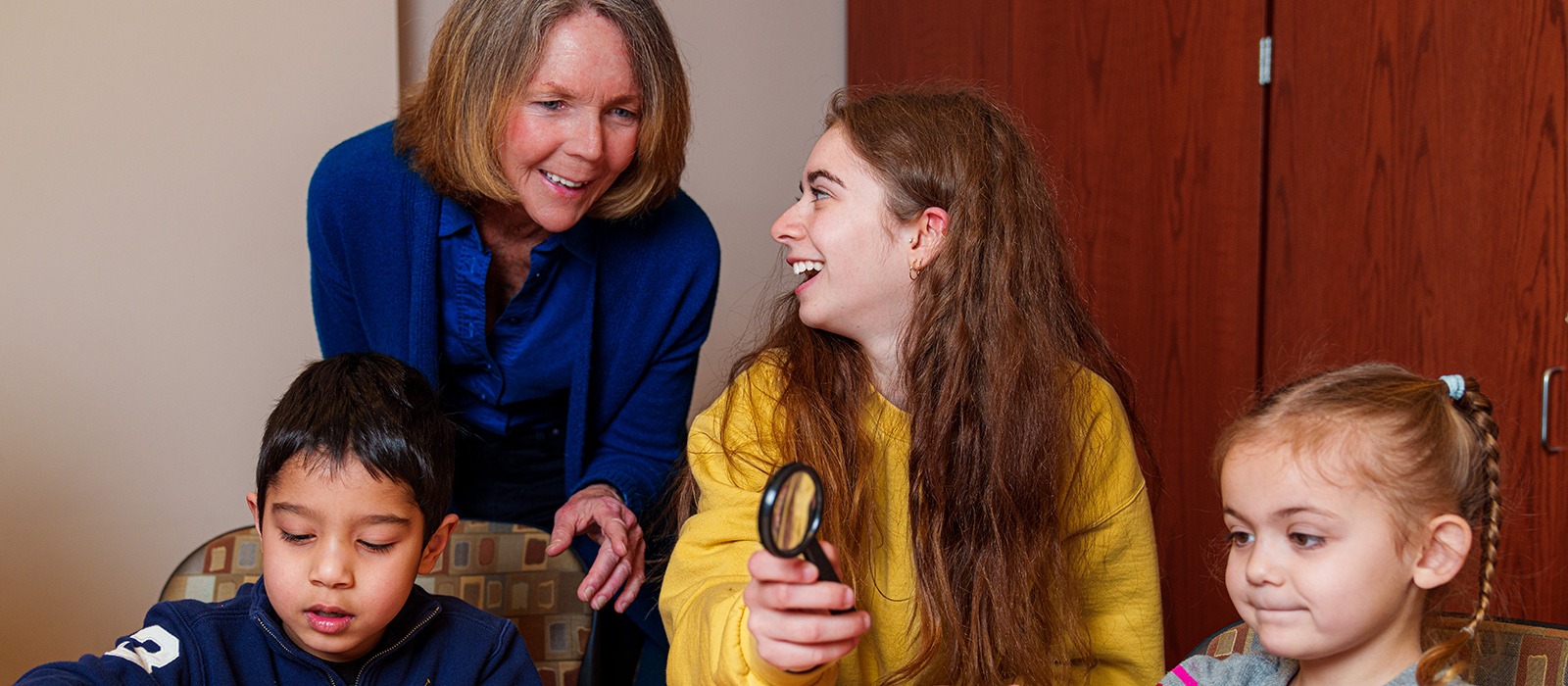 One of the requirements—and benefits—of Carroll's Education teaching programs is the opportunity to participate in an internship to earn classroom experience credit.
Education students can fulfill this requirement through placements at Carroll County Public Schools (CCPS) and other licensed learning centers. They are able to start these placements early in their program, unlike many four-year Education programs where students don't begin internships until their junior year.
Real-World Learning
Students in Carroll's teaching program internships are each assigned a mentor teacher to observe at their placement institution. Mentor teachers help their teaching program students gain valuable, real-world experience that they can apply in their own classrooms as employed teachers. From them, they learn classroom management skills, motivation strategies and more.
"I am paired with a mentor teacher in the grade and subject area I am interested in so I can become familiar with the curriculum and day-to-day process of teaching," said Kelly Emge, who is pursuing her Teacher Education degree at Carroll.
"I get to see how a real classroom works," said Kristian Whitehead, a Secondary Education program student at Carroll. "Most importantly, I get to connect what I am seeing and experiencing in the classroom to the educational practices and theories I have learned in my Carroll courses."
To study teaching from a textbook is one thing, but to see teaching and help students in real life is another, which has revealed new aspects of teaching to me.
"I enjoy seeing the ins and outs of being a teacher, as well as engaging with the students," said Jesse Epling, a Teacher Education major at Carroll.
A big advantage of the internships is how student teachers are able to relate to their mentors, who had many of the same questions at the beginning of their own careers. "I don't feel alone in my concerns or questions I have," said Kristian, "because my mentor teacher has provided me with an immense amount of expertise and advice related to teaching."
Shaping a Teaching Career
Teaching program internships also help students definitively decide that teaching is the career for them. "I have a genuine interest in teaching and that has become more evident through my internship," Kristian said. "I really enjoy interacting with the students; I also enjoy the behind-the-scenes yet imperative work all teachers have to do such as lesson planning, family engagement and so much more."
"My experience at CCPS has opened my eyes to what teachers do each and every day other than teaching, such as tracking data and planning the lessons," said Abby Franklin, an Early Childhood Education major who interns at the same elementary school she attended. "My current mentor teacher at my internships was my kindergarten teacher when I was little!"
I love that each day I go to my internship I learn something new that I will take with me to use in my future classroom.
Students can learn myriad skills in a teaching program internship. For instance, Kayleigh Lagunas, an Early Childhood Education/Special Education major at Carroll, works and interns at the Young School in Westminster, MD. Through her internship there, she gained a better understanding of the Reggio Philosophy, the model early childhood program the Young School follows.
"The philosophy is basically believing that the children are capable of far more than they are given credit for, and that they have the power to construct their own learning through various types of exploration and play," Kayleigh explained. For example, Reggio is very nature based, allowing children to learn by exploring the natural world around them.
"Being able to get to know the different personalities of the children and how to individualize education to best set each child up for success has been the most rewarding aspect of my placement," Kayleigh said.
New Internship Initiative
A new Early Childhood Education (ECE) program initiative at Carroll allows students already working in childcare to do their 45-hour internship practicum at their place of employment so they do not have to leave their jobs to pursue their ECE degree. Placements must meet the certain criteria (e.g., students must work under a degreed mentor teacher and be in a dedicated classroom throughout their placement).
Kelly Emge initially became involved with CCPS by working as a Student Support Adult with Special Education students. "I was able to work it out with my principal to allow me to do the internship while I was working there."
"At my placement, I work with preschool age children that range from three to five years of age," explained Kayleigh Lagunas. "Being able to do my placement at my place of employment has been very rewarding and helped me continue to grow."
Wherever they are placed, an internship serves to give Education teaching program students a firsthand look into the life of a teacher. "My experience at CCPS through my internship will inspire what I do in the future immensely," said Kristian Whitehead, who recently secured a summer research position with the Mellon Foundation's Humanities Collaboratory. "I am creating experiences and gathering knowledge that I will always remember."