Carroll Giving Day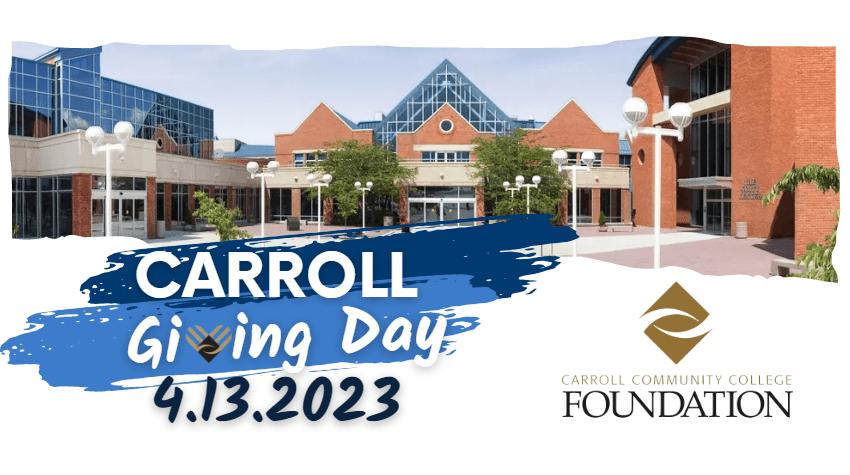 Your gift can help turn our students' hopes and dreams into realities!
April 13, 2023
Did you know that Carroll Community College became an independent College on April 14, 1993? In celebration of Carroll becoming an independent Community College over 30 years ago, we are asking students, faculty, staff, and friends of the College to join us in recognizing the impact we have made over the past three decades as we kick off the 1st annual Carroll Giving Day!
Carroll Giving Day only lasts 24 hours. The fun starts at midnight on Thursday, April 13. All funds raised will support student scholarships at Carroll!
Follow the Carroll Community College Foundation on Facebook and continue to check back on our website for updates and challenges!
How to Support Us on Giving Day
Follow The Carroll Community College Foundation on social media and share our #CarrollGivingDay posts with friends and family.
Forward our #CarrollGivingDay message to invite friends and family via email.
Sponsor one of our current Giving Day Challenges or submit your own! Call (410) 386-8151 for more information.
Join in on the fun, enter some exciting challenges, and don't forget to make a gift on Thursday, April 13!
Challenges
President's New Donor Challenge
Help us reach our new donor goal to unlock the President's New Donor Challenge! Ten brand-new (to the Foundation) Faculty & Staff donors must make a gift to unlock this challenge for a special performance by Dr. Ball at our next Collegewide meeting.
Teamwork Makes the Dream Work
We invite you to rally your social circle. Encourage family, friends, community members, co-workers, etc. to donate in support of Carroll Community College and to write your name in the comments section on the donation form. The donor with the most referrals will receive a prize!

The Early Bird Gets the $ Kickoff Challenge
The first 10 donors to make a gift from midnight to 6:00 am will receive a coffee on us.
Alumni Donor Challenge
Thanks to our Alumni Donor Challenge sponsor and Carroll Alumna, Theresa Bethune, gifts from 30 Alumni will unlock a $500 gift for the Alumni Association Scholarship.
Plus, any 1st time Alumni donor will receive a t-shirt!
Please note that you are a Carroll Alumni on your donation form.
Student Donor Challenge
Gifts from 15 current Carroll Community College students unlocks a prize giveaway. Any student who makes a gift may come to the Foundation Office the week of April 17th for their prize.
Please note that you are a current credit or non-credit student on your donation form.
Carroll Giving Day Challenge
Our Giving Day goal is to reach $50,000 in donations and/or to receive 100 donations. Help us reach our goals and watch our very own, Steve Wantz, Executive Director of the Foundation, partake in a unique VR experience.
FAQ
What is Carroll Giving Day?
Carroll Giving Day is a 24-hour fundraising event in celebration of the College's anniversary as an independent College. Our goal is to bring awareness to the Carroll Community College Foundation and raise money to support our students.
Why should I make a gift on Carroll Giving Day?
To support our students at Carroll and participate in one of our fun Giving Day challenges! Make a gift on April 13, 2023, and your gift may have an even larger impact than usual thanks to our generous friends and donors who are providing funds for our challenges.

How do I give?
Make a gift online here, call us at (410) 386-8150, or stop by The Carroll Community College Foundation Office with cash or check!
What does my gift support?
Unless specified, gifts will support student scholarships at Carroll. 100% of your gift goes directly towards student scholarships or the area in which you specified and are passionate about.
Is there a minimum gift amount?
No! Gifts of all sizes are appreciated and will matter to our students. If you are faculty and/or staff and wish to make a payroll deduction, you must pledge at least $1.00 per pay period.
Does my gift count towards the Annual Employee Campaign?
Yes. If you make your gift on April 13, 2023, you can support both the Faculty & Staff Campaign and have your gift counted towards Carroll Giving Day! Only gifts made on Carroll Giving Day will count towards the Giving Day totals and challenges.
Can't make a gift but still want to support the College on Carroll Giving Day?
If you can't make a gift at this time but still wish to support us on Carroll Giving Day, consider spreading the word on social media, through email, and of course through word-of-mouth. You can create a personal fundraiser on Facebook and/or Instagram, share our page/posts on social media, and/or engage your friends, family, and networks through email or text message. Don't forget to use #CarrollGivingDay on social media. Your support will help us make a big difference on Carroll Giving Day!