Press Releases
Carroll Community College and Baltimore Electrical Joint Apprenticeship Training Committee Sign Articulation Agreement Offering Clear Pathway for Students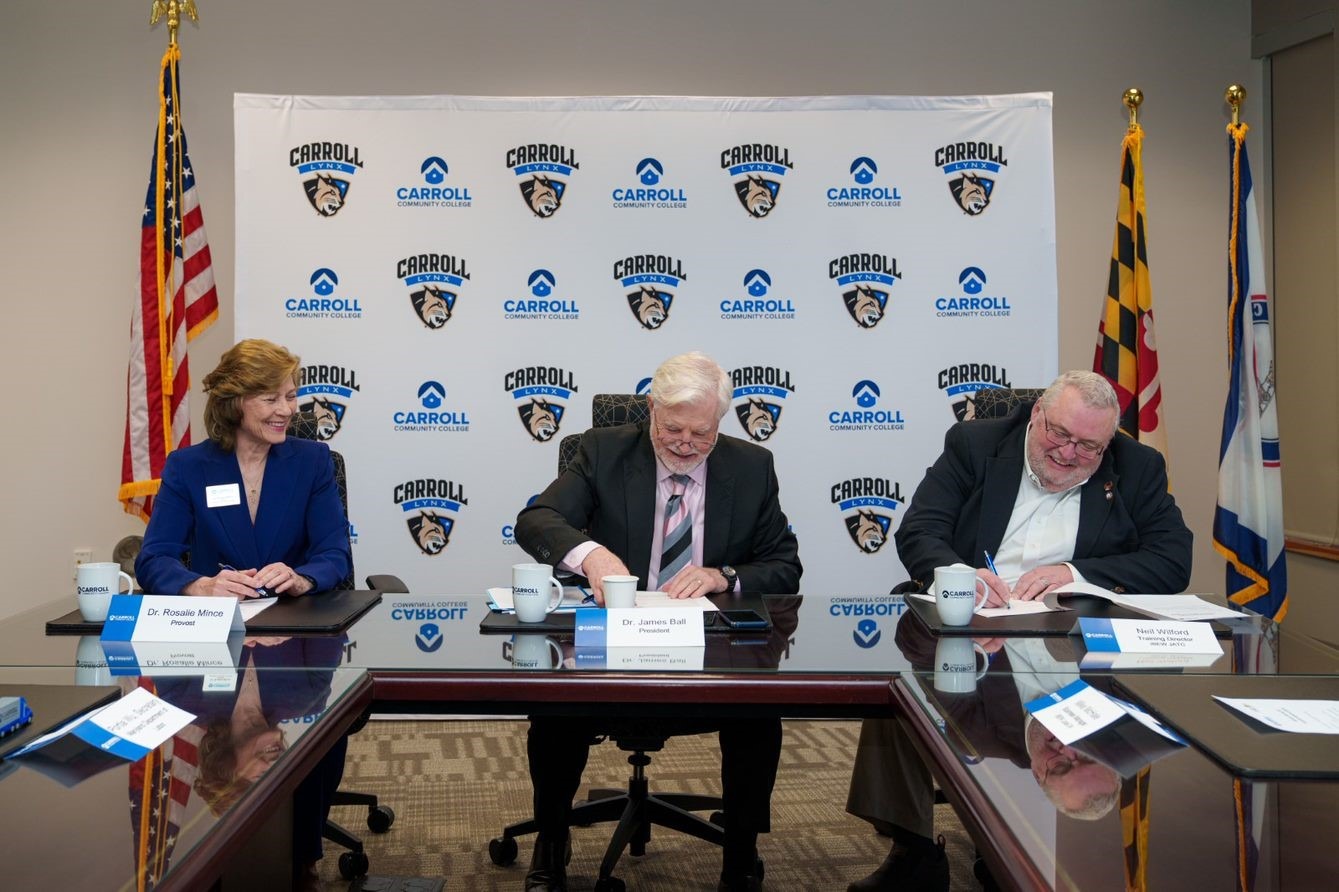 Westminster, Md.— Carroll Community College (Carroll) and the Baltimore Electrical Joint Apprenticeship Training Committee (JATC) have signed a new articulation agreement that will offer students a clear pathway to an associate's degree after completing the JATC apprenticeship.
Carroll Community College President Dr. James D. Ball and Neil Wilford, JATC Training Director, along with Dr. Rosalie Mince, Provost at Carroll, signed the agreement on March 16 during a ceremony held at Carroll.
"We are really excited to see this example and look forward to how we can continue to expand this type of partnership," said, Secretary Portia Wu, Maryland Department of Labor. "Forward-thinking partnerships like this are in line with the 'Leave No One Behind' of the Governor's mission," she said.
The agreement establishes a collaboration between JATC and Carroll. JATC students who satisfactorily complete the Maryland Department of Labor approved electrical apprenticeship training program may receive 30 credits toward Carroll's Technical and Professional Studies Associate of Applied Science degree. The total number of required credits is 60 for the degree, so completing the apprenticeship means that JATC students have already completed half of their degree requirements.
"Both the JATC and Carroll Community College are devoted to achieving program success. This is a new and exciting way for us to offer more opportunities for students to realize their dreams," said Ball. "This timely agreement creates a pathway toward completion of a credit degree program that will help journeypersons advance toward managerial and leadership positions in the industry," he said.
The JATC is sponsored by the IBEW Local 24 and the Maryland Chapter of the National Electrical Contractors Association (NECA) to ensure each apprentice will be trained and prepared for meaningful and rewarding careers as a union electrician.
The JATC electrical apprenticeship program is rigorous. It provides 800 hours of classroom instruction and requires 10,000 hours of on-the-job under the direction and control of a licensed electrical contractor. Through this partnership with the JATC, Carroll is able to formally recognize the scope of IBEW members' learning and achievements.
"This is monumental that we can walk students through an apprenticeship, and then they can go on and earn a college degree," said Wilford.
With this partnership, the college demonstrates to the county and businesses that it has a long-term commitment to providing the workforce that businesses in the county require.
"JATC formally partnering with us will let Carroll County know the importance of this signing," said Chairperson Mary-Kay Nevius-Maurer, Board of Trustees of Carroll.
This partnership is just one of many ways the College supports the development of electricians. Carroll also hosts a 4-year electrical apprenticeship on campus in partnership with the Electrical Apprenticeship Program of Carroll County.
The Electrical Apprenticeship Program of Carroll County has been conducting this training for more than 16 years in Carroll County and is also approved by the Maryland Department of Labor.
Visit https://www.carrollcc.edu/programs/professional-skills-job-training/electrical-apprenticeship-certificate/ to learn more about the program.
PHOTO CAPTION: Dr. Rose Mince, Provost, Dr. James D. Ball, President, and Neil Wilford, JATC Training Director, signed the articulation agreement on March 16 during a ceremony held at Carroll.
-END-
##
Carroll Community College's mission is Empowering learners. Changing lives. Building community. Carroll Community College (Carroll) provides accessible, high-quality educational opportunities to advance careers, enrich lives, and strengthen the community we serve. Carroll offers academic and career preparation leading to transfer to four-year colleges and universities, and for direct entry into professional opportunities. Carroll Community College is located at 1601 Washington Road, Westminster, Md., 21157. Visit us on our website at www.carrollcc.edu.