Press Releases
Carroll Community College Announces its Inaugural Faculty Art Exhibition Featuring Works in Both Traditional and Modern Media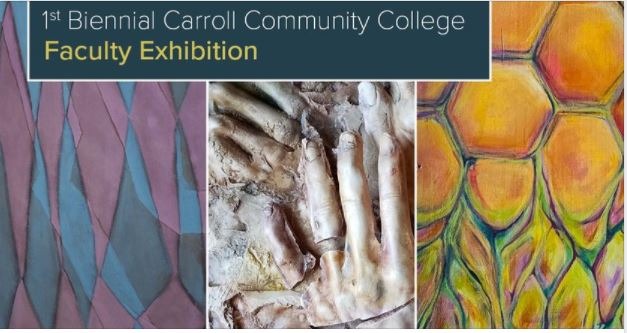 Westminster, Md., March 8, 2022 — Carroll Community College (Carroll) announces the College's first biennial faculty art exhibition that will showcase works created by its faculty in Visual Arts and Design. The exhibit will be unveiled at an opening reception on Thursday, March 10, 2022, from 5 pm to 7 pm at the Scott Center Art Gallery located in the T Building. The reception is free and open to the public.
The works on view of 16 faculty members and continuing education instructors will range from traditional methodologies such as ceramic, woodcut, stained glass, and oil painting to cutting edge technology such as 3D printing, video performance, and digital photography. The exhibit will run until May 28. For additional information, please visit: Carroll Theatre Season.
"We are so excited to celebrate the works of our talented faculty and instructors in this inaugural event," said Assistant Professor Jessi Hardesty, Director of Visual Arts and Curator of Collections and Exhibits. "Not only are they gifted teachers and mentors to our students, but they are also talented artists in their own right."
The reception will also feature musical performances starting at 7 pm by Jamie Balter and Emily Zinski. Titled "As If We Never Said Goodbye," the works are inspired by the performance of the retired actress Norma Desmond in Andrew Lloyd Webber's Sunset Boulevard, where she makes an emotional return to the stage in the song. Balter is a voice instructor at the College. The program will be held in the Theater in the Scott Center. Masks are required for events held in the College's Theater. The performances will also be livestreamed at https://www.carrollcc.edu/livestream/. For more information visit: As If We Never Said Goodbye Program.
"Their works span a wide range from classical music to musical theatre, to contemporary and popular songs," said Eric McCullough, Director of Music and Program Coordinator. "We are celebrating the return of live music, which we know brings joy to artists and audiences alike."
In addition, the annual Youth Art Month Exhibition will open that same evening. Every spring, Carroll County high school teachers select works in various mediums for this show. These works will be displayed in the Langdon Gallery (C Building) through April 1. This exhibition is free and open to the public.
-END-
##
Carroll Community College's mission is Empowering learners. Changing lives. Building community. Carroll Community College (Carroll) provides accessible, high-quality educational opportunities to advance careers, enrich lives, and strengthen the community we serve. Carroll offers academic and career preparation leading to transfer to four-year colleges and universities, and for direct entry into professional opportunities. Personalized learning, small class size, individualized attention from expert faculty, affordability, a convenient location, and customized training and services to the business community all make Carroll a popular choice. Since 1993, the College has served more than 144,000 students of all ages and backgrounds. Carroll Community College is located at 1601 Washington Road, Westminster, Md., 21157. Visit us on our website at www.carrollcc.edu.