Press Releases
Carroll Community College Announces Music Events in October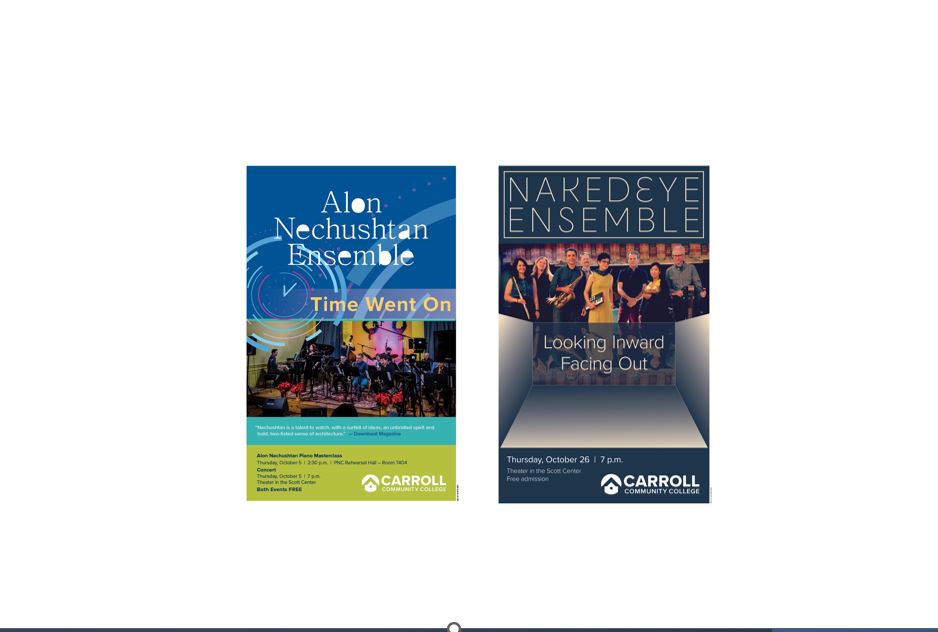 The Alon Nechushtan Ensemble and NakedEye Ensemble Music Performances are free and open to the public
Westminster, MD ─ Carroll Community College (Carroll) announces two concerts that are free and open to the public. The first concert, Time Went On by the Alon Nechushtan Ensemble, will be held at 7 p.m. on Thursday, October 5th. The second concert, Looking Inward Facing Out by the NakedEye Ensemble, will be held at 7 p.m. on Thursday, October 26th. Both concerts will occur at The Theater in the Scott Center on the College's Westminster campus.
Time Went On, by the Alon Nechushtan Ensemble
A New York resident since 2003, Alon Nechushtan has been composing and performing innovative works worldwide. Described by Downbeat Magazine as "a talent to watch, with a surfeit of ideas, an unbridled spirit and bold two-fisted sense of architecture," he has performed in Japan, Brazil, and the Philippines. As a bandleader and composer, he has also performed at Carnegie Hall, Central Park Summer Stage, and The Kennedy Center.
Time Went On is an exciting new song cycle that combines key moments in recent history with emotions, observations, fears, aspirations, and the changing times we live in.
Nechushtan is also an accomplished pianist. According to Susan Frances in the Jazz Times: "Alon Nechushtan keeps his notes on their toes as he creates tightly-rung arabesques and vivacious pirouettes with his keys. He has an instinct for organizing purely improvised energy that requires the audiences' undivided attention."
"We are so fortunate to have Nechushtan on campus for this concert, as well as a Piano Masterclass he will be offering that same day, "said Eric McCullough, Program Director of Music. The Piano Masterclass is free and will be held at 2:30 p.m. in the PNC Rehearsal Hall, Room T404.
Looking Inward Facing Out, by the NakedEye Ensemble
Based out of Lancaster, PA, NakedEye Ensemble is an electro-acoustic band with classical, rock, and jazz DNA that commissions works from young emerging composers. Their most recent album, "A Series of Indecipherable Glyphs" (New Focus Recordings, 2022), is a collection of works that take inspiration from rock and roll.
"We engage, open ears, and ask questions through new music," said Ju-Ping Song, Founder and Artistic Director. In addition to performing at colleges throughout the northeast, NakedEye has been featured at the Queens New Music Festival and Tribeca New Music.
For more information about Alon Nechushtan, go to http://www.musicalon.com/
For more information about NakedEye, go to http://www.nakedeyeensemble.com/
-END-
## Carroll Community College's mission is Empowering learners. Changing lives. Building community. Carroll Community College (Carroll) provides accessible, high-quality educational opportunities to advance careers, enrich lives, and strengthen the community we serve. Carroll offers academic and career preparation leading to transfer to four-year colleges and universities, and for direct entry into professional opportunities. Carroll Community College is located at 1601 Washington Road, Westminster, Md., 21157. Visit us on our website at www.carrollcc.edu