Press Releases
Carroll Community College Holds Range Ribbon-Cutting Ceremony for New CDL Training Program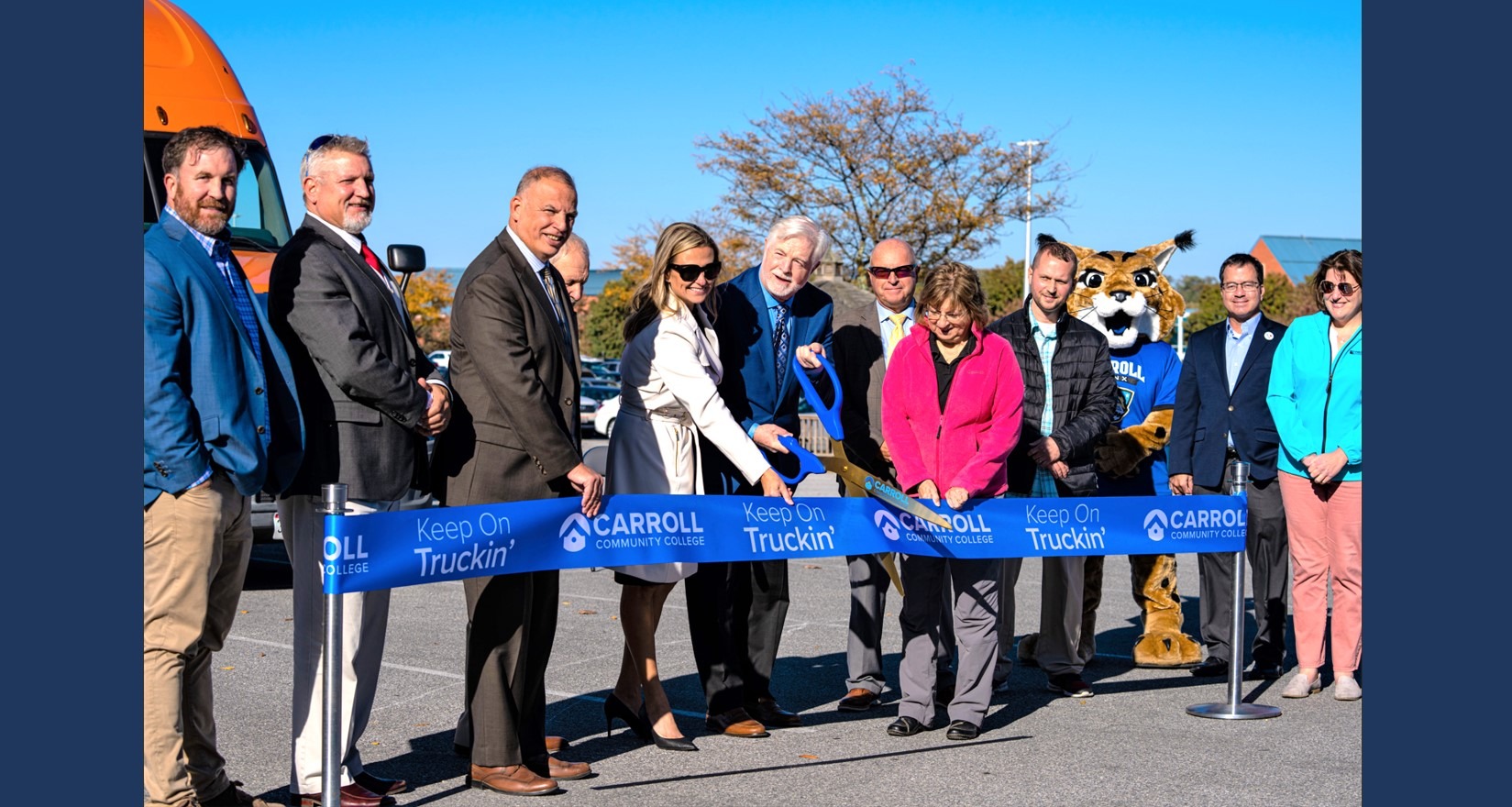 New Range Provides Local Behind-the-Wheel Training for High-Demand Careers in the Trucking Industry
Westminster, MD─ Carroll Community College (Carroll) held a ribbon-cutting ceremony Thursday, October 20, for its new commercial driver's training range located on Washington Road at its Westminster campus. County and state government officials, local business, and organization leaders, as well as a recent completer of the program, participated in the event, including:
Ed Rothstein, Carroll County Commissioner, District 5
Signe Pringle, Deputy Secretary, Maryland Department of Commerce
Louis Campion, President and CEO, MD Motor Truck Association
Matt Daly, School Director, North American Trade Schools
Nicolette Kaszek, Vice President, Human Resources, Performance Foodservice
Chris Combs, Program Completer and Driver, Tevis Energy
The College's corporate and workforce development service, Advantage C, partnered with North American Trade Schools (NATS) and Carroll County Workforce Development (CCWD) to launch the CDL Training Program in March. The addition of the training range allows students to earn a Maryland Class A Commercial Driver's License in eight weeks with the convenience of the entire program being held onsite at Carroll.
"Over the next decade, the U.S. will need over one million new licensed commercial drivers," said Dr. James D. Ball, President of Carroll Community College. "As our students complete 280 hours of training here on campus, they are ready to test for their license and immediately go to work."
Commissioner Ed Rothstein emphasized the importance of collaboration among various stakeholders to make the program a reality in a short time frame. "We identified the problem – we need drivers – and came up with a solution. Carroll County is the place to be because we know how to make things happen," he said.
Deputy Secretary Signe Pringle presented a citation from Mike Gill, Secretary, Maryland Department of Commerce, to Dr. Ball in recognition of investing in the local workforce and in appreciation of supporting these essential jobs and the communities these workers serve. She commended the College and its partners for meeting the needs of growing industries in the state of Maryland, which is a strategic location for transportation. "We can't do it without the drivers," said Pringle. "They are the heart and lifeblood that keeps the engine of our economy running smoothly."
Louis Campion spoke about the needs of Maryland Motor Truck Association members, stating that a recent survey of 22 members showed that they need, on average, 30 drivers each to meet the demands of their businesses. "The path to the middle class is changing – it doesn't require a four-year college degree. If you want a job in this industry, you will have a job," said Campion.
North American Trade Schools Director Matt Daly and his team provided the instructors for the program, who were universally praised throughout the ceremony for their hands-on instruction and mentorship of the students. The plan is to train approximately 75 students in the next year.
In addition to the training program, Carroll has developed relationships with regional employers, holding meet-and-greet events between employers and students. Nicolette Kaszek of Performance Foodservice in New Windsor said the program was much needed and that it was "wonderful to have it in our backyard."
Chris Combs, who now works for Tevis Energy in Westminster, was one of the first students to complete the program. Chris said he never thought he would be a truck driver but loves his job and how it will provide for his family's future. While acknowledging that it was hard to go to school while working full time and raising kids, it was "a small price to pay to get his family a better life."
Dr. Kelly A. Koermer, Vice President of Continuing Education and Training at Carroll, said that the College's CDL training program will not be "the best-kept secret" in the county and that new classes are beginning at the end of October. Students may be eligible for tuition support through the College's partnership with Carroll County Workforce Development (CCWD) and scholarships.
For more information about the CDL-Class A Training Program, including student qualifications and application, visit www.carrollcc.edu/CDL.
PHOTO CAPTION: Dr. James D. Ball, President of Carroll Community College, cuts the ribbon to the new Commercial Driver's License Range with government and local officials by his side Thursday, October 20. The College is pleased to celebrate the program and new range for those wanting to get a CDL in eight weeks. The event was held on-site at the Westminster campus and featured remarks by Signe Pringle, Deputy Secretary, Maryland Department of Commerce, Commissioner Ed Rothstein, and other dignitaries and guests.
-END-
## Carroll Community College's mission is Empowering learners. Changing lives. Building community. Carroll Community College (Carroll) provides accessible, high-quality educational opportunities to advance careers, enrich lives, and strengthen the community we serve. Carroll offers academic and career preparation leading to transfer to four-year colleges and universities, and for direct entry into professional opportunities. Carroll Community College is located at 1601 Washington Road, Westminster, Md., 21157. Visit us on our website at www.carrollcc.edu.