Press Releases
Carroll Community College Honors Nursing Graduates During Pinning Ceremony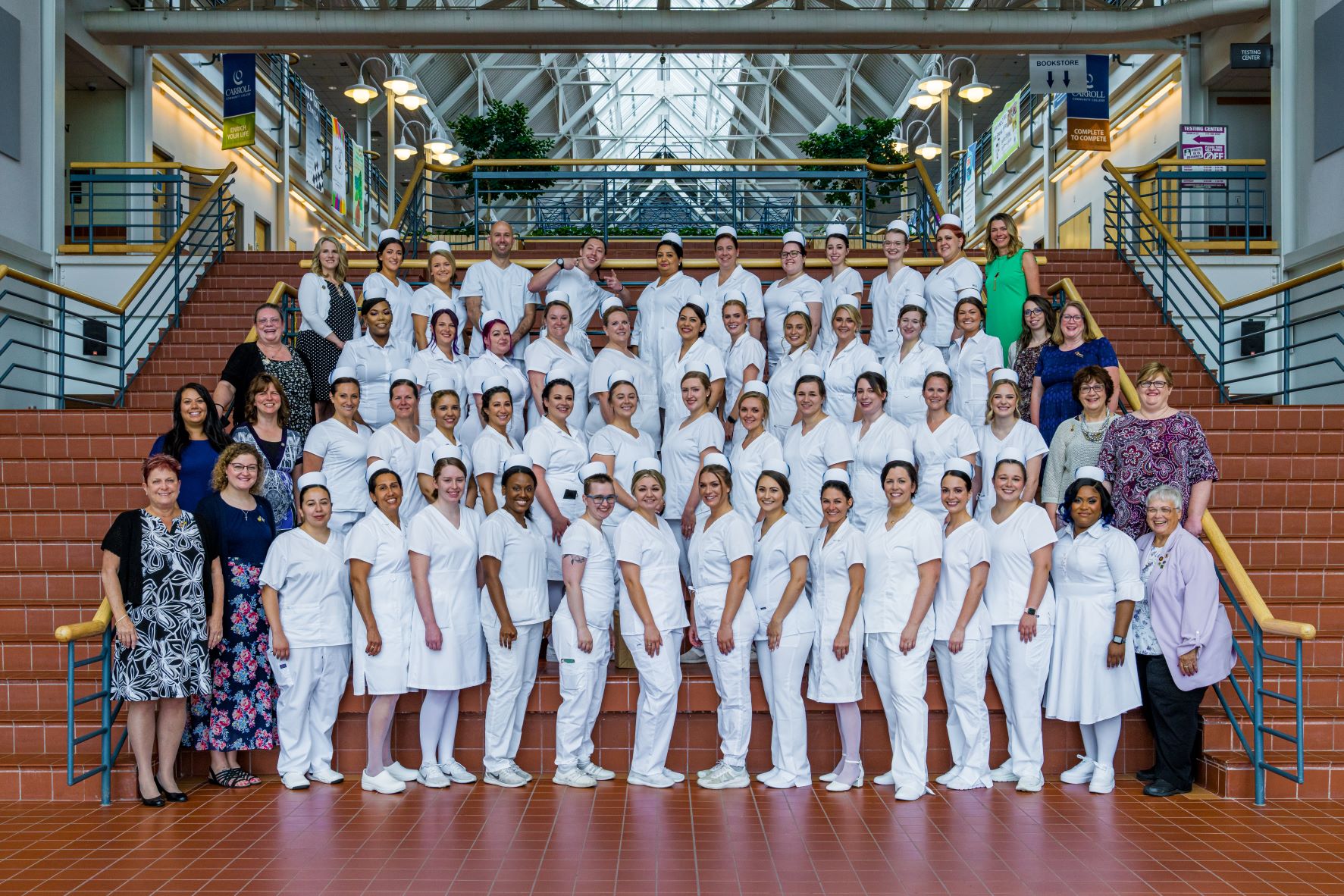 Westminster, Md., June 6, 2022—On May 25, 2022, students who completed the Nursing Program at Carroll Community College (Carroll) were recognized during a pinning ceremony in their honor.
Nursing Program Director Dr. Nancy Perry opened the ceremony with greetings, followed by messages from College President Dr. James D. Ball and Provost Dr. Rosalie Mince.  The student speaker was graduate Sarah Haugh. A presentation of pins and lamps, which were later lighted as a tradition, were part of the ceremony. Several students received awards. The ceremony concluded with the Florence Nightingale Pledge and a recessional set to the music of the Coronation March by Meyerbeer.
Student Awards included:
Highest Scholastic Average – Brooke Elizabeth Leppo
The William J. Yerkes Nursing Award – Abigail Lynn Priest
Carroll Hospital Center Outstanding Clinical Merit –Nicholas Pedrina Tumulak-Townsend
Graduates with Distinction – Brooke Elizabeth Leppo
The Helen Pappalardo Graduate Scholar – Stormie Marie Hilderbrand
The Director's Scholarship Award – Sarah Michelle Haugh
The LuAnn R. Gamber Art of Nursing Award – Marra Ann Barclay
Graduates:
Anna Anderson, Marra Barclay, Stacy Bigott, Autumn Boyd, Christine Bradley, Tonya Briggs, Marquita Broadway, John Brownley, Natalie Clarke, Olivia Dickey, Reagan Dickson, Rena DiPaula, Hannah Durkin, Ashley Ellinger, Christine Finch, Avery Franklin, Alaina Frierman, Stephanie Haas, Kaley Hamilton, Kaitlyn Hamrick, Rachel Harman, Sarah Haugh, Stormie Hilderbrand, Elaina Hilliard, Heather Hoffman, Gabriela Kehyari, Candace Klein, Crystal Lawhead, Brooke Leppo, Wren Long, Kelsey Morgan, Savannah Myers, Gabrielle Noland, Taylor O'Hara, Kara Patrice, Britney Pintha, Abbigail Priest, Laura Robbins, Luisa Santana, Nicholas Tumulak-Townsend, Joanne Turgeon, Sweta Viroja, Melody Voland, Samantha Vosburgh, Astrid Wallace, and Nicole Whitcomb
Faculty:
Rebecca Barker, Shelly Fourhman, Cheryl Geary, Jennifer Fritzges, LuAnn Gamber, Britney Harden, Tammy Keller, Jo Lynn Minnema, Nancy Perry (Program Director), Donna Rohrbaugh (Laboratory Coordinator), Christine Schlaerth, Jane Schroeder, Tammy Schwaab, and Jenna Wolford.
Photo Caption:
(Pictured from left to right)  Bottom Row: Nancy Perry (Program Director), Jenna Wolford (faculty), Astrid Wallace, Christine Bradley, Britney Pintha, Kara Patrice, Wren Long, Natalie Clarke, Rena DiPaula, Stephanie Haas, Melody Voland, Reagan Dickson, Gabrielle Noland, Elaina Hilliard, Marquita Broadway, LuAnn Gamber (faculty)  2nd Row:  Tammy Keller (faculty), Cheryl Geary (faculty), Laura Robbins, Abbigail Priest, Luisa Santana, Ashley Ellinger, Anna Anderson, Crystal Lawhead, Samantha Vosburgh, Olivia Dickey, Alaina Frierman, Kaitlyn Hamrick, Sarah Haugh, Savannah Myers, Jo Lynn Minnema (faculty), Jennifer Fritzges (faculty)  3rd Row:  Jane Schroeder (faculty), Tonya Briggs, Stormie Hilderbrand, Christine Finch, Heather Hoffman, Joanne Turgeon, Stacy Bigott, Brooke Leppo, Taylor O'Hara, Marra Barclay, Candace Klein, Hannah Durkin, Britney Harden (faculty), Christine Schlaerth (faculty)  4th Row:  Shelly Fourhman (faculty), Gabriela Kehyari, Autumn Boyd, John Brownley, Nicholas Tumulak-Townsend, Sweta Viroja, Rachel Harman, Kelsey Morgan, Avery Franklin, Kaley Hamilton, Nicole Whitcomb, Rebecca Barker (faculty)  Missing:  Donna Rohrbaugh (Laboratory Coordinator), Tammy Schwaab (faculty)
END
###
Carroll Community College's mission is Empowering learners. Changing lives. Building community. Carroll Community College (Carroll) provides accessible, high-quality educational opportunities to advance careers, enrich lives, and strengthen the community we serve. Carroll offers academic and career preparation leading to transfer to four-year colleges and universities, and for direct entry into professional opportunities. Personalized learning, small class size, individualized attention from expert faculty, affordability, a convenient location, and customized training and services to the business community all make Carroll a popular choice. Since 1993, the College has served more than 144,000 students of all ages and backgrounds. Carroll Community College is located at 1601 Washington Road, Westminster, Md., 21157. Visit us on our website at www.carrollcc.edu.