Press Releases
Carroll Community College Marketing and Creative Services Recognized for Achievement in Design and Communication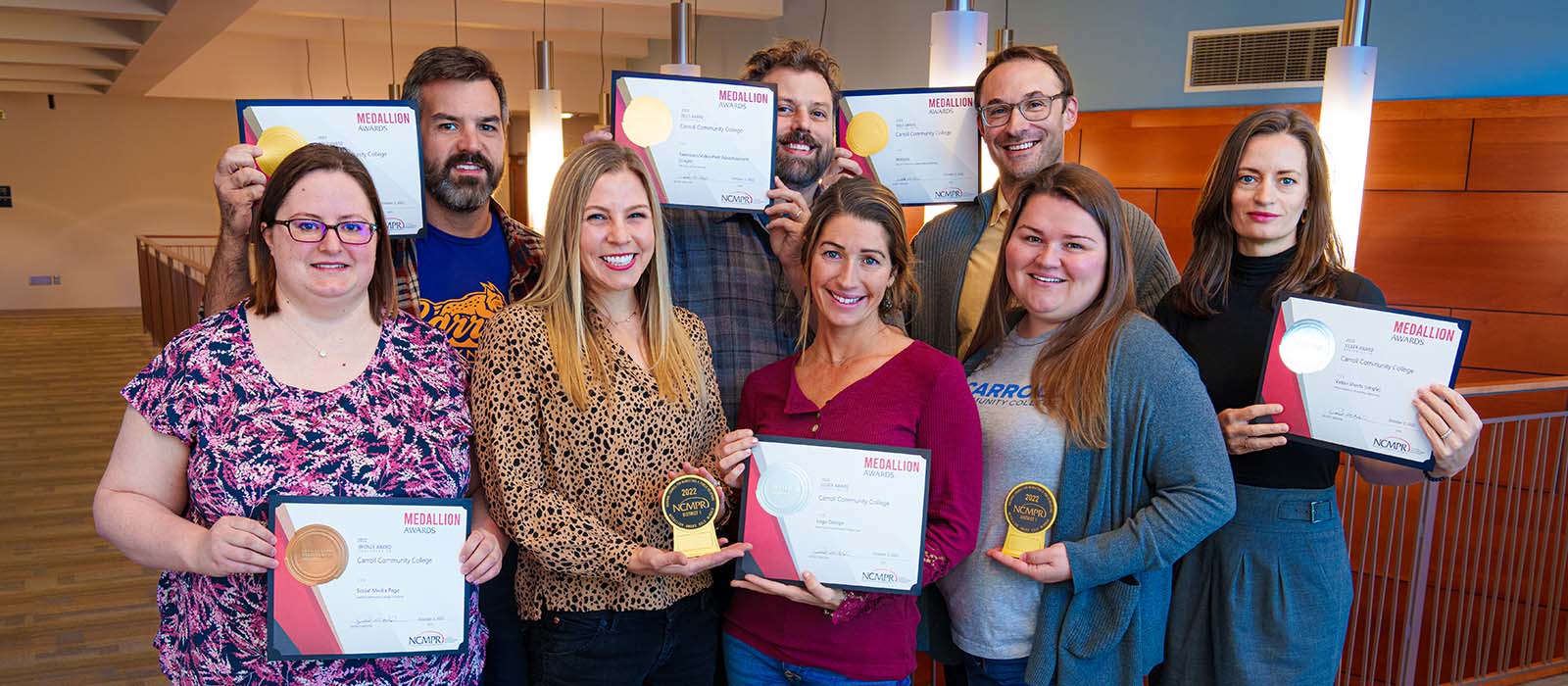 The College's website redesign among one of six awards received
Westminster, MD, November 21, 2022─ The Carroll Community College Marketing and Creative Services, continuing its long history of receiving accolades for the materials they create, won six Medallion Awards from the National Council for Marketing & Public Relations (NCMPR) at its 2022 District 1 Conference held in Syracuse, NY in October. Carroll's entries won three Gold Awards, two Silver Awards, and one Bronze Award.
The NCMPR Awards recognize outstanding achievement in design and communication at community and technical colleges in each of NCMPR's seven districts. The regional competition is exclusive to two-year colleges' marketing and public relations professionals.
"Though we are never surprised when our highly talented Marketing and Creative Services professionals win awards, we are always very proud, said Dr. Kristie Crumley Associate Provost, Student Affairs & Marketing. "This small-but-mighty department serves the marketing needs of an entire College, providing excellent customer service while creating marketing pieces that are both beautiful and effective. These awards provide the College with an additional source of pride and further prove that our Marketing and Creative Services team is second to none," she said.
One of the three Gold Awards recognized the redesign of the College's website. Applying a combination of comparative research results and focus group surveys, the marketing department designed a more user-friendly and visually appealing website that clearly shows the range of opportunities and pathways offered. It features real Carroll students in images and stories, capturing the variety and vibrancy of campus life. The content has also been better optimized for search engines and integrated with Google Analytics 4, enabling the tracking of performance using real-time data.
Carroll also received a Gold Award for its television advertisement "A Tale of Two Students."
The commercial creatively highlights the main advantage of attending Carroll Community College over a 4-year school—accruing much less student loan debt.
"There is nothing better than to be recognized for the work you love to do, work that also impacts lives. I feel very fortunate to collaborate with such a talented team of marketing professionals dedicated to producing effective, creative, and purposeful communications that support Carroll's strategic goals," said Maya Demishkevich, Sr. Director of Marketing and Creative Services at Carroll.
-END-
## Carroll Community College's mission is Empowering learners. Changing lives. Building community. Carroll Community College (Carroll) provides accessible, high-quality educational opportunities to advance careers, enrich lives, and strengthen the community we serve. Carroll offers academic and career preparation leading to transfer to four-year colleges and universities, and for direct entry into professional opportunities. Carroll Community College is located at 1601 Washington Road, Westminster, Md., 21157. Visit us on our website at www.carrollcc.edu.