Press Releases
Carroll Community College Ranks #1 in Maryland and #10 Nationwide for Community Colleges According to National Survey from College Consensus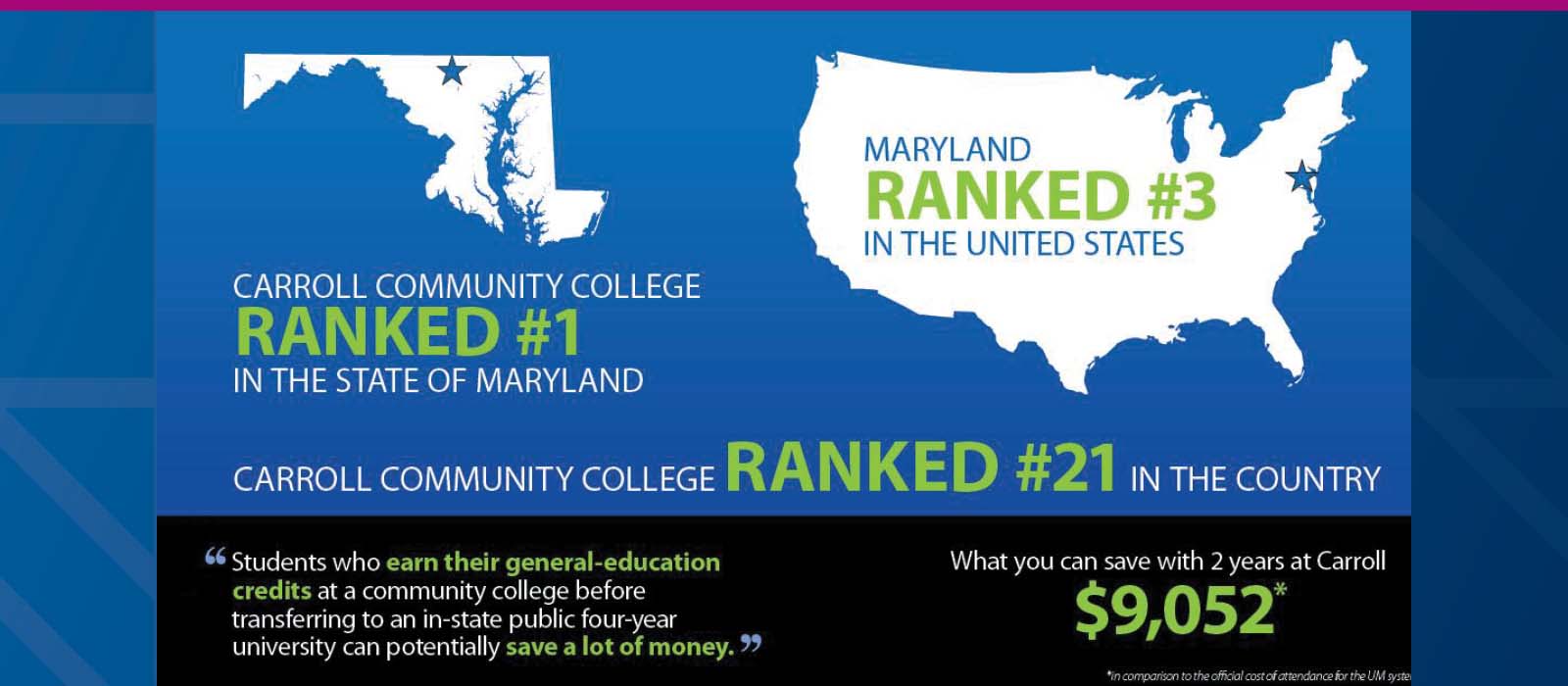 Westminster, Md., Monday, September 13, 2021—Carroll Community College (Carroll) was ranked the number one community college in Maryland, and 10th nationwide, according to a survey conducted by College Consensus. This recognition is among other #1 rankings in Maryland for Carroll this year, including surveys by ValueColleges and Best Colleges. It also follows a #1 Best ranking in Maryland and #21 overall last year for community colleges by WalletHub in their survey "2020's Best & Worst Community Colleges."
"We are very pleased to receive recognition for our performance among our community college peers in the state and the Nation," said Dr. James D. Ball, President, Carroll Community College. "Our goal is to provide innovative and challenging educational opportunities that enable students to find transfer and/or career success as well as to pursue lifelong learning experiences through our continuing education offerings. This ranking speaks volumes about the exceptional quality of our programs right here in Carroll County and the dedicated faculty and staff who actively support students from initial contact through completion of their educational goals."
College Consensus bases its analysis on three key metrics: cost, reputation, and student outcomes. It uses publicly available data, such as the federal Integrated Postsecondary Education Data System, in which Carroll is consistently strong in student outcomes.
In its analysis, College Consensus said that Carroll offers "over 70 different associate's degree and certificate programs," and that the College balanced this wide variety with the benefits of small class sizes. They noted that Carroll offers "an intimate learning environment for students interested in engaging in a myriad of disciplines" and that the "average class size is 17 students, leaving lots of room for personal attention."
College Consensus also noted that Carroll has a high rate of transfer to four-year institutions, stating "they have a 100 percent transfer guarantee to Maryland public universities and colleges." BestColleges praised Carroll Community College for providing students with an advisor who "can customize their arts and science degree to meet their academic goals while preparing to transfer to a four-year university."
"One of our top priorities is to provide students with personalized support throughout their time at Carroll," said Dr. Rosalie V. Mince, Provost, Carroll Community College.
The surveys also commended Carroll for its adaptation to hybrid and online formats. ValueColleges noted that the College offers more than one thousand campus-based and online/hybrid classes to Carroll County residents.
Dr. Raza Khan, Chairperson, Sciences Division and Program Director, STEM Scholars, at Carroll Community College, says that he has heard from numerous colleagues from around the country, who have seen these rankings and ask him what is special about Carroll that they can apply to their institutions. "They ask me about the 'special success sauce' and how they can get some. I tell them that it comes from how focused we are when it comes to student outcomes and how everyone at the College is vested into the College's mission of empowering our learners for lifelong success."
\##
For more information about Carroll's credit and non-credit programs, visit our Programs page.
Visit our Apply and Register page.
-END-
##