Press Releases
Carroll Community College Participates in Student Advocacy Day – Students Share Real Stories in Virtual Forum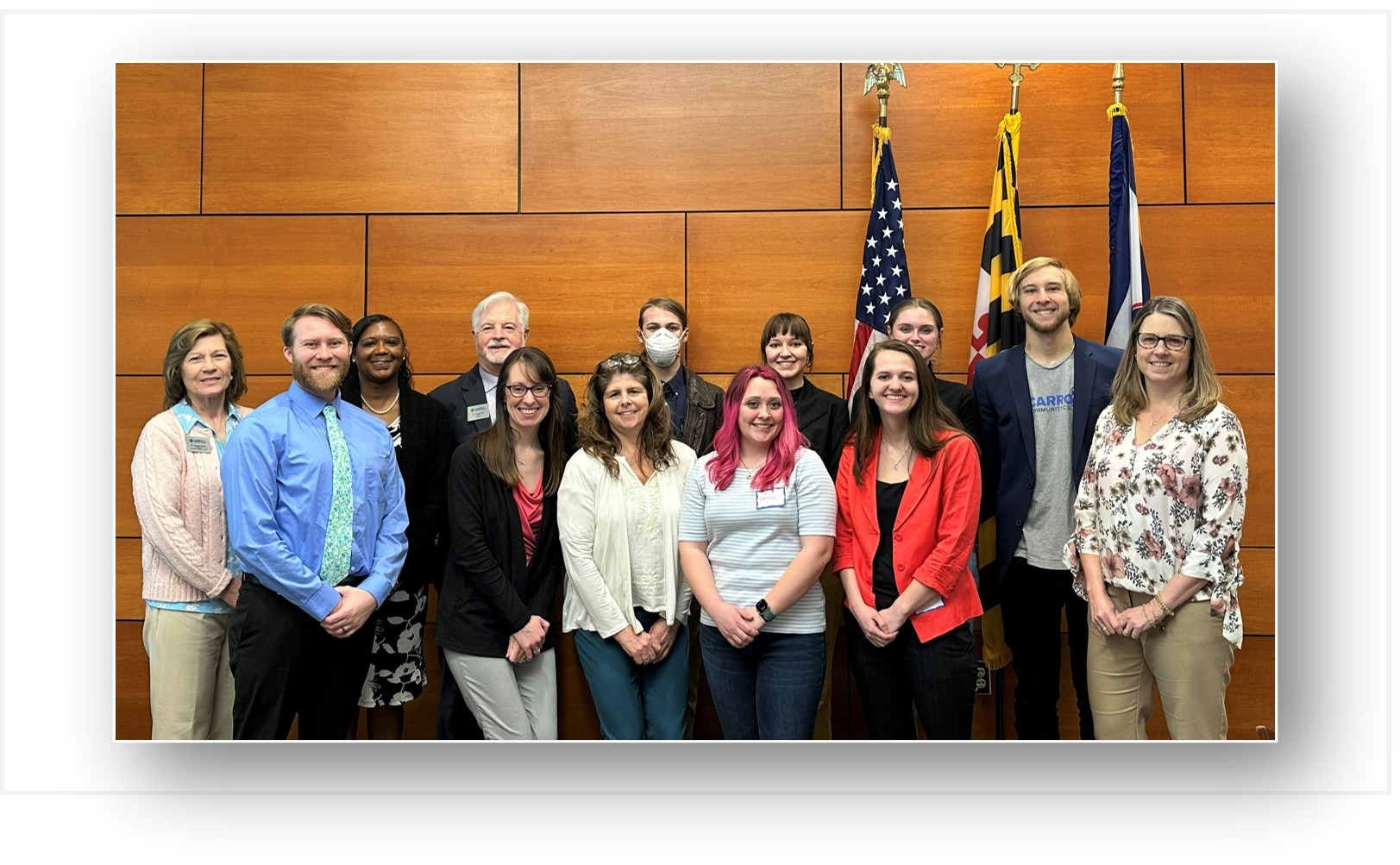 Westminster, MD, February 24, 2023─ Carroll Community College (Carroll) students participated in the Maryland Association of Community Colleges (MACC) Student Advocacy Day Tuesday, Feb. 21, which draws students and administrators from Maryland's 16 community colleges together with state elected officials, to spotlight the students impacted by legislative, budgetary decisions and to highlight the colleges' collective legislative goals.
Carroll attended the kickoff event virtually with District 5 elected representatives. Guest speakers for the Carroll Community College students were Senator Justin D. Ready and Delegate Erich Bouchat of District 5. Six student speakers shared their community college experiences with the assembled participants.
"I had no idea what to expect," said Carroll sophomore E.J. Klezer. "I see now that a lot of gears have to turn to make what happens here at Carroll happen. I also had a chance to talk with other students and to hear their experiences about how they got to the community college," he said.
In addition to the speakers listed above, students were welcomed by MACC Executive Director Brad Phillips, Ed.D., and Community College of Baltimore County's President Sandra Kurtinitis, Ph.D.
"One key legislative goal for the community colleges this year is maintaining state funding that gives us parity compared to state funding of the four-year public institutions," said Dr. Brad Phillips. "We also want to decentralize the Community College Promise program so we can maximize opportunities for students to receive this much-needed financial aid."
"Participating in Advocacy Day this year was quite a different experience for us, said Jen Snyder, Senior Director of Student Engagement. "Although it was virtual again, we decided to have a student rally and bring our student delegation together in person to spend several hours together," she said.
At the rally, students heard in-depth information about college funding from Dr. Ball, President at Carroll, ate lunch together, and spoke with their legislators on a virtual call. This allowed the students to meet and get to know each other and provided them a chance to interact personally with the College President, Provost, Associate Provost, and Chief Communications Officer. Working in high-level administrative positions doesn't always allow time to interact with students, so getting this opportunity helps the executive staff better advocate for students in their day-to-day roles.
-END-
##
Carroll Community College's mission is Empowering learners. Changing lives. Building community. Carroll Community College (Carroll) provides accessible, high-quality educational opportunities to advance careers, enrich lives, and strengthen the community we serve. Carroll offers academic and career preparation leading to transfer to four-year colleges and universities, and for direct entry into professional opportunities. Carroll Community College is located at 1601 Washington Road, Westminster, Md., 21157. Visit us on our website at www.carrollcc.edu.