Press Releases
It's All in the Family: Carroll Community College Dually Enrolled Students Accelerate their Education Journeys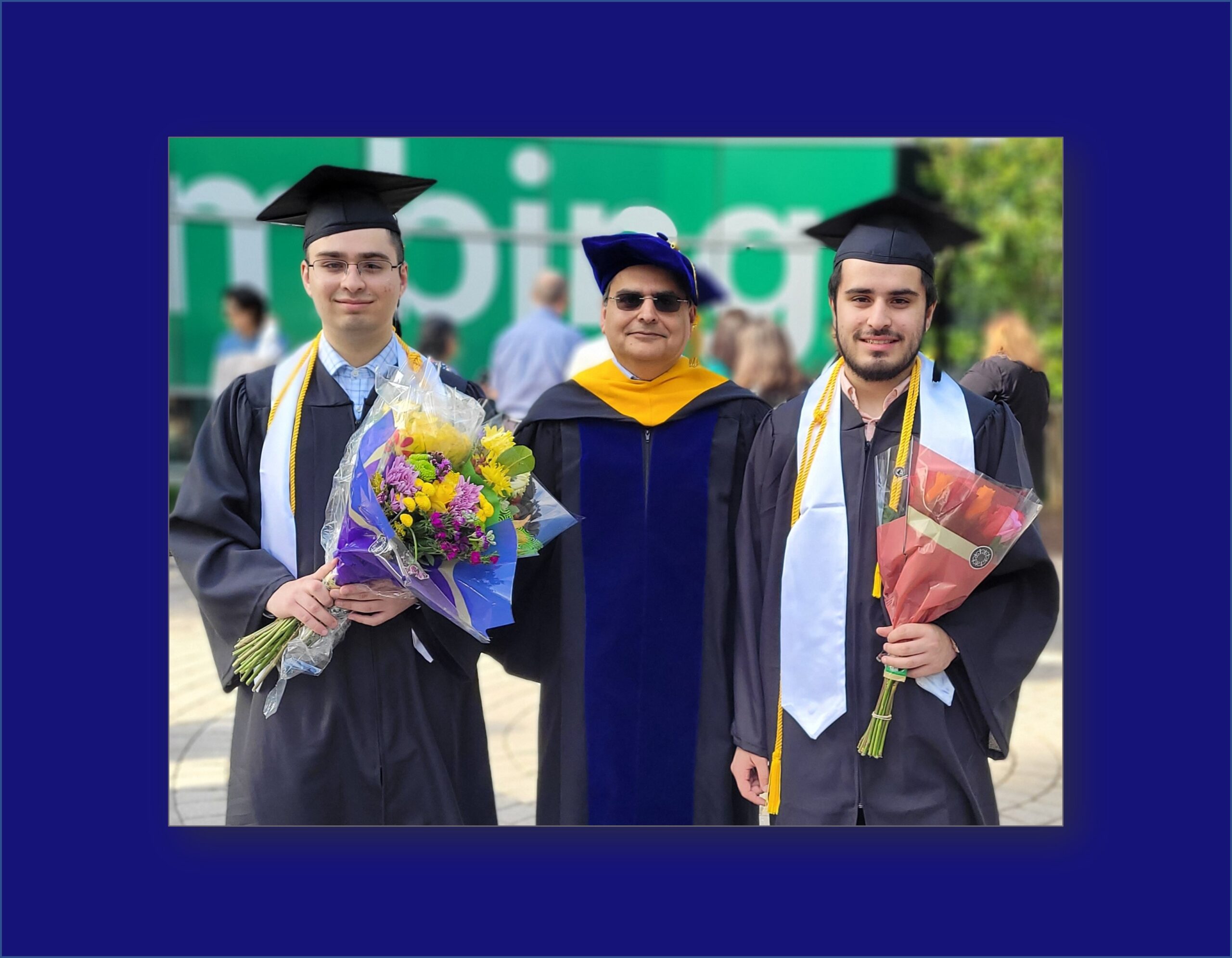 Westminster, Md., June 14, 2022 — Brothers Zyad Khan and Ahad Khan, graduates of Carroll Community College, accelerated their education journeys through the College's dual enrollment program with Westminster High School. Ahad is also taking advantage of Carroll's transfer agreement with Stevenson University. Zyad and Ahad are the sons of Dr. Raza Khan, the Chair of the Science Division at the College as well as the Director of the STEM Scholars program.
"Zyad and Ahad Khan are exceptional examples of the many local students who over the years have made a wise choice to complete college requirements and high school graduation requirements simultaneously," said Dr. James D. Ball, President, Carroll Community College. "Dual enrollment gives high school students the opportunity to get out in front of their peers, validate they are on the right career path, and reduce the overall cost of completing requirements needed for advanced degrees."
Zyad Khan, 16, is currently a junior at Westminster High School and graduated from Carroll in May 2022 with an Associate's Degree. He was among the eight high school students who received their Associate's Degree or certificate from the College in 2022. He plans to earn his second Associate Degree in Applied Science in Cybersecurity this December, as well as his third Associate Degree in Computer Information Systems next May before he graduates high school in June 2023. Zyad is part of the selectively admitted STEM Scholars honors program at the College.
While achieving a 3.95 grade point average in his extensive studies thus far, Zyad also worked part time, and continues to do so, as an IT technician at InfoPathways. Based in Westminster Maryland, InfoPathways is a cutting-edge technology company providing strategic planning, IT management, and consulting services to companies in biotech, manufacturing, engineering, and other sectors.
In addition, Zyad is also serving in a leadership role as Communications Officer for the Muslim Student Association at the College during its inaugural year and will continue this role in the upcoming academic year.
Ahad Khan,19, graduated from Westminster High School in 2021 and one month later completed the required courses to earn an Associate's Degree from Carroll Community College. He is now enrolled at Stevenson University, where he is pursuing a Bachelor's and Master's program in Criminal Justice and Crime Scene Investigation and is projected to complete it in May 2023.
At Stevenson, Ahad serves as President of the Criminal Justice Association, the Commuter Representative for the Student Government Association, and the Treasurer of the Muslim Student Association and will hold these offices during the upcoming academic year. He was also selected for the Stevenson University Mock Trial team and has secured a summer internship with the Carroll County Circuit Court in Westminster.
"I am so proud of my sons and their achievements so far in school and in life," said Dr. Khan. "I am so grateful to the faculty and staff members of Carroll Community College who have supported them and continue to do so in their journeys."
For more information regarding dual enrollment programs visit https://www.carrollcc.edu/dual-enrollment/
Photo Caption:
Brothers Zyad Khan, left, and Ahad Khan, right, stand with their father, Dr. Raza Khan, Chair of the Science Division and Director of the STEM Scholars program at Carroll Community College.
-END-
##
Carroll Community College's mission is Empowering learners. Changing lives. Building community. Carroll Community College (Carroll) provides accessible, high-quality educational opportunities to advance careers, enrich lives, and strengthen the community we serve. Carroll offers academic and career preparation leading to transfer to four-year colleges and universities, and for direct entry into professional opportunities. Personalized learning, small class size, individualized attention from expert faculty, affordability, a convenient location, and customized training and services to the business community all make Carroll a popular choice. Since 1993, the College has served more than 144,000 students of all ages and backgrounds. Carroll Community College is located at 1601 Washington Road, Westminster, Md., 21157. Visit us on our website at www.carrollcc.edu.