Certified Nursing Assistant (CNA) & Geriatric Nursing Assistant (GNA) Certificate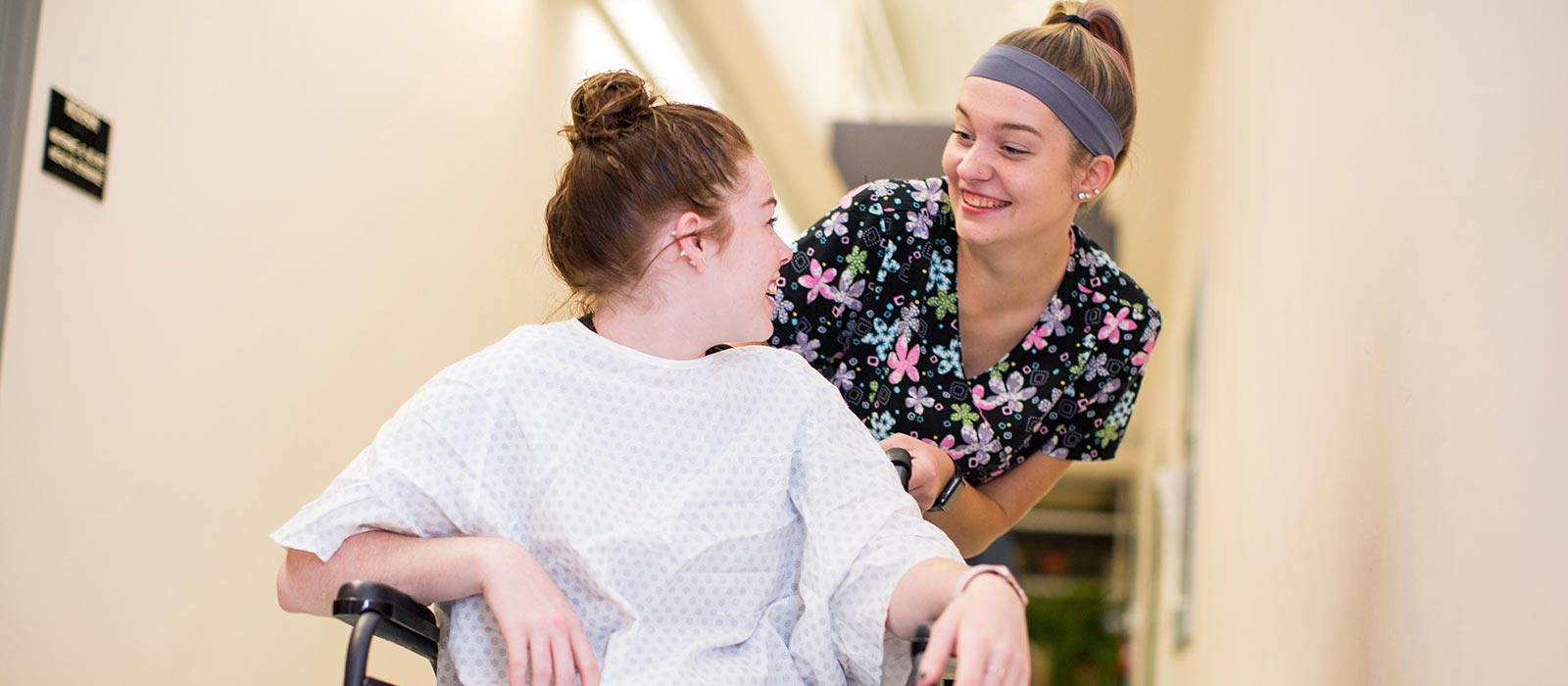 At a Glance
The CNA/GNA workforce training program features practicing in our state-of-the-art nursing lab and clinicals at a local long-term care facility. Earn your Nursing certification in as little as a few months and join one of the most in-demand job sectors in the U.S.
Approx. Number of Hours:
133 (excluding prerequisites)
Program Cost:**
$2,003 (excluding prerequisites)
Est. Hourly Wage:*
$13-17 per hour
Min. Occupational Requirements:
16 years old or older; most employers require 18 years or older & high school diploma or GED®
CNA & GNA Job Overview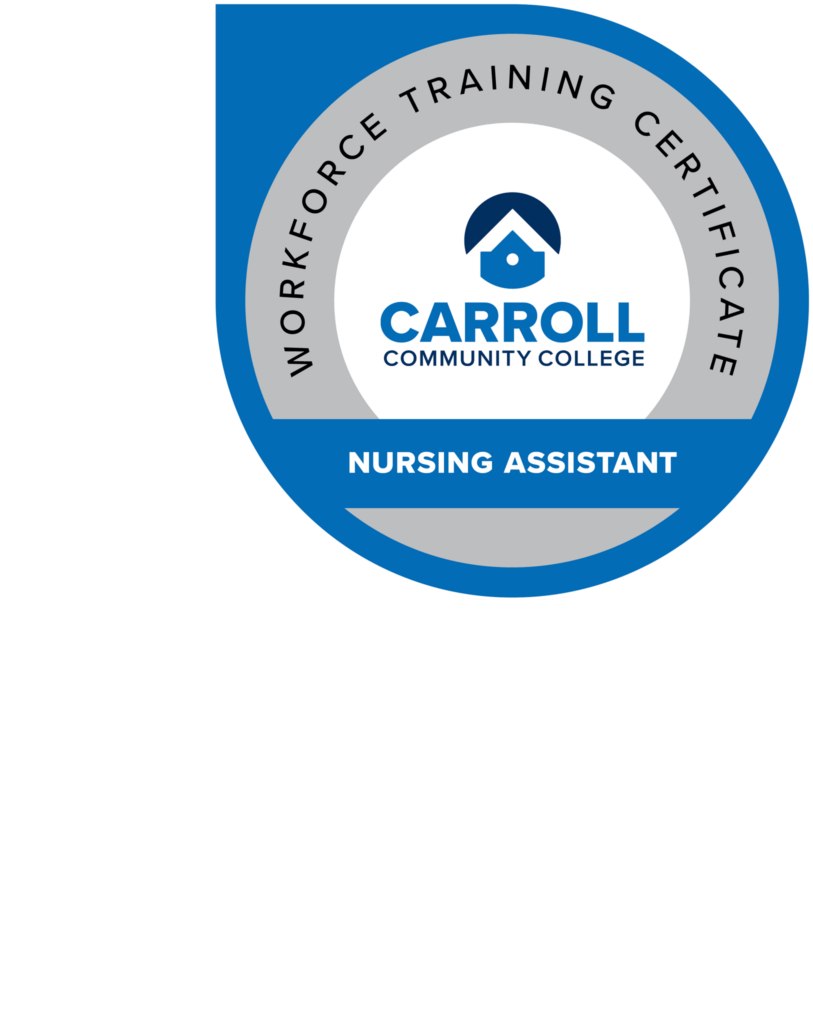 Certified Nursing Assistants (CNAs) and Geriatric Nursing Assistants (GNAs) perform routine tasks under the supervision of nursing and medical staff. Duties include answering patients' call lights, serving meals, making beds, and helping patients eat, dress and bathe.
CNAs/GNAs work day, evening and weekend shifts in hospitals and long-term care facilities.
Financial Assistance
There's more than $100,000 in funding available to help pay for short-term job training, plus tuition assistance for eligible non-credit students.
Licensure/certification earned
Students who successfully complete the training are eligible to apply for a CNA license from the Maryland Board of Nursing.
Curriculum
View all current course offerings. Not all courses are offered within every term schedule.
Prerequisite Courses
BLS Provider training is designed to provide healthcare professionals the ability to recognize several life-threatening emergencies, provide CPR, use an AED and relieve choking in a safe, timely and effective manner. This course is for healthcare professionals who need to know how to perform CPR, as well as other lifesaving skills, in a wide variety of in-hospital and out-of-hospital settings. You must demonstrate competency through both a written test and skills evaluation. Upon successful completion, an AHA BLS Provider card will be issued, valid for two years.
Prepare for the challenges of becoming a Certified Nursing Assistant. Get the foundation you need to be successful in the classroom as well as the workplace. Sharpen your skills in taking measurements and basic math. Learn about communication, professionalism on the job and in the classroom, and teamwork. Other topics include resumes, application letters and how to prepare for interviews. This training program includes a clinical component. This clinical site requires that you've received an updated COVID-19 vaccine. If you received an original COVID-19 vaccine in the past, you are required to get an updated booster. As of April 18, 2023, the original Pfizer-BioNTech and Moderna COVID-19 vaccines are no longer authorized for use by the FDA in the United States. Therefore, updated Pfizer-BioNTech and Moderna COVID-19 vaccines are being used for all age groups. If you did not receive a COVID-19 vaccine previously, you will need to receive one of the updated vaccines. If you do not meet either of these vaccination requirements, regard­less of your age, Carroll Community College cannot guarantee you will be permitted in the clinical setting. Please note, if you register for this course, but cannot attend clinicals due to your vaccination status, a refund will not be issued. All students may be required to wear a Fit Tested N95 mask or equivalent mask while in the clinical setting. No facial hair, which interferes with the seal of the mask, is permitted. This N95 mask will be provided for you by the College.
Core Courses
Be employed as a CNA in a few weeks! Learn basic patient care skills, the CNA role on the healthcare team, disease processes, infection control and safety issues. Combined with the clinical portion (AHE-580), this course meets all requirements to be eligible for CNA certification in MD and prepares students for the GNA test. Requires study time outside of class. Includes tests, which must be passed prior to starting clinical. Prerequisites: AHE-257 CNA Preparation, American Heart Association BLS Provider CPR. Students must take the College's reading placement test no later than one week before the first session.
Build upon the skills and knowledge in Part I (AHE-042). Assume the role of the CNA in a long-term care facility under the supervision of an instructor. Prerequisites: successful completion of Nursing Assistant Part I. Uniform, white shoes, written documentation of MMR and Varicella immunity, negative TB test or chest x-ray within last 6 months, Hepatitis B immunity or waiver, current flu vaccine, updated COVID-19 vaccine, Tdap vaccine in the last 10 years, and American Heart Association BLS Provider CPR are required. Cost includes required fingerprinting and the fee for the NNAAP GNA exam which will be administered on campus at a date to be determined after successful completion of this course. Students are responsible for additional costs such as application fee to MBON and background checks. These costs vary. All CNA students are required to attend the GNA skills lab (AHE-455) prior to the GNA exam. Refer to the course listing for the skills lab and register now.
Additional Information & Program Requirements
This program requires study time outside of class and includes college-level texts. All tests must be passed prior to the start of clinical training. Clinical training requires written documentation of MMR and Varicella immunity, a negative TB test or chest x-ray within the last 12 months, and Hepatitis B immunity or waiver.
The Geriatric Nursing Assistant certification exam is administered after successful completion of the clinical. (Cost included in course cost.)
You must pass a reading placement test prior to enrolling in the program.
The Maryland Board of Nursing requires fingerprinting and background checks for certification. 
Related Professional Skills and Job Training courses
Prepares persons working as Geriatric Nursing Assistants for the safe preparation, administration, and charting of routine medicines. Requires study time outside class and includes tests which the student must pass prior to starting the clinical experience. Prerequisites: Students must take the College reading and math placement tests or provide college transcripts, have a minimum of one year full-time current employment as a geriatric nursing assistant; submit a letter of recommendation from their DON; provide a copy of a current, active CNA/GNA certification; negative TB test/Chest Xray within the last year; proof of immunity to  MMR, Varicella and Hepatitis B or sign a  Hep B waiver; and proof of flu vaccine for the current flu season.
Interested in enrolling?
Contact our Continuing Education Office (Room A115) if you have any questions or concerns.

410-386-8100 | cet@carrollcc.edu

*Wages are based on data from the U.S. Bureau of Labor Statistics and are estimates only.
**Unless noted, cost does not include any required textbooks and related materials, applicable licensing fees, background check fees, testing fees or prerequisite courses.