Pathways to Entrepreneurship
At a Glance
Our Pathways to Entrepreneurship workforce training program prepares you for your venture into entrepreneurship. Learn core competencies in business planning, market research, budgeting and accounting, human resources, managing risk, growth strategies and much more. Includes 1-on-1 consultation.
Approx. Number of Hours/Weeks:
80 hours/10 weeks
Est. Hourly Wage:*
Income varies by business
Min. Occupational Requirements:
None.
Entrepreneur Job Overview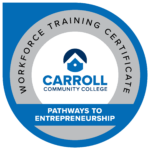 An entrepreneur identifies a need in the marketplace and comes up with an innovative business solution to fill that need and takes on both the risks and rewards of implementing their idea. As the leader of their company, an entrepreneur assumes full responsibility for the execution and success of the business on a daily basis, including creating a business plan, doing market research, developing a sales and marketing plan, developing and creating a budget, pricing and margin analysis, managing human resources, managing risk, and navigating future growth strategies.
Licensure/certification earned
Entrepreneurship and Small Business Certification sponsored by Intuit and the Network for Teaching Entrepreneurship
Curriculum
View all current course offerings. Not all courses are offered within every term schedule.
Learn the nuts and bolts of becoming an entrepreneur, from business planning to legal business entity formation. Get an overview of the Small Business Development Center (SBDC), its services, and what you can expect entering the business world including the business plan, finance management, funding sources and marketing – your guide to a successful future in the business world. Meet 1-on-1 with a consultant to better understand your business venture and to help you create your individualized content for Pathways to Entrepreneurship (second course in series) as well as provide resources for success.
Prepare for your venture into entrepreneurship. An entrepreneur is most successful when they are equipped with the knowledge and understanding of the business landscape. Find out everything you need to know to own and operate your own business. Get your business started on a solid foundation with core competencies including business planning, market research, budgeting and accounting, human resources, managing risk, growth strategies and much more. Includes 1-on-1 consultation.
Scholarships Available!
Full scholarships are available for Carroll's Pathways to Entrepreneurship program.
Additional Information & Program Requirements
The 10-week self-paced format allows participants the flexibility to work at their own pace while still adhering to weekly assignments. Each week, you will explore different topics covering essential aspects of entrepreneurship, such as recognizing and evaluating business opportunities, creating business plans, marketing strategies, financial management, and more. All classes are online/asynchronous with an assigned 1-on-1 consultant.
Interested in enrolling?
Contact our Continuing Education Office (Room A115) if you have any questions.

410-386-8100 | cet@carrollcc.edu

*Wages are based on data from the U.S. Bureau of Labor Statistics and are estimates only.
**Unless noted, cost does not include any required textbooks and related materials, applicable licensing fees, background check fees, testing fees or prerequisite courses.