Phlebotomy Technician Certificate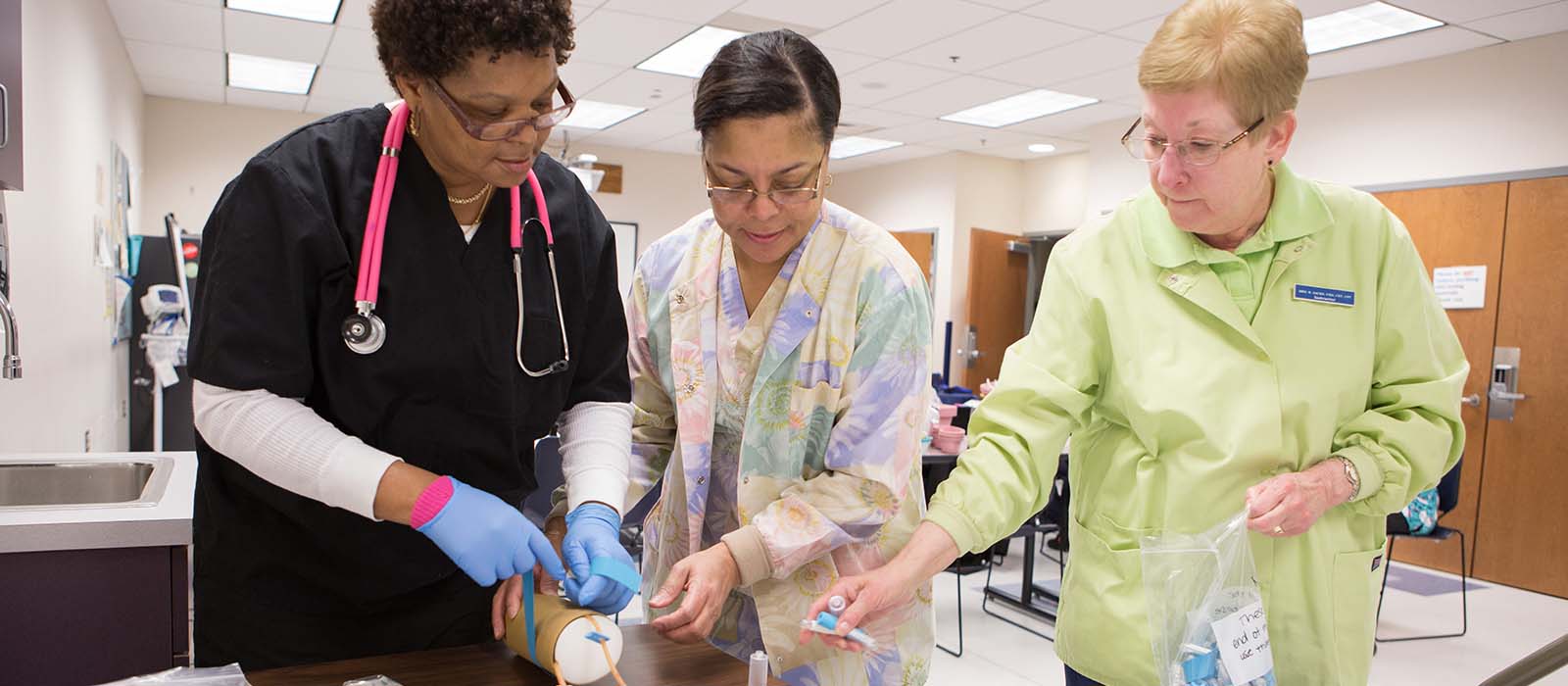 At a Glance
Our Phlebotomy Technician certificate workforce training program includes clinical hours in local healthcare labs and classroom lectures with hands-on training using new, cutting-edge phlebotomy arms. Many of our students are hired directly by their clinical sites.
Approx. Number of Hours/Months:
168 hours/3 months
Est. Hourly Wage:*
$17 per hour
Min. Occupational Requirements:
High school diploma or equivalent and completion of two-part phlebotomy program to be eligible for the national Phlebotomy Technician certification exam (PBT)
Helpful Resources
Phlebotomy Technician Job Overview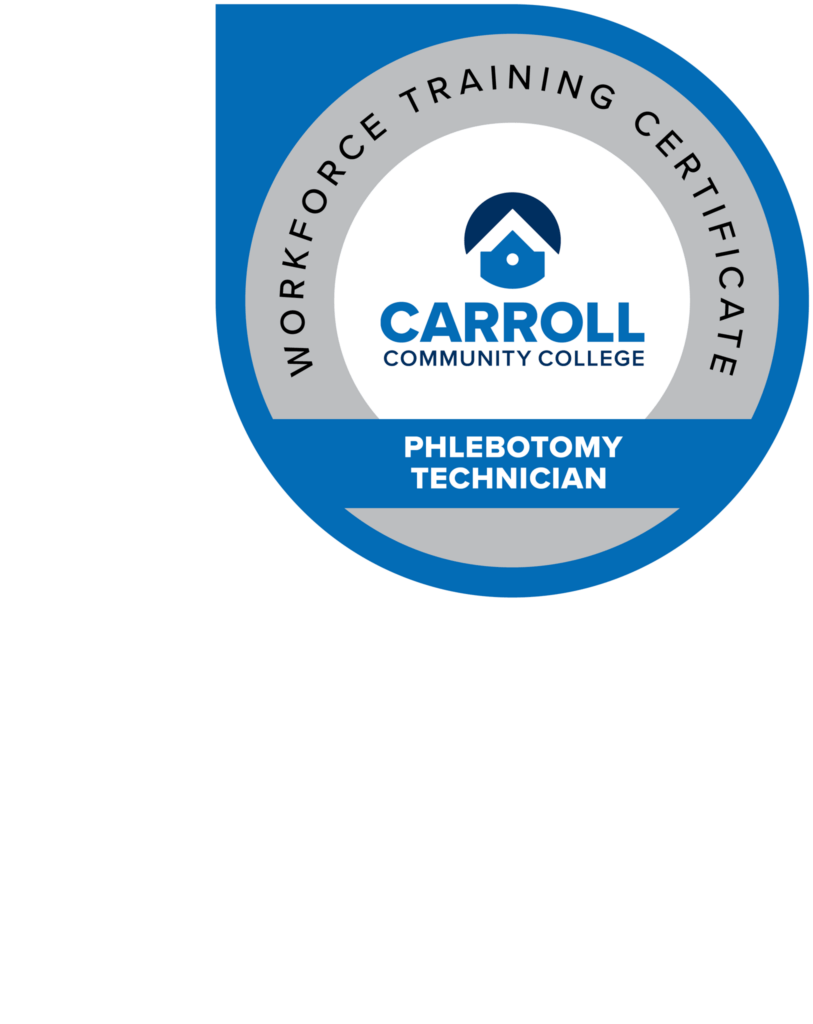 Phlebotomy technicians work in clinical laboratory settings, hospitals and sometimes physicians' offices. Their primary responsibility is to collect, process and handle blood specimens in a safe manner as ordered by the physician.
Working hours may span day, evening, night and weekend shifts depending on the facility.
Financial Assistance
There's more than $150,000 in funding available to help pay for short-term job training. Up to 90% of costs may be covered to complete this training program.
Licensure/certification earned
Successful completion of this training prepares you to sit for the PBT exam administered through the American Society for Clinical Pathology (ASCP) Board of Certification. There are no licensing or certification requirements for phlebotomy technicians in Maryland; however, most employers prefer certification.
Curriculum
View all current course offerings. Not all courses are offered within every term schedule.
Prerequisites
Learn the essentials of becoming successful as a student and employee in today's healthcare systems. Topics include communication, working well on teams, respecting and valuing differences, and the importance of professionalism. Discuss the availability of healthcare careers in the local region, marketing your skills to potential employers, resumes, application letters and how to prepare for interviews.
BLS Provider training is designed to provide healthcare professionals the ability to recognize several life-threatening emergencies, provide CPR, use an AED and relieve choking in a safe, timely and effective manner. This course is for healthcare professionals who need to know how to perform CPR, as well as other lifesaving skills, in a wide variety of in-hospital and out-of-hospital settings. You must demonstrate competency through both a written test and skills evaluation. Upon successful completion, an AHA BLS Provider card will be issued, valid for two years.
Core Courses
In this initial 48-hour course, you will learn about the anatomy and physiology of the circulatory system, specimen collection, specimen processing and handling, and laboratory operations including safety and quality control. Successful completion of Phlebotomy Technician Training I, II and III is required to sit for the ASCP national certification exam. Prerequisites: Successful completion of Professional Preparation in Healthcare (AHE-196). You must also have a current American Heart Association BLS Provider CPR card. This course includes a clinical component. The clinical sites require that you are fully vaccinated (COVID- 19), as defined by the CDC as 2 weeks after the second dose in a 2-dose series, such as the Pfizer or Moderna vaccines, or 2 weeks after a single-dose vaccine, such as Johnson & Johnson's Janssen vaccine. If you do not meet these requirements, regardless of your age, you are NOT fully vaccinated, and Carroll Community College cannot guarantee you will be permitted in the clinical setting. Please note, if you register for this course, but cannot attend clinicals due to your vaccination status, a refund will not be issued. You will be Fit Tested for an N95 or equivalent mask, which may be required while in the clinical setting. No facial hair, which interferes with the seal of the mask, is permitted. This N95 mask will be provided for you by the College. A criminal background check, drug testing and evidence of immunization are required for the clinical portion of this course at an additional cost. Information distributed at first class. Uniform required while in the clinical setting. You must register for Phlebotomy I, II and III together, and all three courses must be taken consecutively. Veterans: Phlebotomy Technician Training is an approved program for Veterans Education Benefits. Call 410-386-8100 for more information.
Continue your phlebotomy training with hands-on experience in various local labs, in cooperation with Lifebridge Health Labs. Uniform required. Prerequisite: Successful completion of Phlebotomy Technician Training I: Theory.
Refine your phlebotomy techniques in various local labs, in cooperation with Lifebridge Health Labs. Uniform required. Prerequisite: Successful completion of Phlebotomy Technician Training II: Clinical.
Additional Information & Program Requirements
Students in the program practice drawing blood on each other. Background checks, drug screening, immunization information and a uniform is required for the clinical portion of the course.
Related Professional Skills and Job Training courses
An understanding of medical terminology is fundamental for anyone working in the health care field, whether direct patient care or medical office. This course provides an in-depth study of medical terms. Emphasis is placed on learning the language of medicine in relation to the body systems rather than on rote memorization of terms.
In the healthcare field, a working knowledge of the anatomy and physiology of the human body is essential. Learn the fundamental structure and physiology of the body, and the diseases and disorders that may result in impairment, deterioration or malfunction.
Interested in enrolling?
Contact our Continuing Education Office (Room A115) if you have any questions or concerns.

410-386-8100 | cet@carrollcc.edu


*Wages are based on data from the U.S. Bureau of Labor Statistics and are estimates only.
**Unless noted, cost does not include any required textbooks and related materials, applicable licensing fees, background check fees, testing fees or prerequisite courses.