Study Abroad, Swansea University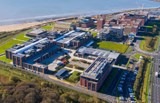 Carroll Community College and Swansea University have a special arrangement whereby Carroll students in the Communication Arts program can receive advanced standing to complete their Bachelor's degree at Swansea University in Swansea, Wales.
Eligibility
Attain a Carroll GPA of 2.75 or higher.
Major in Communication Arts and complete specified courses in that program.
Application
Finances:
Tuition is approximately $18,000 per year.
For Carroll graduates, Swansea provides a scholarship of 2,000 pounds ($2,500).