Meet the President
Fulfilling Our Mission – One Student at a Time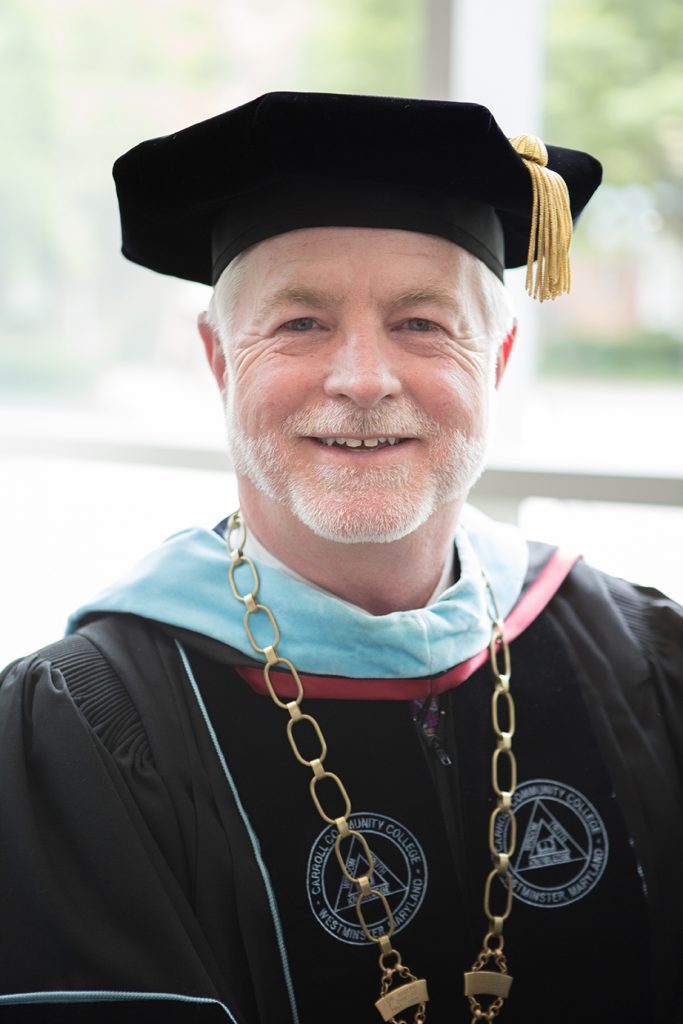 Since our founding more than 28 years ago in 1993, Carroll Community College has served more than 147,000 students, helping them turn their individual dreams into reality.
Carroll has more than 46 Credit Degrees and Concentrations, 15 Credit Certifications and 30 Workforce Training Certificates that lead to Licensure or Certification for Career Entry and Advancement. We strive to provide accessible, high-quality educational opportunities to advance careers, enrich lives, and strengthen the communities we serve.
The College has served, and will continue to serve, students of all ages: Our littlest learners at the Child Development Center, Kids@Carroll summer campers, dual-enrolled high school students, students looking to transfer to a four-year institution, career changers looking for a new direction in growing fields, entrepreneurs looking to start or grow their businesses, and lifelong learners seeking personal enrichment.
We are committed to continuously improve our course offerings and introduce state of the market technologies to enhance the student experience and accelerate learning. Some recent examples include our Digital Design and Fabrication Lab, Cybersecurity Labs, Virtual Reality Lab, and a new state of the art 3-D Dissection Table to support our health care programs and a variety of other careers and training programs.
Our ongoing investment in technology enables the achievement of one of our key strategic priorities, to meet the emerging workforce needs in our community by educating the workforce of tomorrow. Through our close partnerships with key employers in our region, we stay abreast of key trends and the latest job requirements and continuously incorporate them into our curriculum.
But don't just take our word for it, the College has earned national recognition for our student outcomes: Carroll Community College was ranked the number one community college in Maryland, and 10th nationwide, as chosen by College Consensus. This recognition is among other #1 rankings in Maryland for Carroll by ValueColleges, Best Colleges, and WalletHub online College rating services.
While we are certainly proud of our performance, we are even more honored by the words of our students and alumni, who shared with us the importance of Carroll in making a difference in their lives. Here are just a few examples:
I would encourage any student to consider Carroll to pursue what it is they love, and to be open to opportunities to discover new passions as well. I desire to help people through science, and I believe I built a solid foundation to do so here at Carroll.
"Being older than most who decide to start taking college classes was a bit daunting. I wasn't sure how I would fit in, but I have felt very welcomed by all of the staff and my classmates. The biggest challenge I face is within myself. I won't graduate with my nursing degree until I am 40, so it is never too late to make a change in your life to make yourself better.
It was truly a blessing to attend Carroll Community College. I was hesitant on my decision at first and saw a lot of my friends attend four-year universities. However, looking back on these past two years at Carroll, this was the best decision I have ever made. The ability to have a more personable relationship with your professors and advisors because of the size of the college and the chance to play on a collegiate sports team allowed me to experience way more than I would have at a four-year school.
A lot of my roles at Carroll helped me strengthen many of the skills that I'm using right now as a business owner. There are so many wonderful people there who are willing to help you grow as a person and as a student!
I always yearned to get back into the medical field to give back as a caregiver to others. The instructors, advisors and especially the financial aid program all made it possible to make my 25-year dream come true.
While the #1 rankings speak volumes about the dedication of our students and the exceptional quality of our programs, it is the dedicated faculty and staff who actively support students from initial contact through completion of their educational goals that truly exemplifies what makes Carroll the jewel of Carroll County.
I invite our prospective students and our attending students to get involved and to take advantage of the many learning opportunities available to you both inside and outside of the classroom, because that will help you change, grow, and more importantly, help you find and develop your passion. I invite the community to come to campus to see what we have to offer. I promise, we will exceed your expectations and you will be energized by your Campus visit. We are your College, we are the community's College.
Sincerely,

Dr. James D. Ball
President, Carroll Community College
Explore Carroll
Media Relations
Lisa Slappy, Chief Communications Officer, Carroll Community College
410-386-8184