Class Registration
Summer/Fall 2022 Credit Class Registration is Ongoing
Payment Information and Deadlines
And please make sure your Financial Aid is ready!
Payments are due before the below due dates or upon registration.
Payment for Summer due May 2nd.
Payment for Fall due August 1st.
Payment for Winter due December 1st.
Payment for Spring is due January 4th.
Being a Full-Time Student Pays Off!
National data shows that students who take a full-time course load are more engaged on campus, spend more time with classmates and faculty who can help them connect to the course content, and are more likely to know about campus resources. Full-time students graduate faster, learn more academic strategies and have more opportunities for co-curricular experiences.
So ask yourself, "Can I take another course or two to make a full-time schedule?"
Prepare for Priority Registration
Check your Lynx Student Portal account to see if there is any reason why you can't register online. Make sure you do not have any holds on your account. If you do, you will see a yellow alert box in the upper right corner like the one below: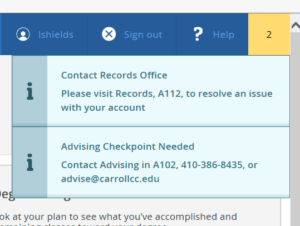 To check your account, go to www.carrollcc.edu/mycarroll/ and select Lynx Student Portal. Make sure you visit the office indicated to clear your account before registration. If you wait until registration opens to check this, you may not be able to resolve it immediately. The hold could delay your registration.
The staff in this office can help you make major decisions. Not sure what classes to take next? An Academic Advisor from your Area of Study can help! Not sure what degree you'd like to pursue? The Career Development staff can help! Thinking about your next steps in the transfer process? Area of Study Advisors can point you in the right direction!
Both credit and non-credit services are open for virtual advising and registration Monday–Thursday: 8:30 a.m. – 6:00 p.m. and Friday: 8:30 a.m. – 4 p.m. Evening appointments available upon request.
Graduating High School Seniors and Current Credit students should email the Advising Office or call 410-386-8435.
Admissions questions for Dual Enrollment and Visiting Credit Students should email the Admissions Office or call 410-386-8430.
Payment for Summer is due May 3.
Payment for Fall is due August 2.
Payment for Winter is due December 1.
Payment for Spring is due January 6.
Please follow this link to pay your bill.
You can also go to the Lynx Student Portal to see your account and pay.
If you need help paying for courses, stop by the Financial Aid Office (A114).