News & Stories
Carroll's Grocery Assistance Program Inspires Spirit of Giving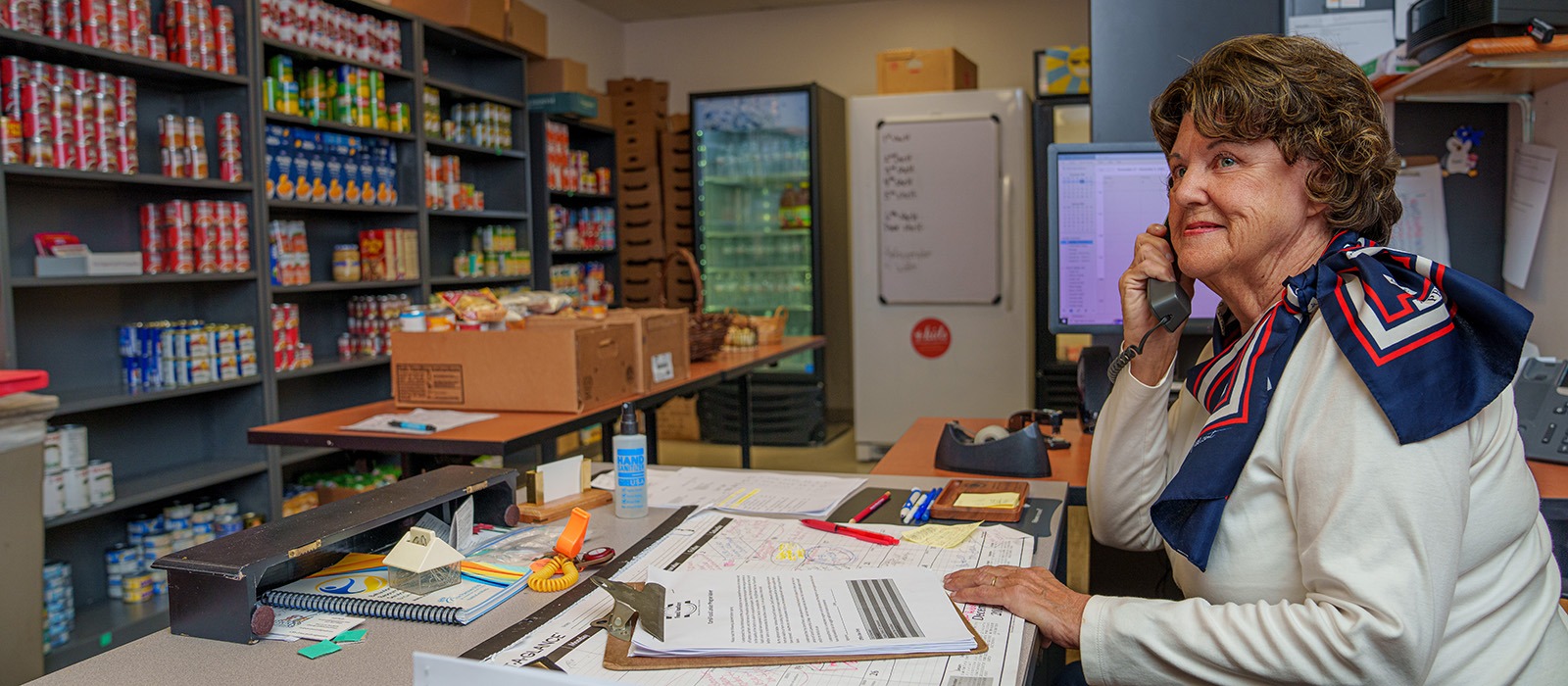 "There is such joy in helping others," said Diane DeAtley, who has worked in Carroll Community College's Food Locker grocery assistance program for seven years. She recently won a Light of Carroll Award recognizing her efforts to "promote and support the power of literacy through acts of extraordinary kindness, courage, selflessness or education in our community."
A former middle school guidance counselor, Diane, now 77 years old, aims to ensure all her clients at the College have sufficient food resources and other basic needs so they can focus on their education and/or job.
"Recently, a client was in tears, telling me how much this food means to her," recalled Diane. "One young man said he couldn't make it without the Food Locker." She stated she receives smiles, hugs and expressions of gratitude every day, undoubtedly well earned.
The Food Locker's Mission
Now more than ever, with the increase in food and gas prices, Carroll's Food Locker program continues to meet the needs of food-insecure students, staff and faculty by partnering with local organizations. The grocery assistance program offers perishable and nonperishable food items, as well as non-food items like personal care/hygiene products.
I learn about the lives of Food Locker clients and their struggles to improve themselves. They can shop at the Food Locker, and I can refer them to other resources in the community to help meet their needs.
Most of the Food Locker's clients are more seasoned individuals, single or married, have fulltime or part-time jobs, spouses or partners, dependents and/or are military veterans who want to improve their lives.
"Think of the stressors with a full course of credits, providing for family members, childcare and self-care," Diane said. "The Food Locker wants to lighten that load by providing them with four bags of self-selected groceries each month."
Carroll's partnership with the Maryland Food Bank (MFB) has been instrumental in its ability to create these pathways out of hunger. The MFB delivers 1,500 pounds of selected food items to the Food Locker on the first Wednesday of each month. These deliveries are then shelved by local volunteers.
Over the last three months, the Food Locker has provided 228 bags of groceries weighing 3,780 pounds. Foods included cereal, beans, canned goods, condiments, flour, drinks, fresh fruit, vegetables and more. This past Thanksgiving, the Food Locker also gave out 25 Thanksgiving boxes to those in need, containing a turkey supplied by Penguin Random House, with the Food Locker providing all the extras.
Building Up the Food Locker
After working at Mt. Airy Middle School for the last nineteen years of her career, Diane retired from the Maryland school system in June 2015. In October 2015, she applied for the part-time Food Locker grocery assistance position at Carroll Community College and has been working there ever since.
In response to the needs of Food Locker clients, Diane has created several additional partnerships with community businesses to provide even more resources than what the Food Locker had typically offered.
Among other businesses and organizations, she coordinated with Hahn's to get hams for a Celebration of Spring meal, local dentist offices to collect personal hygiene products, the Lions Club to solicit donated items, Shepherd's Staff to acquire school supplies, and the Westminster Rescue Mission to barter for items needed by both organizations. She has even partnered with the MCQE Mobile Pet Pantry to provide pet food and supplies. Diane is now looking to partner with the University of Maryland Extension program to offer college-wide food demonstrations using ingredients from the Food Locker to make simple meals. "With this partnership I could also obtain parsley, lettuce, thyme and oregano seeds," she explained. "The College's student clubs could make small planter boxes by recycling the wooden delivery palettes and grow fresh seasonings."
Supporting the Food Locker Family
"Even though she doesn't need to work, Diane chooses to come in each day to make a difference in the lives of others," said Jen Snyder, Senior Director of Student Engagement at Carroll. For example, when a client lost his job and needed to provide diapers for his child, Diane began stocking diapers in the Food Locker. "Diane is always thinking of her clients and how to better serve them. She talks with them about their education, their families and their lives and truly gets to know what they need and helps in any way she can."
"I learn about the lives of Food Locker clients and their struggles to improve themselves," Diane said. "They can shop at the Food Locker, and I can refer them to other resources in the community to help meet their needs."
Diane shared her most gratifying experience in Carroll's grocery assistance program was when she helped a client who was in an abusive relationship and had been locked out of their residence by their partner. Diane contacted a community resource that assisted the client in finding a place to live and providing them clothing to continue their pursuits at the College. This client graduated Carroll and is now successfully employed in our community. Diane joyfully attended their graduation ceremony.
"Some clients have introduced me to their family members," Diane said. "We are all part of the 'Food Locker Family'!"
Give to the Food Locker
The clients of Carroll Community College's Food Locker are grateful for the community's continued support.