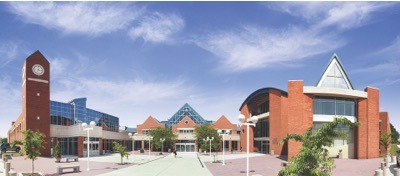 Several alumni from Carroll Community College's STEM program have demonstrated they truly have success down to a science.
Carroll's STEM—an acronym for Science, Technology, Engineering and Math—program has long had an exceptional track record for producing high-achieving students in these challenging yet essential fields. Here are just a few recent graduates who have used their Carroll education to launch impressive futures in STEM-related endeavors.
ZACH SWEEP
As one of the first five students to graduate from Carroll's Engineering program, Zach went on to earn his Master of Science degree in Electrical and Computer Engineering from Johns Hopkins University's nationally recognized and highly competitive Whiting School of Engineering. He accomplished this while raising a family and working full-time at Applied Physics Laboratory, a research center that develops technologies in air and missile defense, computer security, spacecraft construction and more. Boasting such a strong foundation in engineering from both Carroll and Johns Hopkins, Zach is now looking to pursue a doctorate in Engineering.
ELYZABETH TOMPAS
Elyzabeth had been part of the SMART Scholars cohort at Carroll (which later led to the formation of STEM Scholars), as well as served as the president of the American Chemical Society chapter at the College. While at Carroll, she also managed to juggle her Chemistry studies, caring for her family and undergoing treatment for cancer. Elyzabeth now works at Abbott Laboratories in Scarborough, Maine as a Lead Molecular Chemist, focusing on the manufacture of COVID-19 tests, as well as those for Influenza A/B, RSV and Strep. She credits all the wonderful opportunities she'd had at Carroll as a reason for her continued success.
CHAD TIBBS
After graduating from Carroll's STEM program, Chad transferred to the University of Maryland (on a full scholarship) where he earned his Bachelor of Science degree, and has since been accepted into the prestigious Whiting School of Engineering Master's program. Recently, he was cleared to work as a Mechanical Engineer at the U.S. Army's Aviation and Missile Center, who will also cover the cost of his Master's education. Carroll helped lay the groundwork for all of this by supporting Chad's commitment to both his family and his future.
JASON SUMPTER
Jason is a Carroll graduate who has followed his longtime passion to teach college-level Biology and mold the next generation of young scientists. After graduating from Carroll, he went on to earn his Bachelor's and Master's degrees, then taught as an adjunct professor on Carroll's Science faculty. This experience enabled him to eventually secure a full-time position as Assistant Professor of Biological Sciences at Broward College in Davie, Florida. To this day, Jason calls Carroll Community College his "second home."
"Faculty members and indeed the entire College community thrive on our students' success, not just during their journey at Carroll but after it as well," said Dr. Raza Khan, Chairperson of the Sciences Division and Program Director of STEM Scholars at Carroll. "As faculty, there is no greater joy than to see our students' succeed despite the challenging STEM coursework and the personal challenges they face in their own lives."
"Dr. Khan and all the faculty and staff at Carroll believe deeply in our students," said Dr. Rose Mince, College Provost. "Our dedication to student success is a major reason why our students achieve their goals here at Carroll and beyond."