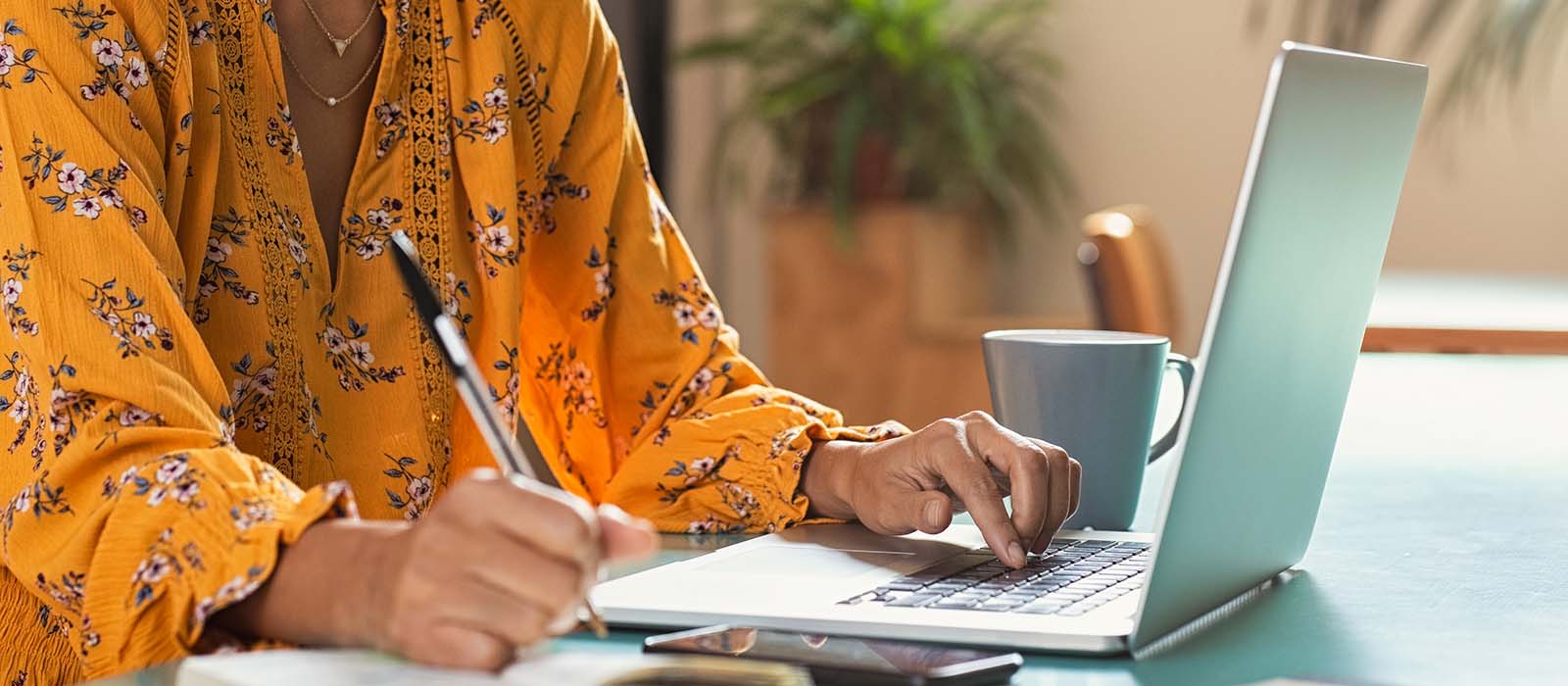 A typical college student can spend a whole 4-month semester completing a single research paper or project. But how about revamping and expanding a college's entire online learning program in mere weeks? That was the challenge facing Carroll's Director of Online Learning Andrea Gravelle in the early days of the COVID pandemic.
Carroll currently provides seven completely online Associate degree pathways as well as two fully online credit certificate programs.
Carroll's broad offerings of online education have increased since Gravelle became director in 2018, but "people were very concerned about the shift to online instruction at the beginning of the pandemic," she said. "Many hadn't worked remotely and may not have had the necessary equipment for remote work in their homes." In response to the COVID crisis, the College had provided its students, staff and faculty with new laptops during the summer of 2020 and continues to provide loaners for students who need them.
An Ongoing History of Online Offerings
Carroll began offering online classes in 2005 and had been adding distance learning options each year thereafter. Pandemic-prompted quarantines forced an abrupt need for an extreme upgrade. Suddenly all of Carroll's students were earning Associate degrees online while confined to their homes.
With the future of returning to in-person classes uncertain, Gravelle and her new Instructional Designer Suzi Mazzenga got busy ramping up the College's online Associate degree programs. By the Fall of 2020, Carroll was offering 94 fully online, asynchronous courses, an increase of 19 classes from the previous year—an incredible feat, considering that it typically takes about a year to transition just one course from in-person to the asynchronous, online format.
Carroll currently provides seven completely online Associate degree pathways as well as two fully online credit certificate programs. Students have expressed that they actually want to engage in online education for a couple of reasons:
Online classes for employed adults allow students to continue working while earning their degree.
Some students like the flexibility of online education, allowing them to avoid commuting to campus.
Rising to the Online Learning Challenge
When the pandemic hit, Carroll's faculty had only two weeks to convert their courses to an online format and learn how to use new conferencing software as they pivoted from in-person to virtual learning platforms. To help them, Gravelle and Mazzenga wrote a training course covering Best Practices on Online Teaching. So far, more than thirty faculty members have taken the course.
Moving the coursework for an Associate degree online is more than sticking a camera in front of professors. The process begins with the Online Learning team discussing with faculty about what the class will include. The professor then collaborates closely with Mazzenga and Accessibility Specialist Gerard Mercier to design the course.
Same High-Quality Education Online
Carroll is working on course certification through Quality Matters (QM), a nonprofit organization that provides quality assurance for schools offering fully online courses. All of Carroll's online classes have met or exceeded the organization's standards. For example, one of Carroll's online Business courses passed with a 98% on the first try, well above the required 85%. Since 2019, eight courses have become QM certified.
In addition, the department ensures that online students with disabilities like hearing or vision impairment have equal access to course content such as videos, assignments, etc. Studies have shown that accessible content benefits everyone. For example, closed captioning not only helps students with hearing impairment, but also those who learn better by reading and hearing at the same time. Carroll also encourages Universal Design for Learning (UDL) in its online courses. UDL means students may have multiple ways to submit an assignment, such as writing a paper or making a video. Like accessible content, UDL has proven that it benefits any student.
"The pandemic showed faculty that teaching online wasn't what they thought it was going to be," Gravelle said. "Some instructors who didn't expect to enjoy teaching online discovered they love it. They found that they could connect on a deeper level with their students."
State-of-the-Art Online Learning
Carroll's online degrees & certificates offer wider options and convenience for students.