News & Stories
It's Never Too Late: Nontraditional College Students Thrive at Carroll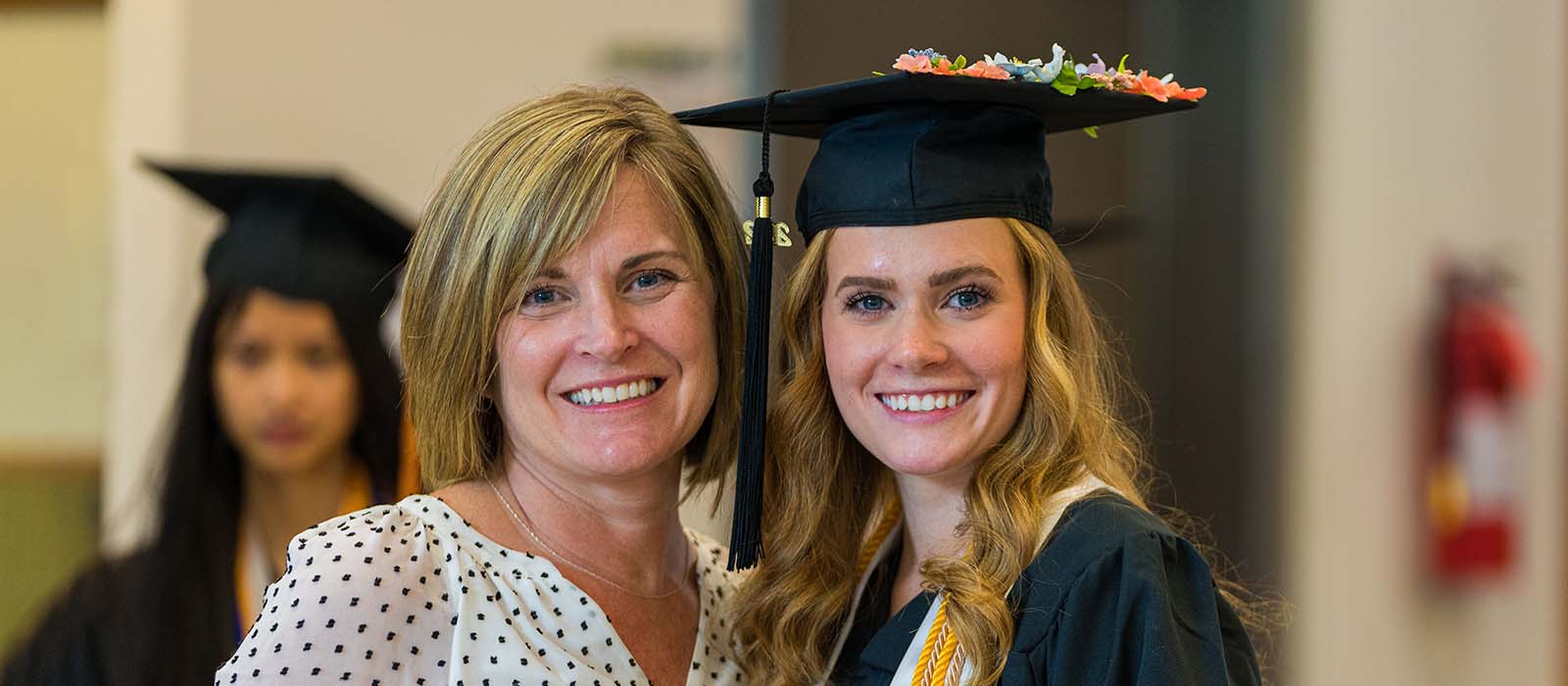 Most people picture college students as being young, fresh out of high school, like those seen in the majority of movies and TV shows. But did you know that approximately 20% of Carroll Community College's student body are over age 25?

There are many reasons why these older, nontraditional college students decide to enroll at college:
They want to change or advance their career.
They took time off for other personal pursuits, such as serving in the military or raising children, and are now ready to pursue higher education.
They weren't sure if college was right for them, but later feel it is a goal worth achieving to better themselves and their families.
The affordability, flexibility and convenience of attending a local community college compared to a four-year institution is a major attraction for older students, many of whom are also working fulltime jobs or taking care of their family.
"Having the flexibility to do most of the program online was amazing for my school/life balance," said Alyssa Leachman, who had started Carroll's Associate to Bachelor's Nursing program when she was a single mom to twin three-year-old girls as well as a new homeowner. "I really appreciated the faculty support and the fact that I was able to stay on track to degree completion as quickly as possible."
Challenges for Nontraditional College Students
Many nontraditional students encounter certain challenges in college that their traditional counterparts may not:
Adjusting to academic life after spending an extended period of time working and/or supporting their family.
Being older than the average student in their classes, which might feel awkward.
Having a limited support system at their home and/or place of work.
Having enough time to attend classes, do homework and fulfill other course requirements while working and/or supporting their family.
Learning how to use modern learning technologies.
"Being older than most who decide to start taking college classes was a bit daunting," said Joseph Papi, a U.S. Army veteran who went on to pursue a Nursing degree at Carroll. "I wasn't sure how I would fit in, but I have felt very welcomed by all of the staff and my classmates."
"I won't graduate with my Nursing degree until I am 40," Papi continued, "so it is never too late to make a change in your life to make yourself better."
Benefits for Nontraditional College Students
Community colleges like Carroll provide numerous resources and support that a nontraditional student can take advantage of:
Flexible class options (in-person, online, evenings, Saturdays)
Personalized, 1-on-1 advising
Financial aid & scholarships, including the New Start Scholarship
Partnerships with 4-year institutions for seamless transfer
Career coaching and professional development
On-campus Childcare Center and Fitness Center
"I chose Carroll initially to retake science core classes from my undergrad in order to improve my chances of entering a post graduate education program," recounted Mary Harshman, a graduate of Carroll's Physical Therapy Assistant program who went on to earn her Doctor of Physical Therapy degree from PCOM Georgia. "Not only did Carroll make college very affordable for retaking classes, but their Physical Therapist Assistant program also gave me the skills I needed to start my career and ultimately gave me the confidence to continue my education further."
June Leppo, working as an Academic Administrative Associate for the Nursing program at Carroll, decided at age 53 to enroll in the College's Business Management A.A.S. program. "After I met with my advisor," she said, "I felt like I had a plan that was achievable which really inspired me to start the process. There is so much support at Carroll and it feels good to learn something new, challenge myself and meet new people."
Leppo was also one of the first to take advantage of Carroll's recently introduced New Start Scholarship, aimed to help nontraditional college students. "The New Start Scholarship was the extra encouragement I needed to return to college," she explained. "I knew that if there was a scholarship offered, Carroll is looking for people just like me to enrich their student body."
Making Ageless Memories at Carroll
Nontraditional students at Carroll enjoy the same enriching experiences as its traditional students, getting more out of their time there beyond an Associate degree or career training.
"As a student, I like walking around campus and seeing students of all ages, races and backgrounds working together on a project or studying together," June Leppo said. "I went to a class and met a wonderful person who is dually enrolled and will graduate high school this year. We collaborated on a small project together and it was really inspiring. I would not of had that opportunity if I didn't return to college this year."
Going to college can create special, lifelong memories no matter your age. 40-year-old Carroll graduate Andrea Molina previously spent eight years in the U.S. Army, then raised her two daughters and launched her own cleaning business before deciding to pursue a new career in 2016. That's when she enrolled in Carroll's Health Science program. "I attended Carroll's graduation ceremony in Spring 2019 at the same time my oldest daughter graduated Winters Mill High School," Andrea boasts. "It was EPIC!" While it can be challenging for a nontraditional college student to return to the classroom (even if it's online), the professional staff at Carroll Community College does all it can to help them choose the appropriate program and/or courses based on their interests and aspirations. Carroll sets them up for success in achieving their educational goals while having an engaging—even epic—college experience.
New Start Scholarship
If you are age 25 or older and new to Carroll or returning to us as a fulltime student after 2 years, your first class is FREE!