News & Stories
Become a Data Detective in Carroll's New Data Science Program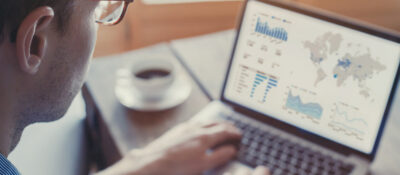 Are you a person who likes to find patterns in things and/or figure out complex puzzles? Then a career in Data Science might be for you!
Data Science is a professional domain of study that employs a variety of methods to understand the vast amounts of information a business has collected. In today's data-driven world, where organizations need to gather and use information to stay competitive, these specialized skills are in high demand. For this reason, Carroll Community College has launched its A.A. Data Science program.
If students pursue a two-year degree with us, they will graduate job-ready to become a Data Analyst or Business Analyst.
In the new program, students learn basic competencies of the Data Science field by taking courses on how to set up databases and spreadsheets, organize them effectively and analyze the data to find patterns.
"Folks gain a lot of practical skills where they'll be immediately employable or ready to go on to further study at a four-year institution," Brown said.
What do Data Analysts do?
Data Analysts, also called Business Analysts, look at an organization internally to improve its efficiency and/or externally to optimize its service to customers.
"For example, Amazon looks at how people are purchasing items," Brown explained. "They'll try to upsell you, saying 'People who have bought this item have also bought this item.' You're free to ignore it, but often it reminds you of something you need. Many times, people add that to their cart."
Retail companies like Amazon track buying patterns to predict what other items shoppers may want, such as ink and paper when they buy a printer. Data Scientists dig even deeper than this, using machine learning algorithms and mathematical/statistical models to identify patterns in a business that others would likely miss.
While proficiencies in math, science and computers help, Brown said that a surprising innate trait can make a person an excellent Data Science career candidate.
"In addition to being tech savvy, students who go into Data Science are detectives," Brown said. "They're curious by nature, and with data they can figure out things and derive their own way to solve a problem and to answer a question."
What's the future for Data Science graduates?
Brown called the employment outlook for Data Science graduates as "very, very strong. It's one of the top jobs" today.
In fact, U.S. News and World Report recently listed Data Scientist as #6 on its list of 100 Best Jobs that "pay well, challenge us year after year, match our talents and skills, aren't too stressful, offer room to advance throughout our careers, and provide a satisfying work-life balance."
Another advantage of pursuing a career in Data Science is that one can work in a variety of industries and apply their skills and knowledge in many different ways. "The field is new enough that those with one title could perform tasks for jobs with another title," Brown said.
After completing Carroll's Associate degree program, students can continue their Data Science education with a Bachelor's, Master's and Doctoral degree, if desired. These steps can help them obtain even more employment opportunities in this emerging and exciting field.
Explore Our Credit Programs
Carroll offers more than 70 credit programs and transfer patterns.