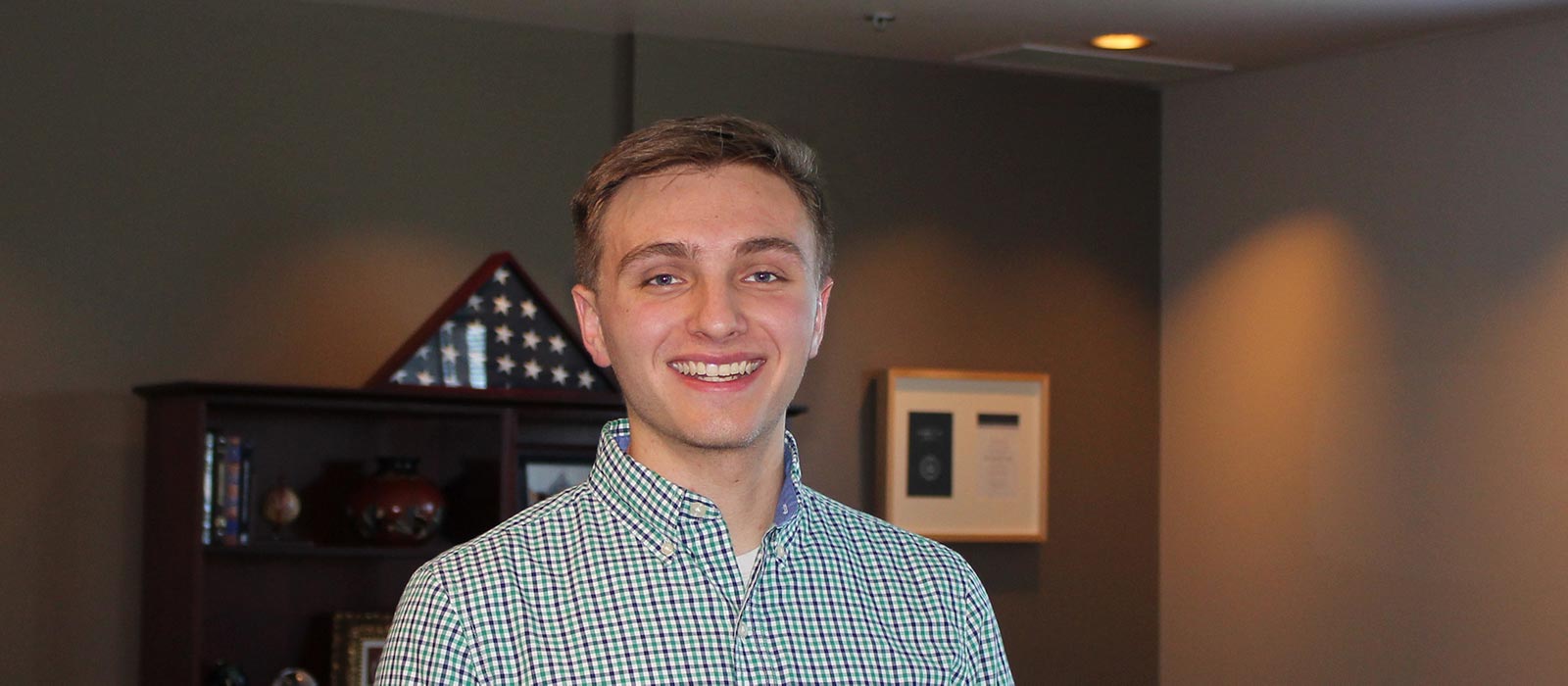 Noah Simmons, a 20-year-old Westminster resident who earned an Associate of Arts and Sciences degree in General Engineering at Carroll, received this year's prestigious President's Academic Excellence Award at the College's 2018 Commencement ceremony last May.
Carroll Community College President Dr. James D. Ball chose Simmons for the honor in recognition of his outstanding academic and co-curricular performance. The President's Academic Excellence Award selection involves a competitive process and is the President's highest award to graduates.
Simmons boasts numerous achievements as a Carroll student. He was a STEM Scholar and the president of the campus STEM Club. He participated in the Leadership Challenge program and was a member of the Phi Theta Kappa Honor Society. Simmons was also on the College's Mathematics team and one of four Carroll students who captured the top prize in the 10th annual SMMART (Student Mathematics Mid-Atlantic Regional Tournament) competition.
I feel prepared to face the challenges that lay ahead.
"Being selected to receive the President's Academic Excellence Award is by far one of the experiences for which I am most proud," said Simmons. "This award means more to me than just the scholarship and the recognition. It is a validation that my endeavors at Carroll had an impact. I am so grateful to Dr. Ball for awarding me this honor."
Are you a Carroll student or alumni?
Simmons, who had been home-schooled before coming to Carroll, is transferring this Fall to the University of Maryland to study Chemical and Biomolecular Engineering. His longtime passion for STEM (Science, Technology, Engineering and Mathematics) led him to choose Engineering as an area of academic concentration in college.
"When I first started at Carroll," explained Simmons, "I did not know enough about myself and about my options to make a decision about which type of engineering I wanted to pursue… At Carroll, I've really been able to find out who I am and feel like I've really matured as a person. Carroll has allowed me to explore my interests while also moving forward in my education."
For his accomplishments, Simmons credits all the opportunities he has had at Carroll and the amazing help he's received from its faculty. "With the lessons I learned at Carroll, I most certainly feel prepared to face the challenges that lay ahead academically and throughout my life."
STEM Scholars
Explore our Science, Technology, Engineering and Math honors program.