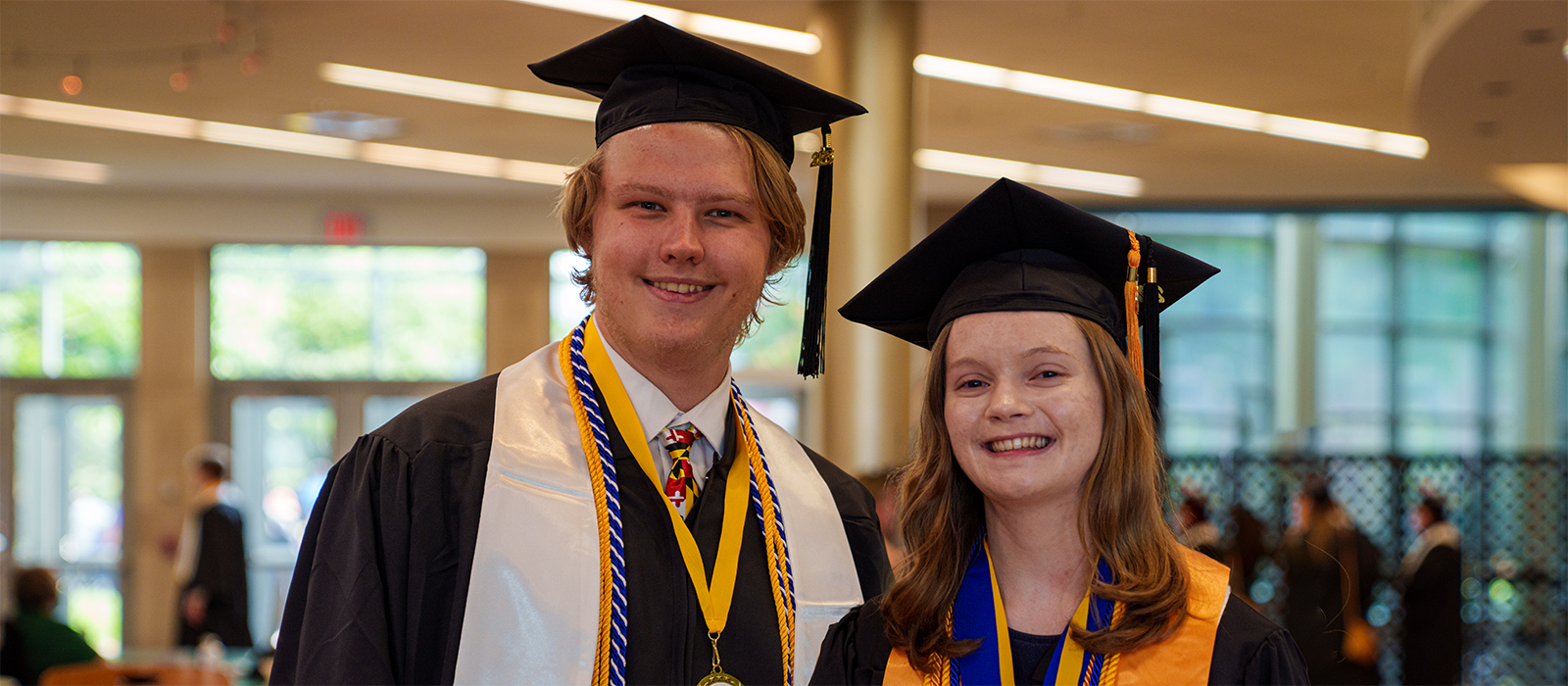 Internships allow students to experience real-world workplace scenarios while enrolled in a college program. Carroll Community College Engineering students Lanie Lilly and William Britz were both fortunate enough to be offered highly competitive research internship opportunities at national laboratories this summer through the U.S. Department of Energy.
"Lanie and Will are two stellar examples of just how far community college students can go when they are passionate about learning," said Dr. Rosalie Mince, Provost of Carroll Community College. "These two outstanding young scholars have made the most of their time at Carroll, and this is clearly just the beginning of their success stories."
Carroll Community College is making waves at the national level because our students are making those waves!
Lanie Lilly: Savannah River National Laboratory
Lanie Lilly, a Chemical Engineering major at Carroll, was encouraged to apply for national lab research internships by Dr. Raza Khan, Chair of Carroll's Science Division and Director of its STEM Scholars honors program. "The website had a list of all the lab locations, and my eyes were drawn to the Savannah River National Laboratory in South Carolina," Lanie recounted. "They had an online form to fill out, which required letters of recommendation, a résumé, a transcript and an essay."
Lanie, who is especially interested in the environmental side of chemical engineering, submitted her application to Savanah River in January, then heard back from them in late February when they accepted her for a 10-week Environmental Management internship. In addition to lab work, she will be assisting engineers with the systems and processes they are working on.
"I will be given choices of the projects available when I arrive, and I get to pick the one that resonates with me the most," Lanie said. At the end of the research internship, she will do a presentation about what she has worked on in a professional setting.
"I am looking forward to working with actual engineers on their projects for a topic that I love," Lanie said. "I am very excited to learn from them!" In particular, she hopes to learn how to apply the knowledge in engineering she's accrued through her studies at Carroll, as well as learn something completely new that she can use in future classes or projects.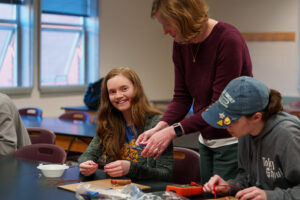 Lanie, who graduated from Carroll in Spring 2023, credits the STEM Scholars program for cultivating her love for hands-on research. "I tend to enjoy bookwork more," she explained, "but the undergraduate research project I have done has led to my new love of hands-on work and lab work." She is grateful to have been able to undertake a research project in her sophomore year at Carroll, an opportunity that is not typically offered at most colleges until the junior or senior year.
Lanie's achievements continue to pile up: she has also been offered a summer internship position with local manufacturing company EVAPCO after she returns from Savannah River National Laboratory. Lanie plans to then transfer to a four-year university to continue studying chemical engineering, also adding math as a second major. "I want at least a Bachelor's degree in math," she said. "Then I want to work up to a Ph.D. in chemical engineering."
William Britz: Oak Ridge National Laboratory
William Britz, a Mechanical Engineering major and STEM Scholar who also graduated from Carroll this May, learned about the Oak Ridge National Laboratory summer research internship while he was in Idaho exploring the various facilities of Battelle Energy Alliance.
"I saw that Oak Ridge was one of the leaders in fusion research, which is a subfield of nuclear engineering that I wanted to investigate," William said.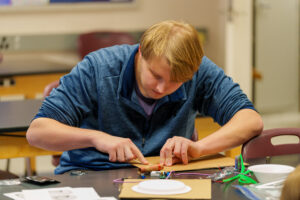 With guidance from Dr. Khan, William applied for a research internship with Oak Ridge through Science Undergraduate Laboratory Internships (SULI), a program hosted by the Department of Energy with the aim of giving undergraduate students research experience and finding them careers in the STEM field. A short while later he found out he was accepted for a 10-week placement at the Tennessee-based lab.
"My duties there are going to vary as I am needed," William said. He specifically will be working on the Material Plasma Exposure eXperiment (MPEX) project, a linear plasma divertor simulator currently being constructed at Oak Ridge in order to run tests on the lifespan of fusion reactor parts. "I will be using CREO parametric modelling to draft various parts needed for the MPEX project and will learn how to do finite element analysis on these parts to determine where they are most likely to fail."
William enjoys meeting new people at a new job, whether they are his supervisors or his peers. "It is so great to be able to talk and hear from these people about their experiences," he said. "They are a really good resource to hear what their paths were to get where they are today, things such as internships, academic majors, graduate school and all the choices they made that led to their current career."
William, who plans to transfer to the University of Maryland College Park James Clark School of Engineering, also hopes to get information on fellowship programs at Oak Ridge National Laboratory, potentially having them sponsor his doctoral degree program.
Oak Ridge is actually William's second research internship with the Department of Energy. At his first internship with Idaho National Laboratory last summer, he was able to speak with the faculty about what they do there, which helped him determine which field of research he would focus on in his educational journey. They even offered him a five-year fellowship that includes three years at the laboratory working on his graduate thesis.
Engineering a Future at Carroll
"Lanie and Will have embraced the many opportunities at Carroll Community College to gain valuable research and leadership experience," said Dr. Mince. "Both participated in the STEM Scholars program and held leadership roles in student government and Phi Theta Kappa. They were very active in campus activities and clubs and took advantage of the many opportunities for personal and professional growth and networking provided at Carroll."
"It is truly remarkable what Lanie and Will have accomplished in just two short years at Carroll," praised Dr. Khan. "Carroll Community College is making waves at the national level because our students are making those waves!"
Become a STEM Scholar!
Our selective admission honors program emphasizes hands-on research, professional development and transfer preparation.