Business Risks 2022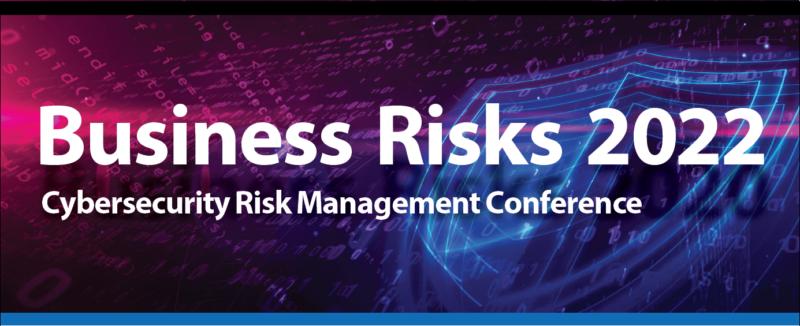 Cybersecurity presents operational challenges to all businesses, from start-ups to large corporations, beyond keeping data secure.
Friday, March 4, 2022
8:30 A.M. – 3:30 P.M.
Carroll Community College, K100
Register Today
Carroll County residents deduct $10;
Maryland non-Carroll County residents deduct $5.
In-person event with virtual option available.
We are monitoring the COVID-19 situation and will communicate any changes.
Keynote Speakers
Ron Gula
President, Gula Tech Adventures
Betamore BETA Awardee, Baltimore Tech 10
leader and MD Entrepreneur of the Year
Dr. Philip Moulton
Director of Risk Management,
Colfax Corporation
DCRO Institute Certificate of Risk Governance
awardee and published author
John Funge
Managing Director, DataTribe
As seen on Carnegie Mellon University's CONNECTS Entrepreneurship Seminar Series
Hear from experts to learn cyber risk management best practices and answer questions such as:
What are the technology trends impacting cybersecurity today?
How can organizations mitigate exposure to threats, data loss and theft?
What are the unique business risks to manufacturing organizations?
How much cybersecurity insurance is necessary?
How does cybersecurity risk effect my supply chain?
Who Should Attend?
Corporate compliance officers & risk managers
Sr. Management seeking to mitigate cyber threats
Small businesses & startup companies
Manufacturing professionals
Government contractors
Cybersecurity service providers
Students seeking real-world experience
Start Times
Sessions
8:30 a.m.
Coffee/Networking
9:00 a.m.
Welcome
9:10 a.m.
Keynote Session #1
The State of Cybersecurity Investing
Presented By John Funge, Managing Director at DataTribe
9:55 a.m.
Small/General Business Challenge Panel | Moderator: Tom Mazerski
Panelists:
Zach Tomlin, MCTS, President, Tomlin Technology, Inc.
Mike Volk, VP, Cyber Risk Solutions, Optiv
Timothy L. Smoot, Sr. Vice President, Meridian Management Group, Inc.
Nick McCourt, Virtual Chief Information Security Officer/Cyber Security Engineer
11:15 a.m
Keynote #2
The Role of Cyber Insurance in Managing Cyber Risk in Manufacturing Companies
Presented by Dr. Phil Moulton, Director of Risk Management, Colfax
12:05 p.m.
Break / Grab Lunch / Networking
1:05 p.m.
Autonomous Technology/Manufacturing Panel | Moderator: Pat Differ
Panelists:
Karl Leodler, CEO, Dynamic Dimension Technologies
Louis Lee Bopst, CEO, TeamingPro
Bill Smith, Insider Threat Analyst, Johns Hopkins University Applied Physics Lab
Mike Shelah, Director, Advantage Industries

2:20 p.m.
Keynote #3
Welcome to the Data Care Industry
Presented by Ron Gula, President, Gula Tech Adventures
3:15 p.m.
Closing / Final Comments
In partnership with:

---
VIP Sponsors

---
Platinum Sponsors
---
Panel Sponsors


---
Trivia Sponsors

---