Visual Art Concentration, A.A.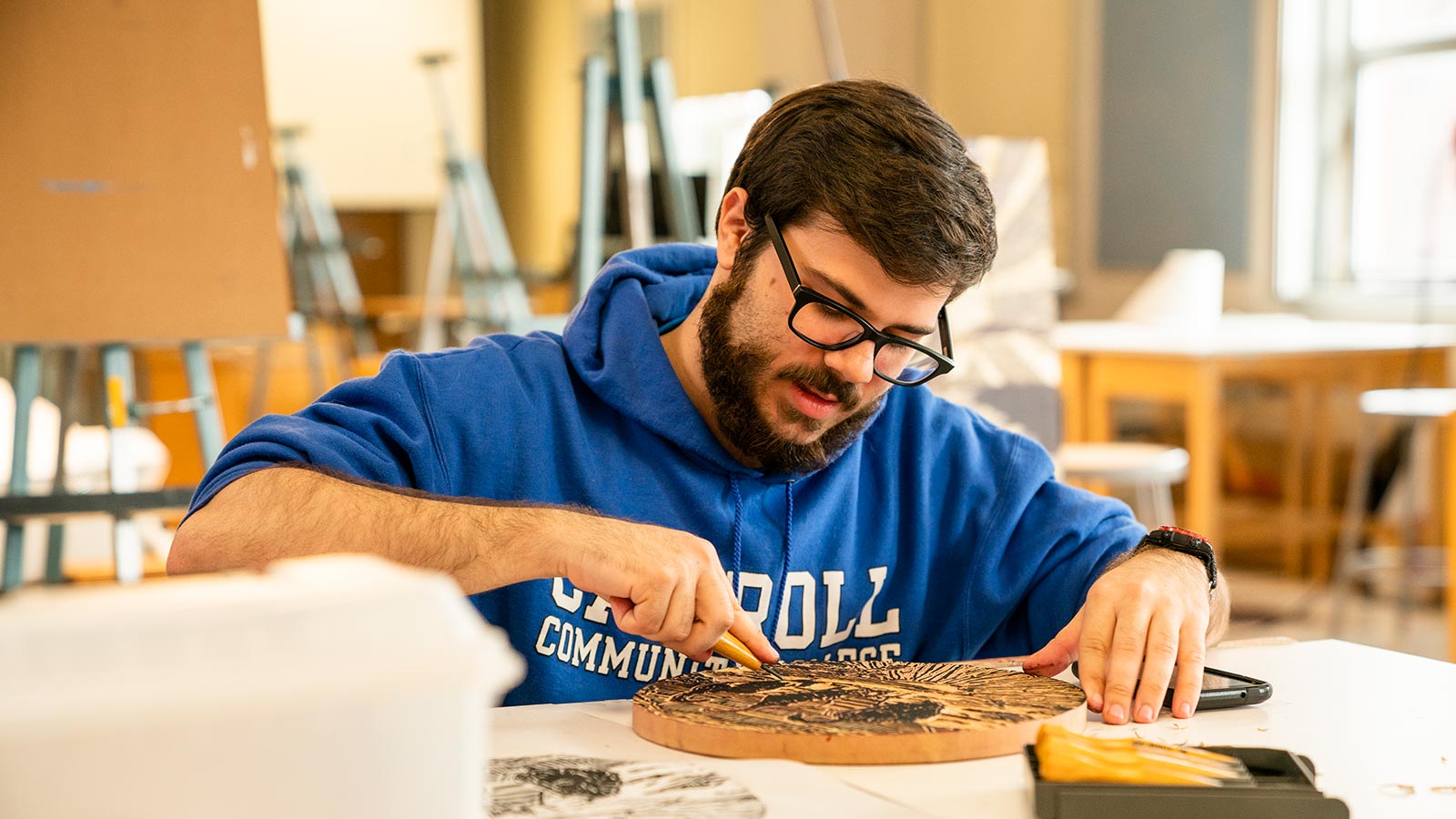 At a Glance
Carroll's Associate degree in Visual Art program teaches students the technical skills to be a successful artist and prepares them for transfer to a 4-year Visual Arts program.
Program Length:
Two years, or four 15-credit terms
Helpful Resources
About the Program
Our Associate degree in Visual Art program is small but mighty. Since 2016, we have added printmaking and ceramics as well as a gallery internship to our repertoire, all taught by our expert faculty, and we are continuing to expand our facilities.
This program hones the core skill set needed by artists for drawing, painting, printmaking, sculpture and beyond. Visual Arts also teaches the valuable skills of problem solving, critical thinking, oral and written communication, collaboration, networking, time management and self-motivation that enable one to be a creative and effective member of most any workspace.
Why Carroll for your AA degree in Music:
Build artistic skills across a variety of media in our well-equipped art studios.
Receive lots of 1-on-1 attention from professionally trained working artists.
Explore Carroll's 3 beautiful spaces featuring rotating exhibitions created by our talented students & celebrated visual artists.
Take trips to local art openings and gain exposure to the art community.
Advisory Board
Our curriculum is designed and continuously reviewed by an advisory board of industry experts and business leaders, ensuring the program meets all current skill and knowledge requirements. You can visit our Advisory Boards page to see the list of Visual Art Advisory Board members, as well as advisory board members for our other programs.
Curriculum
Loading...
Transfers & Careers
Discover Your Passion
Find out what your interests are and how they relate to the world of work.
Transfer
Carroll has transfer agreements with virtually every public college and university in Maryland, as well as many other schools throughout the state and across the country.
Learn more about transferring your courses to a different institution or explore Transfer Agreements by Area of Study.
Career
The skills students acquire in Carroll's Visual Art program are applicable to many exciting arts-based fields such as:
Illustration
Photography
Graphic design
Printmaking
Arts administration
Art education
Curation
Other job opportunities for graduates include media production, advertising, public relations and more. Students are also prepared to advance their own studio practice.
The Visual Arts department at Carroll Community College shaped who I am now and helped me figure out my path for the future. I not only made amazing friends from the many art classes I took, but made lasting bonds with the professors who pushed me to become a better student and a better artist.
Faculty
Carroll's faculty are scholars, researchers and distinguished leaders, selected based on their industry experience, academic excellence and passion for teaching. They possess a wealth of skills and knowledge to share with you throughout your pursuit of a Visual Art degree.