Digital Design and Fabrication A.A.S.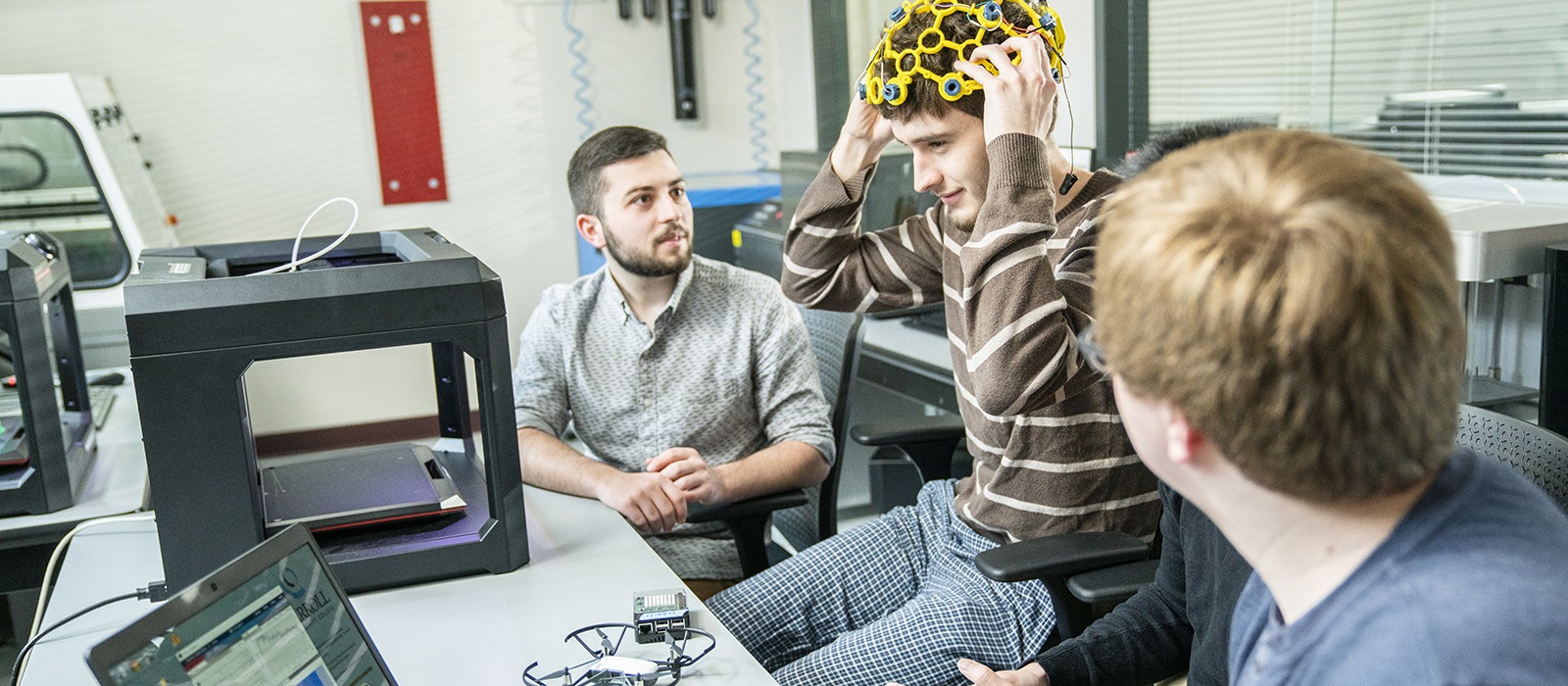 At a Glance
Our A.A.S. in Digital Design & Fabrication degree program teaches the use of modern digital modeling software and manufacturing processes in conjunction with contemporary design, manufacturing and production strategies.
Program Length:
Two years, or four 15-credit terms
Helpful Resources
About the Program
Using emerging manufacturing technologies, digital fabricators design and create physical objects, parts or products used by consumers and industries. This new way of creating has changed design and manufacturing forever. Prototypes and concept models that used to take weeks or months to make can now be produced in just a few days at a fraction of the cost.
Graduates of Carroll's A.A.S. in Digital Design & Fabrication degree program, along with industry professionals seeking certifications, are well equipped to compete in the job market of tomorrow as well as today.
Why Carroll for Digital Design & Fabrication (DFAB)?
Graduate job-ready
Get up to speed on the latest technologies and begin your career immediately upon earning your degree.
Up-to-date curriculum
Developed and continuously reviewed by an advisory committee of business leaders, the program meets current as well as future skill and knowledge requirements.
Job opportunities
Carroll's partnerships with the business community provide students with potential employment at established companies.
Learn multiple skills/subjects
The program touches on several disciplines, including entrepreneurship, visual arts, mechanical engineering and computer science, to name a few.
Certifications in SOLIDWORKS
Training on this leading computer program for Computer-Aided Design and Computer-Aided Engineering helps you stand out in the job market. Complete a variety of software certifications including the CSWA, CSWPA-SM, CSWPA-WD and CSWP exams.
Certification in Additive Manufacturing
Become certified in professional, high-level additive manufacturing technologies, proving your proficiency in AM applications across various applications.
Advisory Board
Our curriculum is designed and continuously reviewed by an advisory board of industry experts and business leaders, ensuring the program meets all current skill and knowledge requirements. You can visit our Advisory Boards page to see the list of Digital Design & Fabrication Advisory Board members, as well as advisory board members for our other programs.
Curriculum
Loading...
Transfers & Careers
Discover Your Passion
Find out what your interests are and how they relate to the world of work.
Career
According to the Economist, the additive manufacturing technology and service industry was forecasted to be worth $8.4 billion by 2020. With technical development and far-reaching adoption, the industry could be worth as much as $105 billion by 2028, meaning job prospects in this field are highly promising right now and in the future!
Professional areas where Digital Design and Fabrication are utilized include industrial design and engineering, product and package design, manufacturing and the creative arts, including fashion design, jewelry, sculpture, metalsmithing and mixed media.
Skills acquired in our state-of-the-art DFAB program can be applied to many high growth industries including:
Aerospace
Defense
Medical
Architecture
Automotive
Manufacturing
Design
I chose the Digital Design and Fabrication program at Carroll because it was affordable, local and easily fit into my busy work schedule. The fab lab is amazing, with a variety of different 3D printers. The instructor is very knowledgeable, approachable and helps everyone in the class to be successful.
Faculty
Carroll's faculty are scholars, researchers and distinguished leaders, selected based on their industry experience, academic excellence and passion for teaching. They possess a wealth of skills and knowledge to share with you throughout your pursuit of a Digital Design & Fabrication degree.