International Business Concentration, A.A.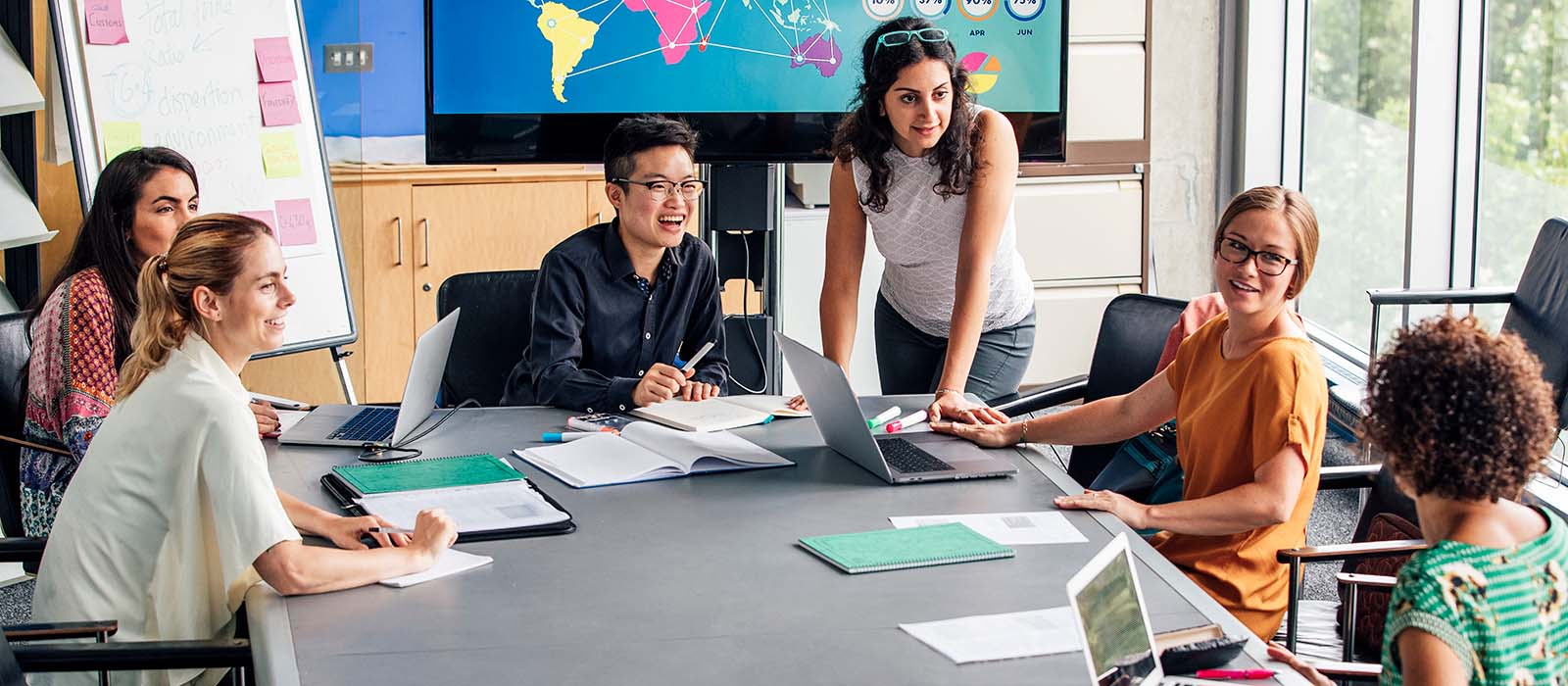 At a Glance
Our Associate degree in International Business program provides students with a well-rounded core of business courses combined with language course(s), preparing them for transfer to 4-year colleges as Business majors with a concentration in International Business.
Program Length:
Two years, or four 15-credit terms
Helpful Resources
About the Program
Carroll's Associate degree in International Business program is customized for students interested in a rewarding career in global business and finance.
International business is defined as business transactions that take place across national borders. This includes small firms that export or import products, up to large corporations with operations and alliances around the world. Distinctions among different types of international firms help to understand its financial, administrative, marketing, human resources or operations decisions.
Why Carroll for an International Business degree:
Many courses offered in accelerated, 7-week formats
Evening/online courses available
Behind-the-scenes trips to Under Armour, M&T Stadium, Camden Yards, QVC, NYSE Stock Exchange, Harley Davidson, Pepsi and more
High achieving students in the program are recognized each semester by Carroll's Business faculty as Sturm Scholars. Business majors with a 3.200 GPA may be eligible for membership in the national business honor society, Alpha Beta Gamma.
Advisory Board
Our curriculum is designed and continuously reviewed by an advisory board of industry experts and business leaders, ensuring the program meets all current skill and knowledge requirements. You can visit our Advisory Boards page to see the list of International Business Advisory Board members, as well as advisory board members for our other programs.
Curriculum
Loading...
Transfers & Careers
Discover Your Passion
Find out what your interests are and how they relate to the world of work.
Transfer
Carroll has transfer agreements with virtually every public college and university in Maryland, as well as many other schools throughout the state and across the country.
Learn more about transferring your courses to a different institution or explore Transfer Agreements by Area of Study.
Career
An Associate's degree in International Business, when combined with a Bachelor's degree in a similar field of study, equips students with knowledge in their area of expertise as well as the language and decision-making process of management. Students in this program are exposed to the possibilities of business careers here and abroad.
Where can you go?
You'll discover a variety of exciting employment opportunities in the U.S. and abroad, including:
Import/Export Agent
Translator
Foreign Currency Investment Advisor
Foreign Sales Representative
International Management Consultant
Job duties in International Business include:
Managing imports and exports in multinational corporations
Translating for business
Traveling abroad to facilitate business deals
Preparing employees for foreign travel and business dealings
Studying and implementing ethical behavior and standards
Practicing cultural sensitivity in business
Representing your company internationally as a sales representative or consultant
According to the U.S. Bureau of Labor Statistics, the number of job openings in most business-related fields is projected to grow through 2026.
Every business class I have taken at Carroll has been very organized and instructive. From lectures to field trips, seminars to online simulations, it is impossible to get bored with how the information is presented in each class.
Faculty
Carroll's faculty are scholars, researchers and distinguished leaders, selected based on their industry experience, academic excellence and passion for teaching. They possess a wealth of skills and knowledge to share with you throughout your pursuit of an Associate degree in International Business.