Transfer From Carroll
Start at Carroll, Transfer Anywhere!
With an Associate degree from a Maryland community college, your credits are transferable to any public higher ed institution in the state. The College and Career Readiness and College Completion Act of 2013 makes the transfer process easier.
Need Help Navigating Transfer Options
To help you decide on your transfer destination, the Advising office has transfer events. Your dedicated advisor can also help you map out a transfer pathway to any college or university. Four-year schools have different deadlines and procedures from community colleges, so it is important to plan ahead to make sure you can transfer seamlessly after you graduate.
Set a Career Goal
Without a career goal, it's hard to know which institution is best for you. Some schools may not offer the program you want.
If you need help setting a career goal, use the Career Development Center's online tools, meet with a career counselor, and take CAR-102 Career Self-Assessment & Planning.
Research Transfer Destinations
There are many factors to consider when choosing a transfer destination. Size, location, programs, cost and many other factors may influence your decision.
Start your search by looking at the College Search Engine, then visit the colleges that interest you, and be sure to inquire about transfer scholarships.
Campus Visits
Online information is a good start, but nothing compares to a good campus visit. Beyond taking the campus tour, sit in on a class or two, talk to students and faculty in your program, have your transcript evaluated, and ask about research and internship opportunities.
Transfer Scholarships
Costs are an important factor in the transfer selection process. More expensive institutions may offer more in financial aid to compensate, and some institutions offer specific scholarships to transfer students.
Contact each institution's Financial Aid office to get the most complete information.
The following resources may help to reduce your expenses.
FAFSA (Free Application for Federal Student Aid)
There are a couple of key steps you should complete once you have selected a transfer destination.
The Application Process
Check the transfer institution's website for application, scholarship and financial aid deadlines, and apply as soon as possible. For some schools, the earlier you apply, the better your chances to be admitted and awarded financial aid.
View the transfer admissions of local transfer colleges and universities.
Find out the requirements to apply. These requirements may include:
Completing an online or paper form application.
Submitting payment for an application fee. Some schools may waive the fee if you visit their campus or talk to one of their transfer recruiters when they come to our campus.
Requesting official transcript(s) from Carroll and previously attended institutions be sent to the transfer institution. If you are currently attending classes, send an additional transcript once your final grades have been posted.
Writing an essay.
Submitting letters of recommendation.
Taking tests. Some selective programs may want you to take additional tests. For example, many nursing programs require the TEAS test.
Some of these requirements will demand a substantial amount of time to complete, so get started on them as soon as possible.
The Common Application
Some schools, such as the University of Maryland Baltimore County (UMBC), use The Common Application, which is an online college application used to apply to multiple participating schools.
If the application requires you to indicate an adviser, list Teresa Reyes, records specialist, 410-386-8445, treyes@carrollcc.edu. The adviser role is different from academic evaluators, who are faculty who know you well enough to be able to comment on your academic skills and personal qualities. You also need to print a Transfer College Report (under "My Colleges," then "Recommenders and FERPA") and bring that form to Reyes in the Records office (A112).
Evaluate Your Transfer Credits
ARTSYSis a tool to help you see how your credits should transfer to other Maryland institutions.  You will want to check with your transfer institution to verify the information you find in ARTSYS  is accurate.
Ask a transfer or admissions representative at your transfer institution to review your credits.  Some institutions are willing to provide you with an unofficial transcript evaluation so that you can see how your Carroll credits will transfer.
Once you apply and submit your official transcript, your transfer institution will provide your official evaluation of transfer credits.  Don't be afraid to ask questions about the courses that transferred and those that didn't.
If you are not satisfied with the transfer institution's answers, contact your dedicated advisor at Carroll, who can support and advocate for you to get the credits you deserve.
Academic Advisor – a faculty or staff member who helps a student choose classes and set up a plan of study.
Articulation Agreement – formal agreements/partnerships between two or more institutions documenting the transfer policies for a specific academic program or degree
Associate Degree – a degree requiring approximately 60 credits of study in a particular subject area. The Associate degree typically is offered by two year institutions, but rarely by four year institutions.
Bachelor Degree – a degree requiring approximately 120 credits of study in a particular subject area, often involving more advanced study beyond the Associate degree. The Bachelor degree often is offered by four year institutions, but rarely by two year institutions.
Block Transfer – a transfer between two institutions with an articulation agreement. Typically, students will receive credit at the transfer institution for a group of courses that has been previously determined by an articulation agreement.
Credits – a unit of measurement given to a student for completing an academic course. Each credit counts towards graduation. Most courses are 3 credits whereas some classes may offer 1 or 2 credits.
Early Action – a way of applying to an institution in which a student is bound to attend if accepted.
Early Decision – a way of applying to an institution in which a student is not bound to attend if accepted.
Elective – optional courses within a degree program, affording students opportunities to specialize or gain deeper knowledge in an area of interest.
Four Year Institution – an undergraduate college offering degree programs leading to a Bachelor degree in a specific area of study. Students pursue a Bachelor degree to prepare for a profession, graduate study, or both.
Gateway Requirements – a list of courses, GPA minimum, and other factors required for admission into a selective admission program.
General Admission – an admission status which signifies that the prospective student has met the enrollment requirements for attendance to the university. Students accepted into the university can enroll and attend classes; however, this does not necessarily mean they have been accepted into their program of choice.
General Education – a slate of courses in a variety of subjects that students are required to take regardless of degree program. "Ged eds" are also called distribution requirements or core courses, and are designed to help students develop a breadth of knowledge. Students may have some flexibility in choosing courses to fulfill general education requirements.
Graduate Degree – courses and programs taken after a student has completed the Bachelor degree. Some career paths require graduate degrees.
Guaranteed Admission – automatic admissions to students who meet certain academic or test scores requirements. Students must still apply but get admissions offers earlier than other students. (It can depend on the institution)
Major Requirement – a course that students must take to earn a degree in a particular program/major.
Priority Application Deadline – a due date set by a college for applications receiving top consideration for admission and financial aid.
Selective Admission – an admissions approach in which the institution admits only a small percentage of the students who apply to a particular major/program. Sometimes, students are accepted under general admission before being admitted into their major/program.
Transcript – record of high school and/or college courses and grades showing a student's educational performance
Transfer Agreement – a formal agreement between colleges documenting the transfer policies. These agreements (also called articulation agreements, 2 + 2 pathways, or memorandums of understanding) can be for a general degree or for a specific academic program. At Carroll Community College, all agreements are based on students' completing their Associate Degree.
Transfer Institution – the college to which a student brings previous credits.
Transfer Student – a student who attends one institution, then shifts to another. Classes may follow, or transfer, to the new institution.
Two Year Institution – a college offering a variety of educational programs that can lead to earning an Associate degree or a certification. A two year college is commonly known as a community or junior college.
Undergraduate Education – courses and programs falling between secondary school and graduate education. Courses taken to earn an Associate or Bachelor degree comprise undergraduate education.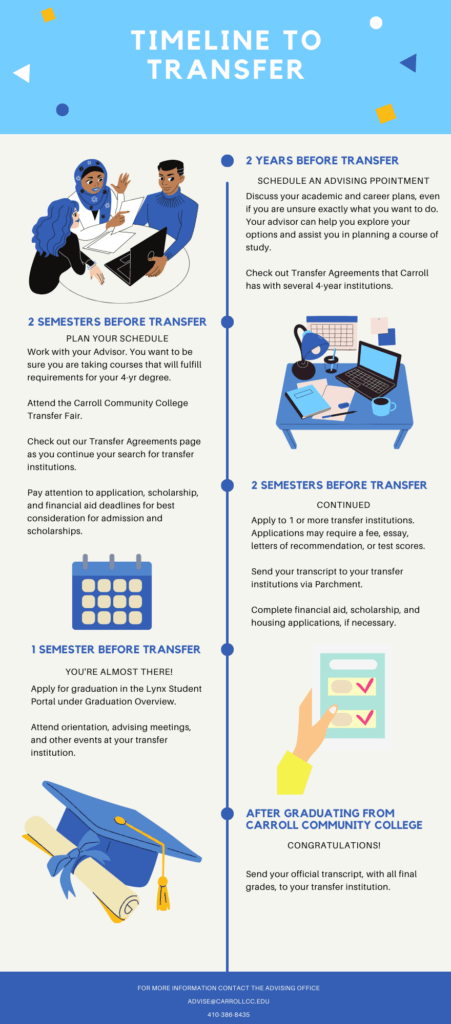 Carroll Students Have Transferred to
884
Different Colleges & Universities Nationwide