Nursing, Registered Nurse A.S.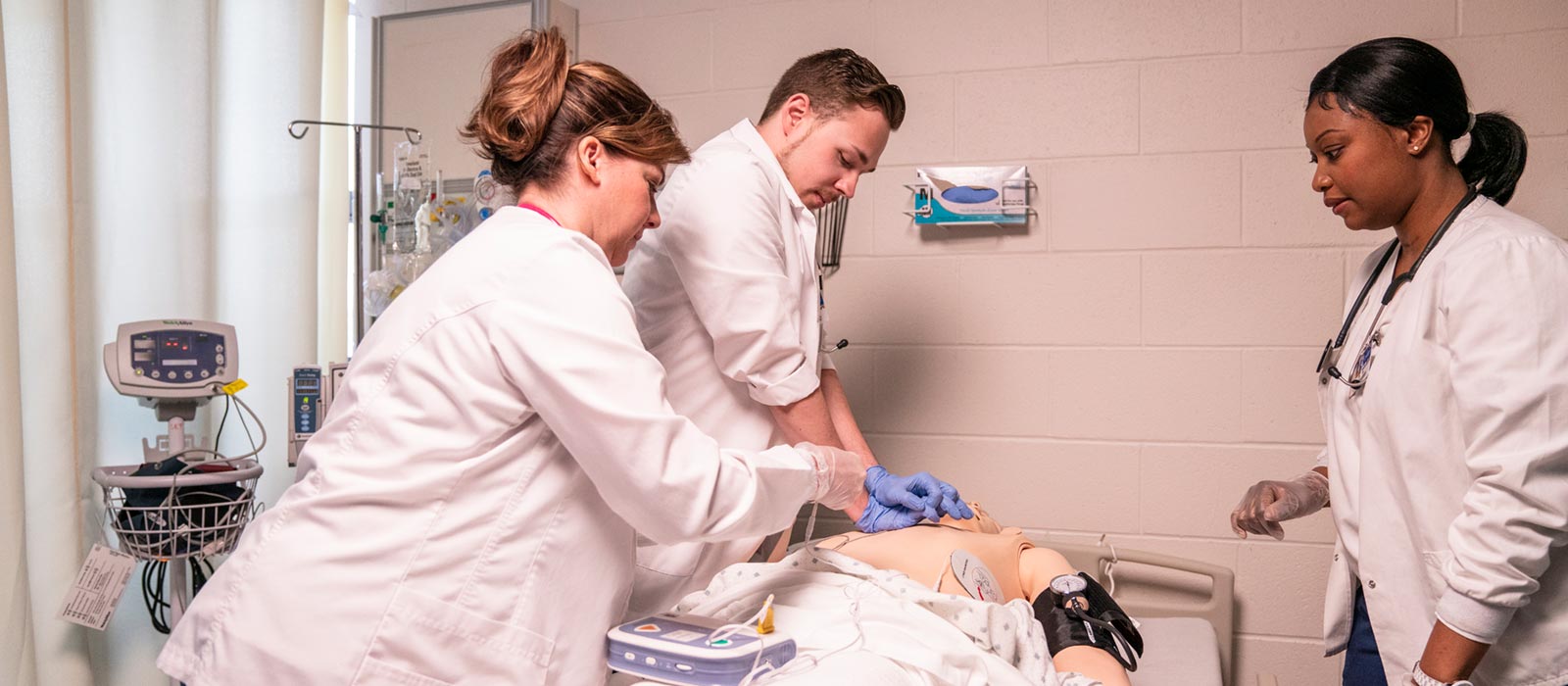 At a Glance
Carroll's Associate degree in Registered Nursing program prepares students, including current LPNs, to receive the practical knowledge and hands-on training to enter one of the most in-demand fields in health care as RNs.
Program Length:
Two Years
Helpful Resources
About the Program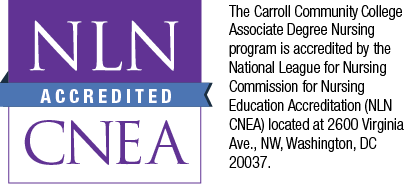 Our Associate degree in Registered Nursing program will help you launch your career in what is, according to the U.S. Bureau of Labor Statistics, the fastest growing profession in the country!
Our selective admission program combines classroom learning, hands-on experience with patient care simulators, and clinical rotations at regional hospitals, mainly in Carroll, Frederick and Baltimore Counties and Baltimore City.
Why Choose Carroll for your Nursing / Registered Nurse Degree?
Practical courses prepare you for today's Nursing field
Expert instructors with real-world experience
State-of-the-art simulation labs
Small clinical group sizes
On-campus networking events with health care professionals
Coursework qualifies students to take the National Council Licensure Examination for Registered Nursing (NCLEX-RN).
Already a licensed practical nurse (LPN), Paramedic (NRP) or Military Medic?
Carroll offers a track for LPNs, NRPs and Medics who hold appropriate credentials. Admission to this program is very competitive. Be sure to read the admission requirements.
Educational Options:
Practical Nursing Certificate:
This program also prepares students for the National Licensure Examination for Practical Nursing (NCLEX-PN), taken by those seeking to become licensed as a practical nurse (LPN) or vocational nurse (LVN). Learn more about the Practical Nursing Certificate.
Associate-to-Bachelor (ATB) program:
Earn your Bachelor of Science in Nursing (BSN) faster by taking courses concurrently at one of our 4-year partner programs once accepted into the Associate of Science Registered Nursing Program at Carroll. Visit our ATB in Nursing page to learn more.
Advisory Board
Our curriculum is designed and continuously reviewed by an advisory board of industry experts and business leaders, ensuring the program meets all current skill and knowledge requirements. You can visit our Advisory Boards page to see the list of Registered Nursing Advisory Board members, as well as advisory board members for our other programs.
Curriculum
Loading...
Transfers & Careers
Discover Your Passion
Find out what your interests are and how they relate to the world of work.
Transfer
Carroll has transfer agreements with virtually every public college and university in Maryland, as well as many other schools throughout the state and across the country.
Learn more about transferring your courses to a different institution or explore Transfer Agreements by Area of Study.
Career
More than half of Registered Nurses work in hospitals. Others find employment in doctors' offices; outpatient facilities; nursing care centers; home health organizations; schools; mental health agencies; hospices; correctional facilities and the military.
As a trained RN, you can anticipate an excellent job outlook, according to the U.S. Bureau of Labor Statistics. This career is expected to grow much faster than the average for all occupations over the next decade. Simply put, when you obtain an AS in Registered Nursing from Carroll, your job prospects will be strong.
For more information about Nursing opportunities, visit the following websites:
When I started my Nursing program journey, it made sense financially to attend Carroll. The College gave me a well-rounded education from experienced instructors who spent many years working in the clinical setting. Their diversity of experiences helped me to prepare for working as an RN.
Faculty
Carroll's faculty are scholars, researchers and distinguished leaders, selected based on their industry experience, academic excellence and passion for teaching. They possess a wealth of skills and knowledge to share with you throughout your pursuit of a Registered Nursing degree.
News