Small Unmanned Aircraft Systems (sUAS), A.A.S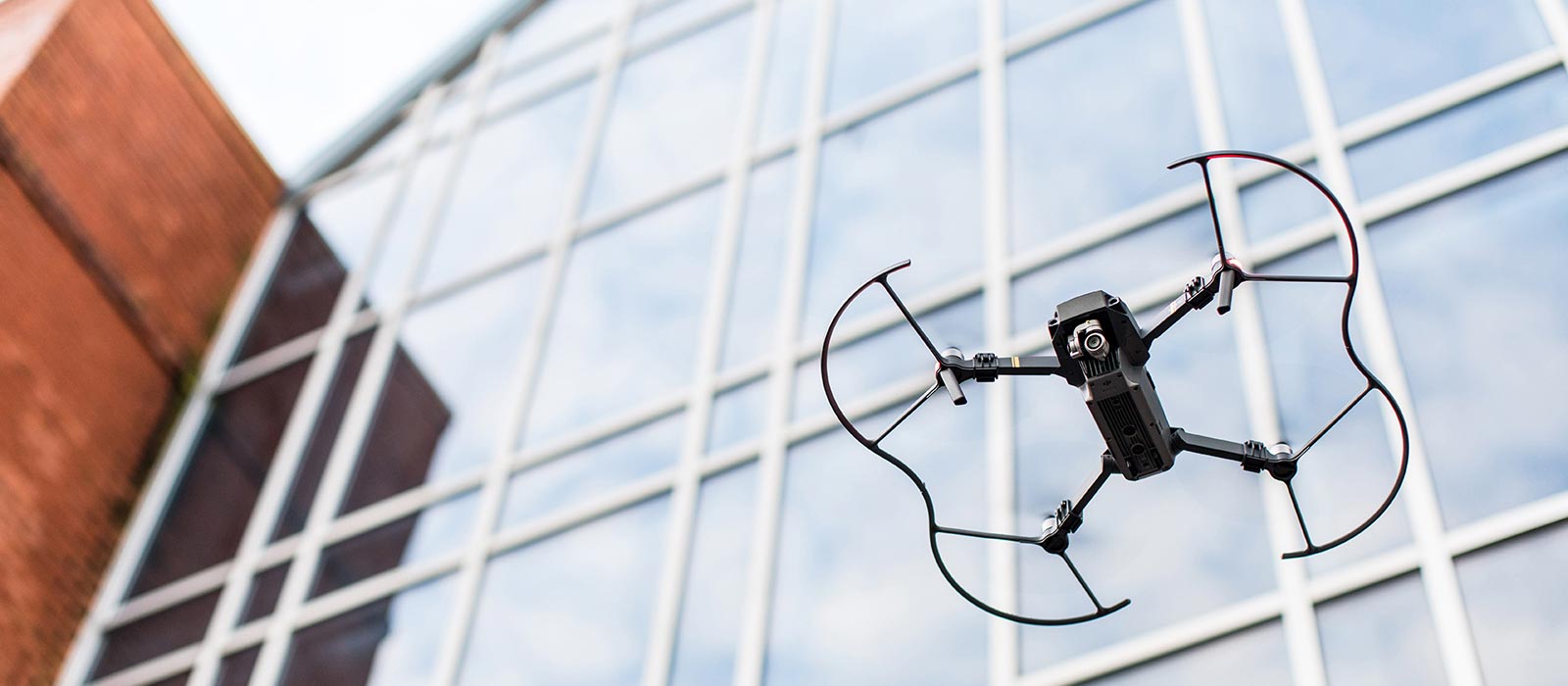 At a Glance
Our Associate degree in drone technology program provides you with the theoretical knowledge and practical skill necessary to operate and maintain Small Unmanned Aircraft Systems within National Airspace System guidelines.
Program Length
Two years, or four 15-credit terms
Helpful Resources
About the Program
Small Unmanned Aircraft Systems (sUAS), or drones, are changing the world. While the technology has existed since World War I, this past decade has seen a boom in sUAS commercial applications, with the potential of becoming a $100+ billion industry, according to Goldman Sachs.
The coursework for our Associate degree in drone technology program focuses on safe sUAS operation for aerial video production, the collection and analysis of aerial and geospatial data, as well as piloting, maintenance and flight requirements. You also learn the software and applications used to manipulate photos, video and data captured by the drones. As part of this program, you will prepare to earn your FAA Remote Pilot in Command Certificate and the USI sUAS Safety Certification. Successfully completing the Small Unmanned Aircraft Systems (sUAS) AAS degree signifies that you can commercially fly small unmanned aircraft systems (drones).
Note: Certification is not guaranteed. Some of the coursework may require fieldwork and flight laboratories.
Why choose Carroll for your sUAS degree?
Our students are job-ready after completing the program and can begin their careers immediately upon graduation.
Gain hands-on experience flying a variety of professional drones, including the DJI Inspire and Mavic Pro, in scenario-based missions.
Our sUAS Advisory Board of industry leaders ensures our program meets current as well as future skill and knowledge requirements.
Advisory Board
Our curriculum is designed and continuously reviewed by an advisory board of industry experts and business leaders, ensuring the program meets all current skill and knowledge requirements. You can visit our Advisory Boards page to see the list of sUAS Board members, as well as advisory board members for our other programs.
Curriculum
Loading...
Transfers & Careers
Discover Your Passion
Find out what your interests are and how they relate to the world of work.
Career
By 2023, the FAA predicts the commercial drone market will consist of 835,000 aircraft—three times the number in 2018. Subsequently, demand for certified pilots will grow significantly, offering a wide variety of jobs as well as opportunities for students to start their own businesses in this rapidly evolving field.   
The Association for Unmanned Vehicle Systems International (AUVSI) forecasts more than 100,000 drone-related jobs will be created by 2025 in such important industries as: 
Infrastructure & Construction

 

Agriculture

 

Real Estate

 

Insurance

 

Media & Entertainment

 

Law Enforcement & Military

 
Starting pay for entry-level drone operator jobs (e.g., shooting photos/videos for realtors, hotel and resort ads) is around $35,000 per year, while more advanced applications such as power line inspections, aerial surveillance and disaster relief can earn individuals as much as $200,000 annually. 
Transfer
The Small Unmanned Aircraft Systems (sUAS) AAS degree is a career program, thus the courses comprising it are not designed for transfer, but instead are designed for gainful employment upon completion. Some courses may fulfill lower-level electives upon transferring to a 4-year institution.
Faculty
Carroll's faculty are scholars, researchers, distinguished leaders and industry professionals selected based on their experience, academic excellence and passion for teaching. They possess a wealth of skills and knowledge to share with you throughout your pursuit of a Small Unmanned Aircraft Systems (sUAS) AAS degree.