Exercise Science Concentration, A.A.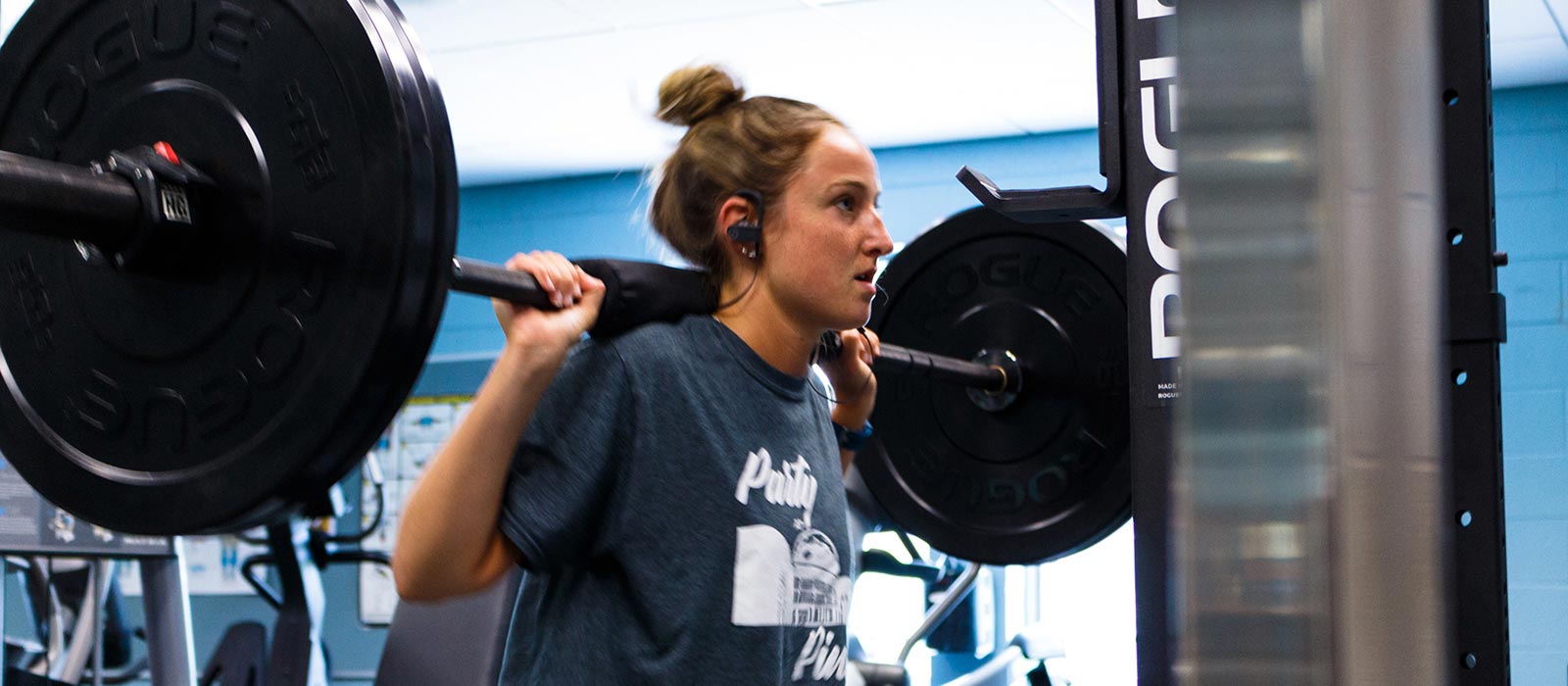 At a Glance
The Associate degree in Exercise Science program at Carroll Community College teaches students how to design safe and effective exercise programs for healthy to moderate risk individuals.
Program Length:
Two years, or four 15-credit terms
Helpful Resources
About the Program
Work out a rewarding career in Exercise Science!
Exercise Science is an applied science that focuses on the body's responses and adaptations during and after regular exercise or sports training for the purposes of improving athletic performance, health, fitness or quality of life.
Associate degree in Exercise Science majors study the biological, physiological and behavioral aspects of human movement and performance. They apply this knowledge to the care of healthy individuals and those who are at high risk for chronic health conditions and injuries. Some professionals focus on fitness, health and disease prevention while others focus on treatment and rehabilitation of injuries.
What can I do with an AA degree in Exercise Science?

Exercise Science has many sub-disciplines including exercise physiology, clinical exercise physiology, nutrition, biomechanics, motor learning and control, sports and exercise psychology, sports medicine, athletic training and physical therapy.
Students who complete the required discipline, general education and highly recommended courses will be prepared to pursue a career in one or more of the above sub-disciplines, or to transfer to a 4-year institution's Exercise Science, Kinesiology or Human Performance baccalaureate program.
Why choose Carroll's AA in Exercise Science program:
Hands-on, practical courses taught by professional and certified faculty
Personal training and health coaching certification preparation courses
Internships available, as well as part-time employment opportunities on and off-campus through county business partners
Letter of Recognition–Personal Training and Sports Medicine Aide Certificate programs also available
Advisory Board
Our curriculum is designed and continuously reviewed by an advisory board of industry experts and business leaders, ensuring the program meets all current skill and knowledge requirements. You can visit our Advisory Boards page to see the list of Exercise Science Advisory Board members, as well as advisory board members for our other programs.
Curriculum
Loading...
Transfers & Careers
Discover Your Passion
Find out what your interests are and how they relate to the world of work.
Transfer
Carroll has transfer agreements with virtually every public college and university in Maryland, as well as many other schools throughout the state and across the country.
Learn more about transferring your courses to a different institution or explore Transfer Agreements by Area of Study.
Career
Exercise Science graduates can find jobs in commercial, corporate and private fitness companies, physical therapy clinics, and athletic training programs at high schools, colleges and sports medicine facilities.
They can fill such roles as:
Exercise physiologist
Physical therapist
Athletic trainer
Sports medicine physician
Physician's assistant
According to the American Council on Exercise's (ACE) most recent salary report, "75% of Exercise Science professionals hold a bachelor's degree or higher." Earning one or more nationally recognized industry certifications enable these professionals to earn significantly more.
Carroll's Exercise Science students have completed internships at Snap Fitness in Mt. Airy, Gold's Gym Eldersburg, Thrive Fitness in Westminster and Sykesville Physical Therapy. Some have gone on to work at Gold's Gym Eldersburg as personal trainers and in our own campus fitness center.
To find jobs, search jobseeker websites like SimplyHired or Glassdoor using the key words Exercise Science or Kinesiology.
Resources for Career Information:
American Council of Exercise (ACE)
American College of Sports Medicine 
American Society of Exercise Physiologists 
Explore Health Careers – Sports Medicine
One month after ending my active duty service with the Marine Corps, I began coursework at Carroll in Exercise Science. I was set up for success both in transferring to a bachelor's degree program after completion of the AA, and through an ACSM personal trainer workshop that led to my first certification in the field.
Faculty
Carroll's faculty are scholars, researchers and distinguished leaders, selected based on their industry experience, academic excellence and passion for teaching. They possess a wealth of skills and knowledge to share with you throughout your pursuit of an Exercise Science degree.