Physical Sciences, Chemistry Concentration, A.S.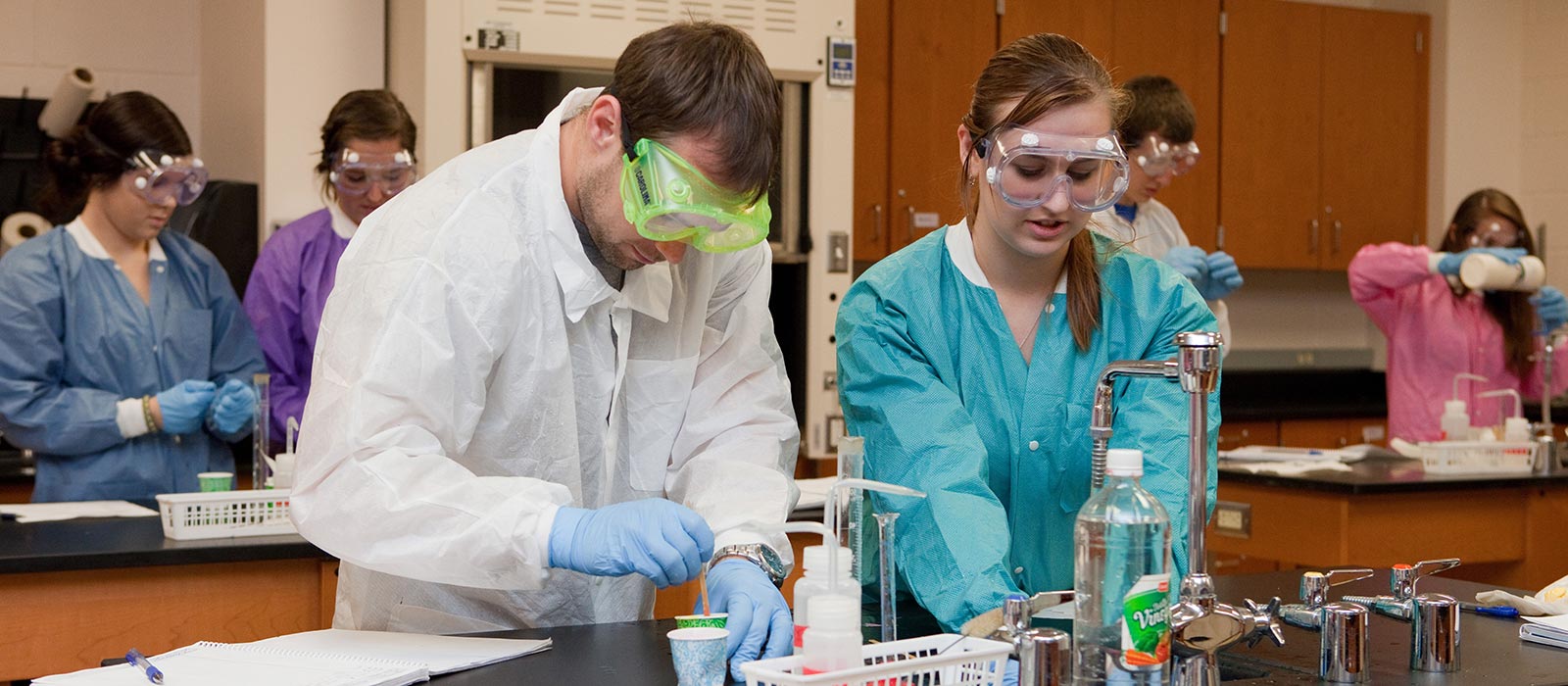 At a Glance
Our Associate degree in Chemistry Concentration program provides students with grant opportunities, career and post-graduate planning advice, seamless transfer through our agreements with 4-year colleges & universities, and internships and research programs in the Chemistry field.
Program Length
Two years, or four 15-credit terms
Helpful Resources
About the Program
Chemists study the chemical properties of elements and compounds and how they interact with each other. They apply their new knowledge about chemicals to improve the way we live. For example, they can create oil refining processes that would reduce energy use and pollution.
According to the American Chemical Society (ACS) website, if you are taking an Associate degree in Chemistry program at a 2-year college (such as Carroll), you are in good company. National Science Foundation reports that more than 40% of students earning Bachelor's or Master's degrees in science and engineering have attended a 2-year college. Plus, a separate study from the National Center for Education Statistics shows that more than 40% of students enrolling in a 2-year college do so with the express goal of acquiring or improving job skills.
Why choose Carroll for your AS in Physical Science with Chemistry Concentration?
Transfer smoothly from our Chemistry track to 4-year colleges and universities in Maryland.
Immerse yourself in hands-on lab experiences and research starting from your first semester.
Get connected to valuable internships and research opportunities during your program.
Small class sizes offer more personalized attention from instructors.
Qualify for ACS student chapter membership.
Chemistry Showcase
Take a closer look at some Chemistry program highlights and student achievements.
STEM Scholars
Carroll's STEM Scholars honors program is designed for motivated high school and college students who want to pursue opportunities in Science, Technology, Engineering or Mathematics and transfer to a 4-year institution after completion of their Associate degree at Carroll Community College. Apply to become a STEM Scholar.
Advisory Board
Our program is continuously reviewed by an advisory board of industry experts and representatives from local 4-year institutions, ensuring the program meets all current and projected skill and knowledge requirements. Our advisory board members also provide degree program students with networking and internship opportunities. You can visit our Advisory Boards page to see the list of Science Advisory Board members, as well as advisory board members for our other programs.
Curriculum
Loading...
Transfers & Careers
Discover Your Passion
Find out what your interests are and how they relate to the world of work.
Transfer
This program provides students with the background necessary for transfer into a 4-year institution's Chemistry program. Because 4-year institutions vary in their requirements, Carroll Community College students are expected to check with their chosen transfer institution and consult an academic advisor at Carroll.
Carroll has transfer agreements with virtually every public college and university in Maryland, as well as many other schools throughout the state and across the country.
Learn more about transferring your courses to a different institution or explore Transfer Agreements by Area of Study.
Career
Chemistry graduates can find well-paying jobs as researchers, laboratory technicians and teachers, and are in high demand in such industries as pharmaceutical manufacturing and petroleum production.
According to the U.S. Bureau of Labor Statistics, Maryland is one of the top-paying states for chemists, while also having one of the highest concentrations of chemical jobs.
To read more about chemistry job prospects, visit the American Chemical Society website.
Faculty
Carroll's faculty are scholars, researchers and distinguished leaders, selected based on their industry experience, academic excellence and passion for teaching. They possess a wealth of skills and knowledge to share with you throughout your pursuit of a Chemistry degree. 
News