Graduation Ceremony Information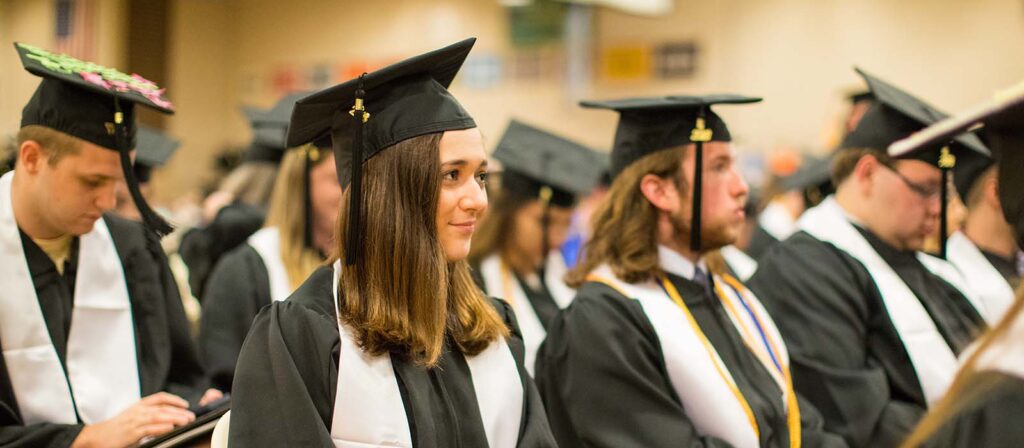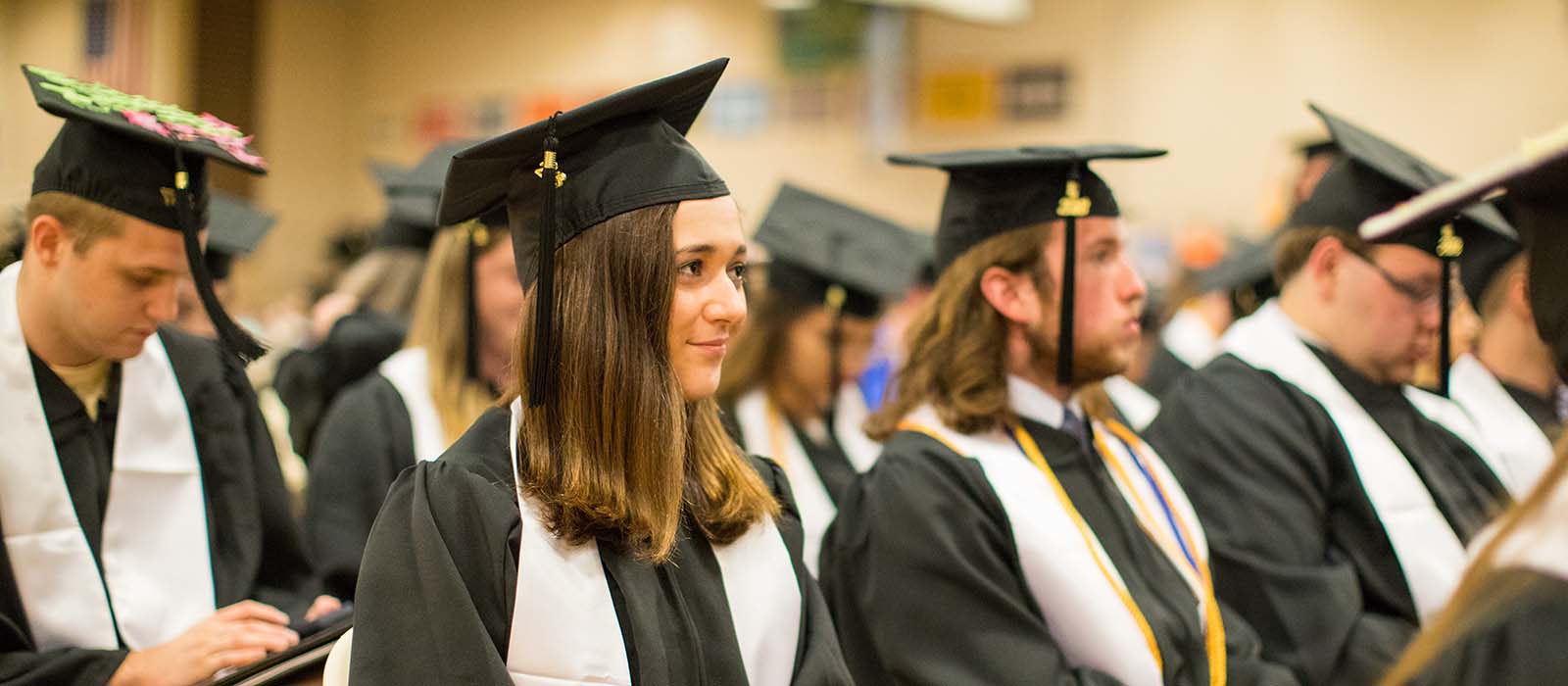 Commencement Ceremony Information
Date and Time
May 22, 2024. 3:00 p.m.
Location
Gill Center
McDaniel College
2 College Hill
Westminster, MD, 21157
Livestream
The Commencement ceremony will be live streamed for family/friends that are unable to attend the event: https://www.carrollcc.edu/livestream/.
Commencement Address Speaker
TBD
Student Response
TBD
Commencement Rehearsal
May 22, 2024 12:45 p.m.
At rehearsal, we will line up and practice. You will have an opportunity to pronounce your name for the Provost, have professional photos (single or group) taken by the photographer, enjoy a snack and mingle with graduates and faculty.
Report to graduation by 12:45 p.m. for rehearsal. Please bring your Commencement garb with you and be on time. Pick up your name card. Line up in alphabetical order and wait for instructions from a Marshall. Pay attention if your card is marked with the wording "start new row." After processing into the gym and taking your seat, you are to come to the platform on instruction from a Marshall. Please go to top of step and hand your name card to the Provost. Walk to the center of the platform to receive your diploma. Take the diploma in your left hard so you can shake hands with the President with your right hand (pause for a photo). Shake hands with the Chair of the Board of Trustees and continue off the platform. The photographer will take your picture and a Marshall will direct you back to your seat.
Below is a diagram for you walking from your seat to the stage and back to your seat after receiving your diploma.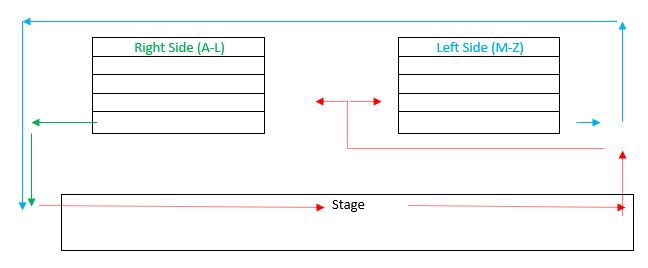 Recessional is in the reverse order as the processional, following the instruction of the Marshalls.
Commencement Regalia and Garb
Commencement Garb ordering and pickup is handled by the Records Office. You will indicate height and weight as you apply to graduate. The office is open from 8:30 a.m. to 6 p.m. Monday through Thursday and 8:30 a.m. to 4:30 p.m. on Friday. If you would like someone else to pick up your garb, you will need to provide written permission (including your signature) for him/her or reply to email announcement with information about your designee. You or your designee must bring a photo id.
Please email records@carrollcc.edu if you are experiencing financial difficulties purchasing your Commencement Garb.
These are the prices for available items:
| Item | Price |
| --- | --- |
| Regalia (cap/tassel, gown, stole, and 10 graduation announcements) | $45 |
| Honor Cord | $10 |
| Additional Announcements (10/pkg) | $5.00 |
| Extra Tassel | $4.00 |
Commencement Garb Sizing
| HEIGHT RANGE | WEIGHT RANGE | GOWN SIZE |
| --- | --- | --- |
| 4'9″ – 4'11" (145 to 150 cm) | Under 175 pounds | 4'9 |
| 4'9″ – 4'11" (145 to 150 cm) | Over 175 pounds | P1 |
| 5'0″ – 5'2″ (152 to 157 cm) | Under 175 pounds | 5'0 |
| 5'0″ – 5'2″ (152 to 157 cm) | Over 175 pounds | P1 |
| 5'3″ – 5'5″ (160 to 165 cm) | Under 205 pounds | 5'3 |
| 5'3″ – 5'5″ (160 to 165 cm) | Over 205 pounds | P1A |
| 5'6″ – 5'8″ (168 to 173 cm) | Under 235 pounds | 5'6 |
| 5'6″ – 5'8″ (168 to 173 cm) | Over 235 pounds | P2 |
| 5'9″ – 5'11" (175 to 180 cm) | Under 265 pounds | 5'9 |
| 5'9″ – 5'11" (175 to 180 cm) | Over 265 pounds | P2A |
| 6'0″ – 6'2″ (183 to 188 cm) | Under 305 pounds | 6'0 |
| 6'0″ – 6'2″ (183 to 188 cm) | Over 305 pounds | P3 |
| 6'3″ – 6'5″ (191 to 196 cm) | Under 325 pounds | 6'3 |
| 6'3″ – 6'5″ (191 to 196 cm) | Over 325 pounds | P3A |
| 6'6″ – 6'8″ (199 to 204 cm) | Under 360 pounds | 6'6 |
| 6'6″ – 6'8″ (199 to 204 cm) | Over 360 pounds | P3B |
| | | |
The plus size gown (given when you choose "over" for weight) will comfortably fit a bust/waist/hip measurement up to 72". If you do not need this much width in the body, but your weight is slightly higher than the ranges listed, order the next gown length (e.g. instead of 5'3 – 5'5 and over 205 pounds, order size 5'6 – 5'8 and under 235 pounds).
Special Regalia:
Honor Cord: If you are not sure whether you may wear an honor cord, please check your GPA using Lynx Student Portal. Students with a 3.500 cumulative G.P.A. or higher as of March 1st may wear a gold cord during the ceremony.
If you belong to ABG, ADN, PTK or DAP, you must see your honor society advisor to discuss that garb.
If you are a veteran, please let us know when you pick up your garb. We would like to recognize you during the ceremony.
Tickets
No tickets are needed for Commencement.
Commencement ceremony normally lasts between 2 and 2.5 hours.
Parking
Directions – From Route 31 East, turn left on Route 32/West Main Street. Cars will enter the Main Street Entrance near the stadium; all other entrances will be barricaded. All vehicles will follow a one-way traffic pattern. Graduating students are to park in General Parking. Please carpool if possible.
Designated handicap parking will be located in the rear of the Gill Gymnasium and limited to vehicles with state-issued handicap tags.
There is a designated drop-off area as well as the general public entrance on the backside of the gym. This is the closest and easiest entrance into the gym. Watch for signs.
Tassels
Worn on right side of the cap prior to the ceremony.
Cap Decoration
We encourage students to decorate their caps for the ceremony.
Photographer
Graduates will be sent photo proofs by Grad Images. Information at www.gradimages.com or email giservice@gradimages.net.
Special Accommodations
Graduates needing assistance prior to or during the ceremony may discuss their needs with the Records Office. Ceremony guests utilizing wheelchairs will be accommodated at the front of the auditorium. Please ask the ushers for direction—there is limited family seating in this area. The majority of guests should plan to sit in regular seating. Interpreters will sign during the ceremony. Interpreters will be located to the right of the stage.
Graduations versus Commencement
Carroll Community College has three graduations, in August, December and May, with all graduates invited to participate in the Commencement ceremony in May. August and December graduates participate in the following May Commencement ceremony.
August graduation application deadline is August 1st.
December graduation application deadline is December 1st.
May graduation application deadline is March 1st for those participating in the May commencement ceremony.
May graduation application is May 1st for those not participating in the May commencement ceremony.
What Appears on My Diploma?
Name, degree and Latin honors (if applicable) appear on your diploma. Degree, major, concentration (if applicable) and Latin honors (if applicable) appear on your transcript.
Will I Receive My Diploma on Commencement Day?
You will receive a commemorative picture and congratulations letter from the President in a Carroll Community College diploma cover. You do not receive your actual diploma on Commencement day.
Diploma Pickup
You will be emailed when your diploma is ready for pickup. August diplomas will be available in late August. December diplomas will be available in mid January. May diplomas will be available in early June.
Carroll Alumni Association
Congratulations on your accomplishments here at Carroll Community College! As a new Carroll Alumnus, you will automatically become a member of the free Carroll Alumni Association. If you do not wish to join, please email "opt-out" to alumni@carrollcc.edu. For information on the Carroll Alumni Association, click here.
Diploma Reprints
Contact records@carrollcc.edu for information on obtaining a diploma reprint.
Video Release and Authorization
I hereby consent for the Board of Trustees of Carroll Community College and its employees, volunteers, successors, and assigns (hereinafter referred to as "the Board") to record my picture and voice on photographs, films and audio and videotapes, to edit these recordings at the discretion of the Board, and to incorporate these recordings into movie and sound films or audio and videotapes, webcast, streaming, broadcasts (radio and television, including cable and satellite transmissions), programs, or otherwise, to use in any manner of media whatsoever, including unrestricted use for purposes of publicity, advertising, and to use my name, likeness, or voice in connection therewith. I hereby release the Board from any and all claims for damages for libel, slander, invasion of privacy or any other claim based on the use of the above-described materials. I further waive any rights conferred under federal copyright laws or any other rights I might otherwise have in the materials and the subsequent broadcast or commercial, educational, or other use by the Board. I understand that the recordings are the exclusive property of the Board and the Board owns all rights to these recordings regardless of the form in which they are produced or used. Further, I agree that I am not entitled to nor was I promised any compensation for the making of such recordings or their use. I have read and understood the contents of this Release, wherefore, I have applied for graduation.
Further Graduation/Commencement Questions – contact the Records Office at records@carrollcc.edu.
Financial Balance Questions – contact Cashier's Office at cashier@carrollcc.edu.